Might the next chapter in ethical fashion be all about the genius of place?
With the fashion week season now upon us, this is an ideal time to assess just how far we have come and how far we still need to go on the ethical fashion frontier. I love that this week's Ethical Fashion Show in Paris kicks off  September's line up of designer presentations and runway shows. Even though editors and buyers are holding out for the hoopla that begins in New York City a week later, anyone genuinely invested in what the future of fashion looks like knows that events like this are critical to the change that needs to take place. On the eve of the Paris gathering, I asked several fashion luminaries how they thought that ethical fashion needed to evolve in the year to come. They had some insightful and inspiring ideas about how we might focus our efforts moving forward.
Ethical fashion is about traditions and textured codes that provide meaning and purpose – Marcella Echavarria
I make no claims on being an ethical fashion expert, and as a woman who has been juggling an art career, family life with twin toddlers, as well as writing assignments about sustainable fashion for over five years now, I have definitely observed and concluded a few things as someone who truly cares. That said, it is important for us to acknowledge that there are others right now who have devoted every ounce of their daily existence to the advancement of ethical and fair trade fashion as well as the implementation of new standards required to make fashion more sustainable and humane. This is the nature of growth and the advancement of any cause, and we should welcome this new generation of writers, bloggers, and activists who are on a mission to transform our ideas about fashion as a mode of personal and cultural expression.
A garment worker in Narayanganj, Bangladesh, photographed by Taslima Akhter
I will say though, that there are things happening in fashion right now that we will look back on someday with complete horror and disbelief. The unjust treatment of textile and garment workers globally must, once and for all, be fully exposed and brought to an immediate halt. Enough preventable factory atrocities have occurred in Bangladesh, Cambodia, and other pockets of the globe, that we now know that fast fashion is a hellacious fix that we wrongfully feast on as a cheap and disposable offering. I was thrilled to see the New York Times recently feature the work of activist/ photographer, Taslima Akhter, and as a prelude to fashion weeks everywhere, her poignant work sends a clear message that fashion as we know it must finally be altered and ethically retro-fit.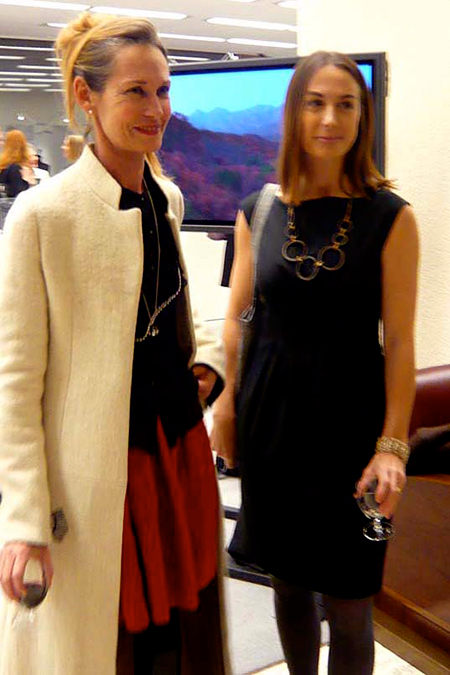 Isabelle Quéhé and Abigail Doan at EcoChic Geneva in 2010
I met the founder of the Ethical Fashion Show, Isabelle Quéhé, at EcoChic Geneva in January 2010, and if ever there was a woman who understood why and how global fashion needed to change, it was Isabelle. She spoke of a new dawn in the industry and the heart that needed to permeate all that we consider to be fashionable and sustainable. Now that the Ethical Fashion Show is seven years old, the inroads made are impressive in a world that is stubbornly waking up from the deep slumber of consumption and globalization – but we still have a long way to go. With organizations like the Ethical Fashion Show and their current partners, we just might get there, slowly but surely.
"Fashion makes people dream. On a global scale, the fashion industry is first and foremost a huge market and an economic driving force for job and wealth creation. This prosperity can and should in turn become the catalyst for sustainable development and social justice, and it is in this goal that Ethical Fashion Show strives since 2004. For the seventh year running, Ethical Fashion Show is bringing together designers from the world over who all share the same goal: designing cutting-edge fashion which strives for a better world, a world which respects mankind, the environment, and the skills inherent to each culture." – (Ethical Fashion Show press statement for 2011)
Consumer awareness seems to be front and center with all of the ethical fashion experts and advocates we reached out to. Fortunately many conscious designers have now found ways to access and share sourcing and fair production information, but ethical fashion might also now embrace expressions of cultural identity linked to thoughtful regional design that demonstrates lasting purpose and shared meaning. The informed consumer should be a part of this equation, but not simply as some one waiting expectantly at the end of the factory assembly line or in a retail venue with no contextualization.
Alabama Chanin brings real texture to handcraft and the genius of place
Additionally, with continued efforts to streamline waste and throw-away materials in various phases of the design process, our efforts might also be focused on what Sass Brown wisely refers to as "historic skills" that provide authenticity on multiple levels and also define ethical practice as something that has a very real timeline and connection to the past and future as well as place. This might ideally happen in regions all over the world as well as domestically in the United States where numerous textile initiatives have dried up and folks are grappling with unemployment and the unraveling of communities. Designers like Natalie Chanin of Alabama Chanin have demonstrated, gracefully and persistently, that returning to one's roots to cultivate and revitalize local crafts and the inherent strengths of a region has definite appeal for discerning fashion followers. Ethical fashion in this instance is very much about the 'genius of place' as well as a certain resourcefulness that honors what works for one's immediate environs.
Read on for what some of our favorite ethical fashion experts and advocates had to say:
Made In Swaziland baskets proudly shared by a local artisan (photo: Marcella Echavarria)
Marcella Echavarria, cultural and social entrepreneur, founder of SURevolution, contributor/editor of HAND/EYE magazine
"As 2012 approaches, the key word for the new era we are starting is: consciousness/awareness. This applies to fashion in many different ways:  its relationship to people, nature, and especially its role in the preservation of cultures and traditions.  I think the cultural aspects of fashion will become much more relevant now that social and environmental issues are quickly becoming non-negotiable standards that companies are following and consumers are demanding.  The artisans who are carriers of very old traditions and textured codes will be more and more in demand, not any more as labor or manufacturers, but as strong voices carrying a powerful message to a world in need of meaning and purpose."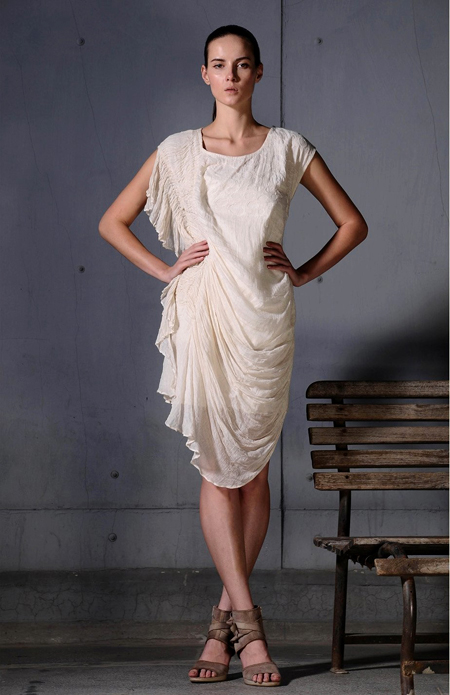 Indian label, Ela, as featured on Sass Brown's Eco Fashion Talk
Sass Brown, writer, editor, researcher, and author of Eco Fashion
"I would like to see luxury and couture level designers take the lead in valuing and saving traditional craft skills by working in partnership with artisanal groups and historic skill sets as a means of valuing indigenous cultures, elevating the value of their work in the eyes of the world, and gaining authenticity through their use."
Veronica Crespi, slow fashion consultant, styling expert, and founder of Rewardrobe, London
 "When I talk with colleagues about ethical fashion, I often find we are discussing ways that things can be improved within the industry. However, it's the consumer I am very much interested in, and trying to show clients how to manage a sustainable wardrobe is the mission behind Rewardrobe. Even though one year is not long in the grand scheme of things, I hope to be able to say, in a year's time, that I've been able to find more and more solutions for customers to change their shopping patterns, and buy into sustainable fashion brands more.

As a personal shopper, I find the difficulty lies in the lack of retail spaces for these brands. Sure enough, in London there are a few private boutiques that stock some amazing labels – however that still doesn't compare to the convenience of the high street. Only particularly committed customers will take the time out to research and then go shop in these boutiques – but most of them will just head down to a famous retail area to buy whatever is available there. One of my projects for the next year is to highlight itineraries for shoppers to follow, showing them that if a shopping trip is well planned, it can be just as convenient to make alternative choices."
The Andean Collections' designers and artisans work hand-in-hand
Amanda Judge, Founder and Designer for The Andean Collection
"I would like to see more of large and specialty retailers carrying ethical fashion brands in 2012. We are currently working with a number of retailers who have never carried ethical fashion (or at least they never picked up a brand because it was ethical), however, because of a shift in corporate social responsibility, a lot of large corporations are now looking to source more responsibly. It's a fabulous shift!"
Vegan retailers like Cow Jones Industrials offer cruelty free fashion that redefines ethical chic
Donna Oakes, animal rights activist, vegan spokesperson, and founder of Cow Jones Industrials, Chatham, NY
 "Over the past few years, there have been significant strides made in the world of sustainable fashion as designers have focused on cruelty-free, environmentally sound and fairly produced products. At this point, I think that the major shift has to come from the consumer – they must not only demand that such products become available, but they must also be willing to support these initiatives with their purchasing power. To ask for sustainable fashions and then buy at Forever 21 or H&M is a contradiction. We must all stand behind our words – designers, retailers and consumers united to effect true change. "
Kestrel Jenkins, fair trade fashion advocate, writer for Ecouterre and founder of Hoverstyle
 "I hope to observe a clearer understanding amongst the mainstream of ways in which an ethical/sustainable lifestyle and fashion can coexist via diverse creative avenues.

I also anticipate the resurgence of more handmade or slow fashioned apparel, in addition to a re-appreciation of global traditional skills and the way in which they can drive an evolved focus on the meaning of waste reduction."
lead image: The Ethical Fashion Show