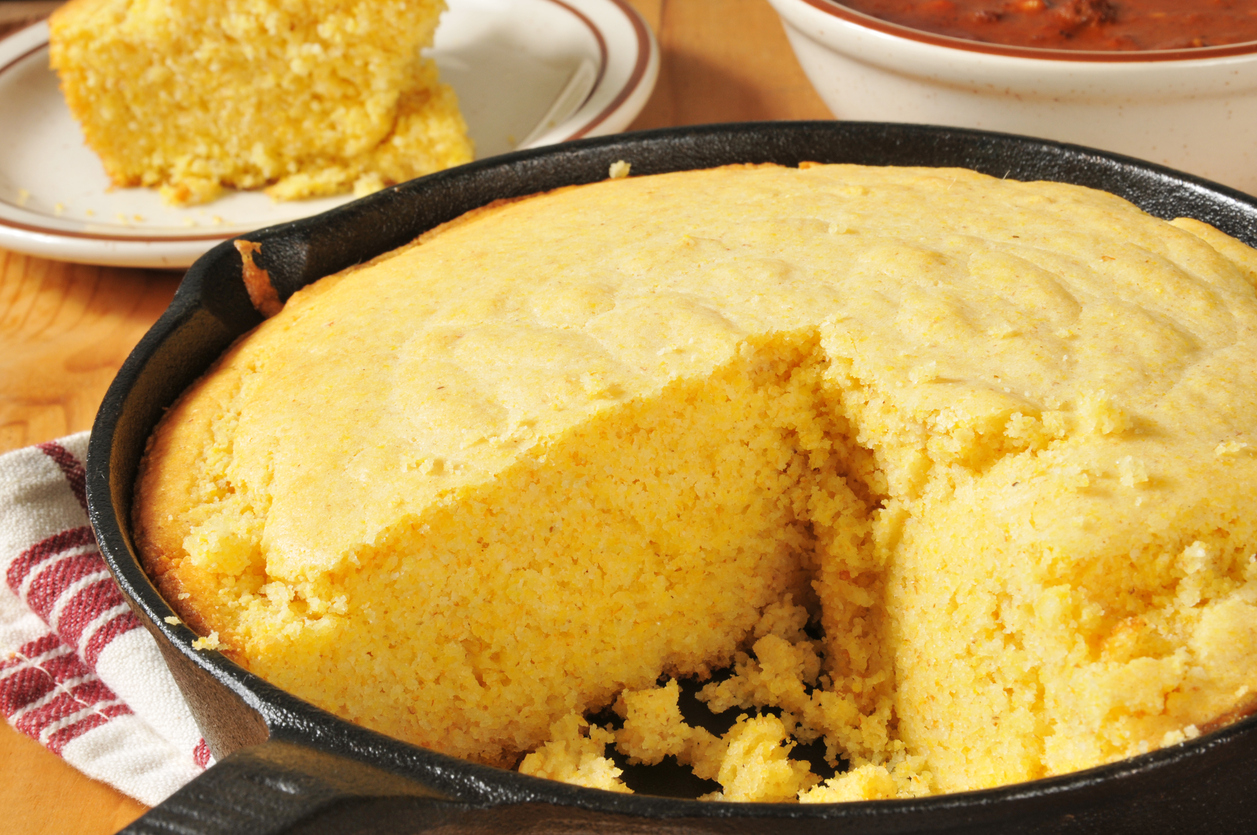 Corn casserole is a dish that is as easy to put together as a boxed cake mix is to transform into a cake – it's a one-bowl sensation that takes minutes to prepare! Even so, the ingredients list is not exactly the most redeeming and could use a makeover. Traditionally, cornbread mix is folded into butter, sugar, eggs, sour cream, milk, and cream-style corn, and the result isn't something that is doing your body any favors.
In this fluffy vegan cornbread casserole recipe, we not only nix the animal products but also embrace healthier versions of the refined sugar and flour. Cornmeal and spelt flour are supported by the sweetness of applesauce and the creaminess of vegan butter and nut milk. Baked to a warm, fluffy finish, the casserole tastes nothing like compromise and everything like the real deal.
What You'll Need
The ingredients are pretty straightforward and not hard to find. When it comes to the almond milk, I strongly suggest making your own to avoid the sneaky sugar, stabilizer, and preservative add-ins.
Meanwhile, it's important to note how you can turn this recipe gluten-free. Corn is naturally gluten-free, but the spelt flour and baking powder are not. To go gluten-free with this recipe, replace the spelt flour with oat flour or with a store-bought gluten-free flour mix. For the baking powder, all you have to do is replace the three teaspoons called for in the recipe with two teaspoons of cream of tartar and one teaspoon of baking soda.
Vegan Corn Casserole Recipe
Serves 8
Ingredients
1 1/2 cups cornmeal
1 cup spelt flour
3 teaspoons baking powder
1 teaspoon salt
1 1/2 cups almond milk
1/3 cup unsweetened applesauce
1/3 cup vegan butter, melted
2 tablespoons maple syrup
1 1/2 cups frozen corn kernels
4 scallions, finely chopped
Directions
Preheat the oven to 350 degrees Fahrenheit.
In a bowl, mix together the cornmeal, spelt flour, baking soda, and salt. Fold in the nut milk, applesauce, melted vegan butter, and maple syrup. Once well combined, stir in the frozen corn kernels and scallion. Stir until just combined and then transfer the mixture to a lightly greased casserole dish.
Pop the casserole dish into the oven and bake for about 45 to 55 minutes, or until the cornbread casserole is tender throughout and has a golden brown glow.
Serve while it is still warm to enjoy the casserole at its fluffiest. Once it cools, it will have a bread-like consistency.
Related on EcoSalon
Southwestern Corn Pudding Recipe
Crustless Corn and Zucchini Quiche Recipe
A Vintage Revamp of Del Monte's Creamed Corn