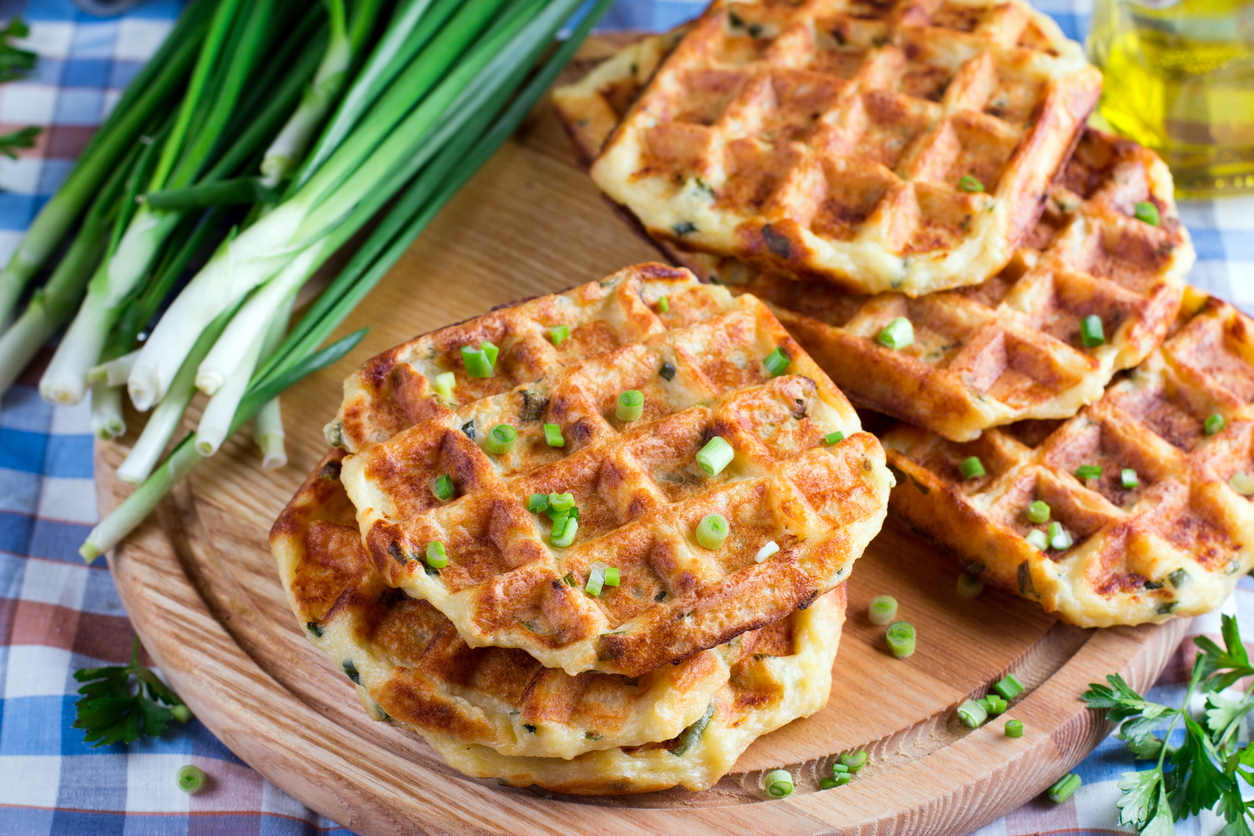 This savory vegan waffle recipe combines the best of both worlds: warm comfort and guilt-free noshing.
Don't you just love it when you can take a beloved comfort dish and turn it "healthy" or, rather, less of a burden on your health? This savory spaghetti squash and quinoa waffle recipe is vegan, gluten-free, and sugar-free. And, how about the taste, you ask? On. Point.
These waffle fritters are bursting with flavor but aren't compromising their content because of it. The savory twist makes these waffles fit for breakfast, lunch, or dinner.
Preparation
Easy to put together, yes, but the recipe does require a bit of foresight. The spaghetti squash needs to be roasted for one hour prior to preparation and you'll also need pre-cooked quinoa, so make sure to keep these in mind. It helps to roast the squash in the evening the day before you plan to make the recipe. Meanwhile, you can either use store-bought nut milk or make your own almond milk for this recipe.
Other necessary items are a waffle iron. If you have no waffle iron, you can easily cook the fritters in a patty-like shape in a saucepan on the stove top.
Vegan Spaghetti Squash And Quinoa Waffle Recipe
Serves 4
Ingredients
1 large spaghetti squash
1/4 cup cooked quinoa
1/4 cup coconut milk (the thickest part)
1/4 cup vegan milk (almond milk, rice milk, etc.)
1 tablespoon coconut oil
Juice of one lime
1/4 cup gluten-free flour
1/2 teaspoon ground cumin
Salt and pepper to taste
Chopped fresh chives for garnish
Directions
Preheat the oven to 400 degrees Fahrenheit. Cut the squash in half, lengthwise. Place cut side down on a parchment-lined rimmed baking sheet. Roast until squash is tender when pierced with a knife, about one hour.
In a medium bowl, add the squash, quinoa, coconut milk, nut milk, coconut oil, and lime juice. Mix until evenly combined before folding in the flour and spices.
Heat up the waffle iron and grease it lightly with coconut oil. Once hot, add in the batter in batches and press the iron, letting the waffle fritters cook for about one to two minutes before opening the iron and serving the waffles. Continue this cooking process until the batter is finished.
Serve the waffles alone with a garnish of chopped fresh chives,or pair them with this vegan white cheese party dip.
Related on EcoSalon
Can Quinoa Be a Local Food
There's Quinoa in Your Cocktail: Foodie Underground
Four-Cheese Garlic Spaghetti Squash