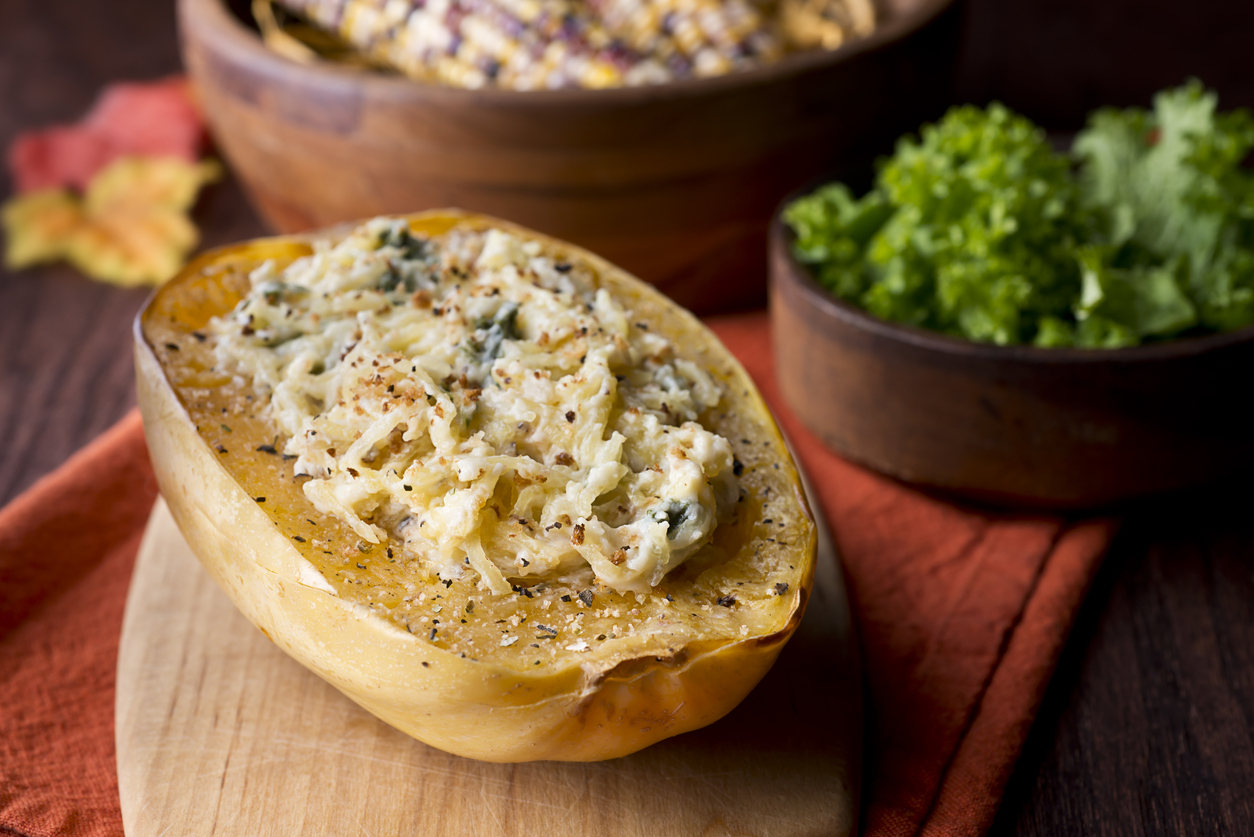 This four-cheese garlic spaghetti squash recipe is a low-carb alternative to regular alfredo pasta.
This spaghetti squash recipe is relatively foolproof, in both preparation and taste. I mean, what could possibly go wrong when tons of garlic, heavy cream, and cheese come together and adorn one of fall's favorite vegetable? Nothing. Absolutely nothing.
Not only are the flavors on point but also the presentation is quite impressive. The spaghetti squash cooks, sliced side upward, cradling the spices, cream, and cheeses. Once fully cooked, a gentle scraping of a fork across the surface of the spaghetti squash reveals tender strands of "spaghetti". While you scrape away at the squash, the strands mix into the other add-ins, creating a sumptuously aromatic, and a decadent seasonal pasta experience, only without all the calories and carbs (at least from the pasta itself).
Spaghetti Squash vs. Regular White Flour Spaghetti
Spaghetti squash is a winter squash with a mild flavor that, unlike many other squash varieties, isn't very sweet. The squash fills in for regular spaghetti pasta but with an added crunch and much lower carbohydrate profile. In a 100-gram portion of both regular white spaghetti pasta and spaghetti squash, there are 31 grams and 7 grams of carbohydrates, respectively. Spaghetti squash also has much fewer calories, with 27 calories to regular spaghetti's 158 calories per 100 gram serving.
Spaghetti squash is a good source of vitamin A, vitamin C, calcium, magnesium, vitamin B6, and iron.
What You'll Need
When choosing a spaghetti squash, look for one that is about eight to nine inches long and four to five inches in diameter. Smaller squashes can sometimes lack flavor while larger ones may have developed too many fibers that make them too tough to consume.
Once you find the right size, hold the squash and make sure that it is hard and free of any soft spots. Your spaghetti squash of choice should have an even, pale yellow color. Any green spots would indicate an immature squash.
Truth be told, at the end of the day, the real focus here isn't so much the spaghetti – it's the sauce. The squash helps to add bulk and fill up the tummy, but the true flavor comes from the garlic and four cheeses.
The four cheeses in this recipe are Gorgonzola (or a mild blue cheese), fontina, Parmigiano-Reggiano, and Pecorino Romano. This recipe isn't married to this particular combination of cheeses, so feel free to use other varieties, such as Asiago, mozzarella, provolone, cheddar, and more.
Four Cheese Garlic Spaghetti Squash Recipe
Serves 2
Ingredients
1 spaghetti squash
1/4 teaspoon sea salt
1/4 teaspoon ground pepper
5 garlic cloves, minced
1/2 cup water
1 cup heavy cream
Fresh thyme
1/2 tablespoon chives, finely chopped
1 cup mixture of grated Gorgonzola (or a mild blue cheese), fontina, Parmigiano-Reggiano, and Pecorino Romano
Directions
Preheat the oven to 400 degrees Fahrenheit. Cut the spaghetti squash in half, lengthwise and use a spoon to take out its seeds and pulp.
Place the spaghetti squash halves on a baking sheet with its sliced side upright. Season with salt and pepper.
In a small bowl, mix together the garlic, heavy cream, water, and chives.
Sprinkle half of the grated cheese evenly between the cavities of the two halves. Top each with an equal amounts of the heavy cream mixture and then with the remaining cheese.
Place the baking sheet in the oven to bake for 45 minutes, or until the spaghetti squash is tender and the cheese has melted and has turned lightly brown.
Remove the baking sheet from the oven and let the spaghetti squash sit for five to 10 minutes before serving.
Related on EcoSalon
Spaghetti Squash Pizza Recipe
17 Must-Try Butternut Squash Recipes for Fall
Butternut Squash Coconut Curry