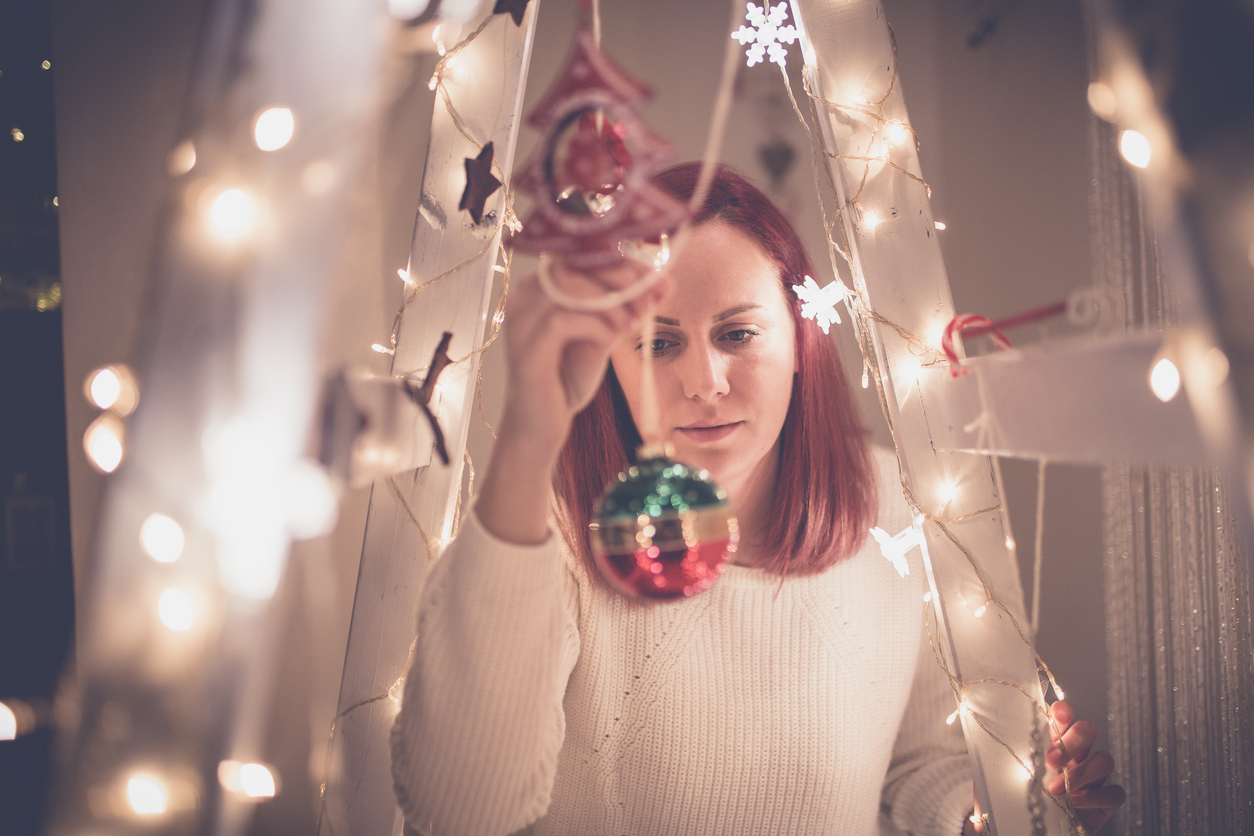 Get into the holiday spirit with these easy peasy DIY holiday decorating ideas that you can put together in less than an afternoon. All that's needed are some household items destined to be repurposed and little creativity.
10 Repurposed Holiday Decorating Ideas
1. Origami Wrapping Paper Ornaments – Leftover wrapping paper from holidays from years past is perfect to repurpose into origami ornaments.
2. Yoga Mat Door Mat – Have an extra yoga mat? Turn a yoga mat into a holiday-themed doormat with a box cutter, some spray paint, and letter stencils to spell out a holiday welcome.
3. Jar Light Displays – Repurpose glass jars into a festive light display with battery-powered mini LED string lights. Group a collection of jars for a seasonal light display centerpiece for your holiday gathering.
4. Mobile Tree – Using a large round embroidery hoop, tie strands of textiles and festive sewing notions like rickrack, glitter yarn and more for a low-maintenance "tree". Add metallic holiday bulb ornaments for extra points.
5. Cardboard Tree – Anyone with pets will tell you that a Christmas tree can be tricky. Instead of worrying about the tree getting brought down by the cats, repurpose cardboard into a festive tree with a little creative spirit.
6. Fabric Advent Calendar – Repurpose textiles headed for the scrap bin into a DIY advent calendar with a little sewing know-how. Cut out shapes (star, circle, diamond) using a cardboard stencil. Sew two pieces of fabric together and stuff with batting. Add numbers with glitter paint. Use clothespins to hang from some Bakers' twine for a homemade holiday countdown.
7. DIY Snow Globes – Mason jars that have seen one too many canning seasons (the jars do weaken from repeated use) can be repurposed into snow globes. Super Glue a holiday tchotchke on the bottom of the jar and fill it with a little glycerin, water, and glitter (the glycerin should keep the glitter from clumping).
8. Sheet Christmas Tree – Not into the whole bringing a live tree in the house or putting up a fake tree? Instead make a tree from a sheet (or tablecloth, bedspread, or another textile) that has gotten a little dingy. Use fabric dye to color the fabric green and then cut out a tree shape. Hang the tree from a curtain and use spray starch if needed.
9. Tiered Glassware and Plate Centerpiece – Repurpose glassware and plates that you might be giving to the thrift store into a tiered display centerpiece. Use Super Glue or epoxy to affix the glass to the plates. Add pine boughs, succulents, or votive with tealights to create a lovely DIY holiday centerpiece.
10. Cookie Cutter Ornaments – Don't toss out those old cookie cutters! Instead, add a little spray paint and twine to create super easy DIY holiday ornaments.
Related on EcoSalon
9 Super Easy Alternative DIY Tree Ideas for a Tree-Free Holiday
9 Simple Christmas Crafts to DIY Your Way to a Happy Holiday
11 Simple Ways to Celebrate the Holiday Season Slowly and Joyfully