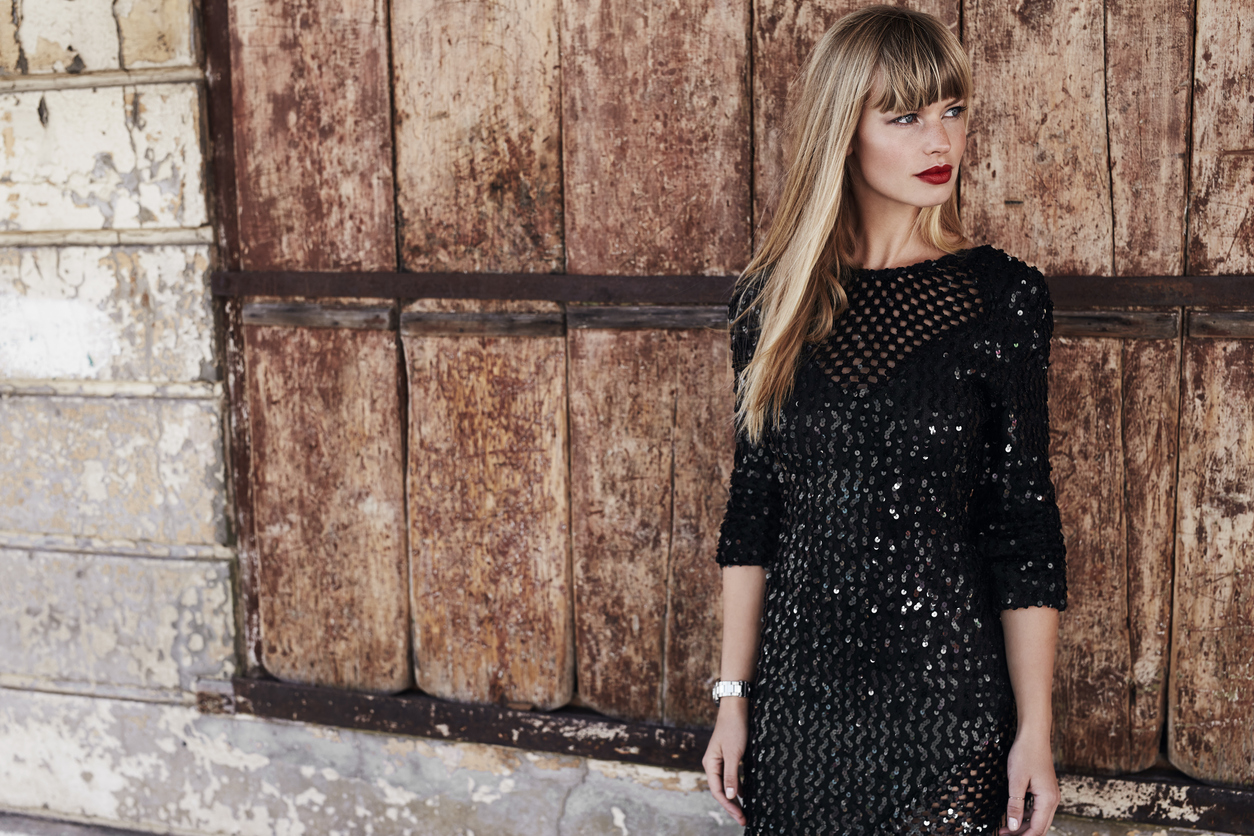 The holiday party circuit is in full swing, which means the age-old dilemma of what to wear will be rearing its ugly head. Fortunately, we're staving it off at the pass with this round-up of lovely celebration-worthy looks. We'll dress them up and dress them down, so you can find new ways to wear them year after year.
1. Boho Chic Jumpsuit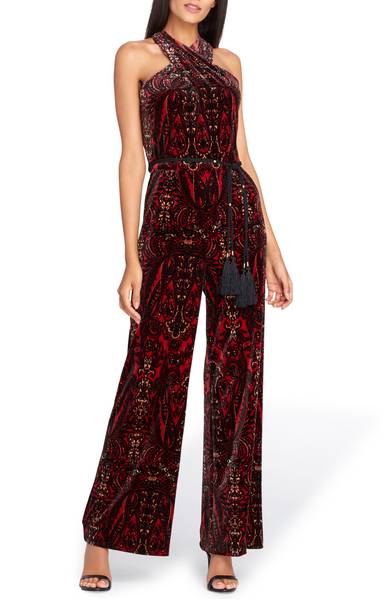 Totally gorgeous and unique, you can pretty well bet you won't be showing up to the party matching another guest in this velvety, boho-chic jumpsuit. The red wine coloring coupled with contrasting black pattern and trim makes for the perfect holiday color combo. Details rule with this piece, which is why we're loving the removeable black tassel belt and criss-cross halter neck. And, if you're feeling cheeky, throw on a pair of black tassel earrings to complete the trendy trifecta. Pair with black booties, closed-toe heels, or pointy pumps–would also look great with black mules or loafers, length allowing. Add all the usual accessories, like clutches and fitted blazers to complete the look. Priced at $158.
2. Little Black Dress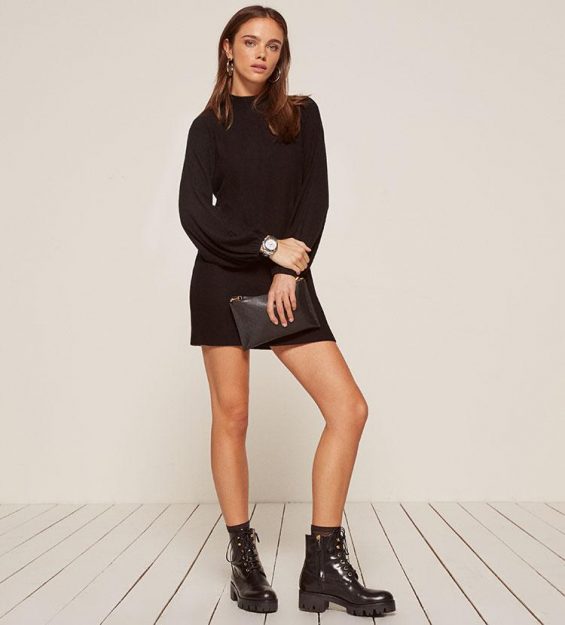 A holiday party-ready list just wouldn't be complete without a universally flattering little black dress. This shift-style piece is roomy throughout the body, offering a very forgiving and modern fit that can be belted if you choose. The arms add a touch of the statement-sleeve trend without going overboard, and the medium weight stretch rib offers the option of dressing this piece up or down. Black tights and metallic accents, like jewelry, a thin belt, and/or clutch, plus your favorite heeled booties would definitely elevate this look for an evening cocktail affair.  We're also liking this look with the patent combat boots and statement watch–a cool look for a casual holiday get together, for sure. Priced at $118.
3. Statement Pencil Skirt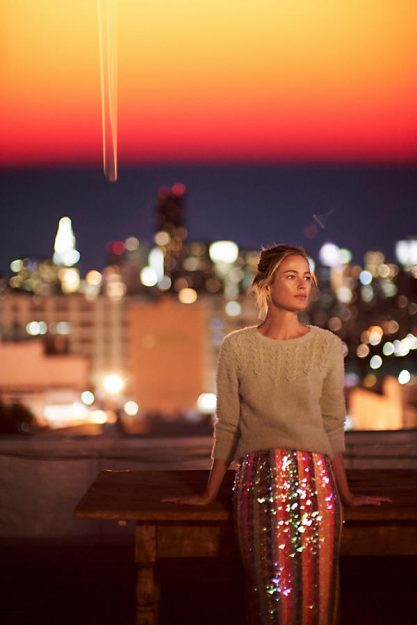 Whether you love rainbows, unicorns, or just have an affinity for colorful things that sparkle, you'll quickly fall head-over-heels for this statement skirt. The modest midi length makes it perfect for any occasion, while the eye-catching glimmer and multi-hued facade definitely scream "party time!" You'll love dressing this piece up or down. Try it with soft sweaters and mules, graphic tees and booties, or a silky top and chic heels. Another lovely look would be choosing monochrome everything, except for the skirt. Go for an opal, pearlescent white for your top, shoes, and purse to really let your skirt steal the show. Oh, and if you're feeling adventurous, create a smoky eye makeup look with a fun pop of color to coordinate. Priced at $148.
4. Casual Chic Joggers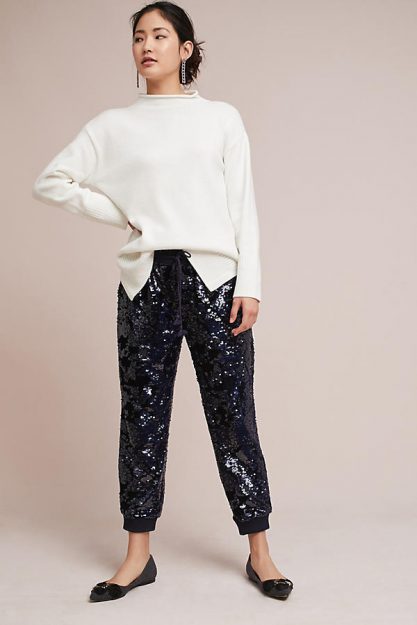 Nothing says I'm ready to party all night long like a pair of sequined velvet joggers. The epitome of casual chic, you'll look and feel fantastic at every holiday party you attend. Pair these with a jumper, sweater, tank, or basic tee, then dress it up or down with your accessories. For a fancier look, opt for a fitted blazer in a contrasting color, a silky top, and a pair of heels. For a more casual look, choose a graphic or basic long sleeve tee and pair with platform sneakers, flats, or loafers. Priced at $188.
5. Perfect Layering Dress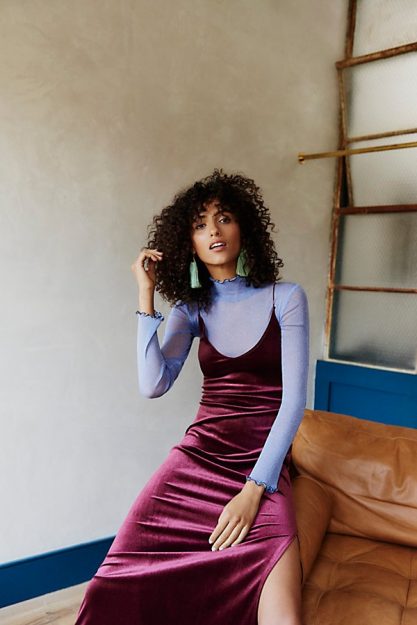 Slip dresses are still on-trend this holiday party season. However, you don't have to be stuck with a one-trick pony. For a piece you'll wear again, look for a slip dress that can be layered to suit the occasion, weather, and your personal style. Most won't have an issue with the length–it's conservative and appropriate for a variety of events. The less-modest top, though, is where some might find issue. Fortunately, you can layer this over other shirts, like a plain cotton tee, or a sheer mesh top. In addition, you can also layer other tops over this dress, like belted sweaters. Edge it up with a faux leather jacket and ankle booties, or break out your cropped faux fur jacket and over the knee boots for a trendy ensemble. Priced at $98.
*Disclaimer: Help support EcoSalon! Our site is dedicated to helping people live a conscious lifestyle. We've provided some affiliate links above in case you wish to purchase any of these products.
Related on EcoSalon
5 Boho Style Pieces for a Carefree Descent Into Fall: Friday Finds
5 Looks Inspired by Pantone's NY Fall Color Palette: Friday Finds
5 Nautical Pieces to Set Sail in This Fall: Friday Finds