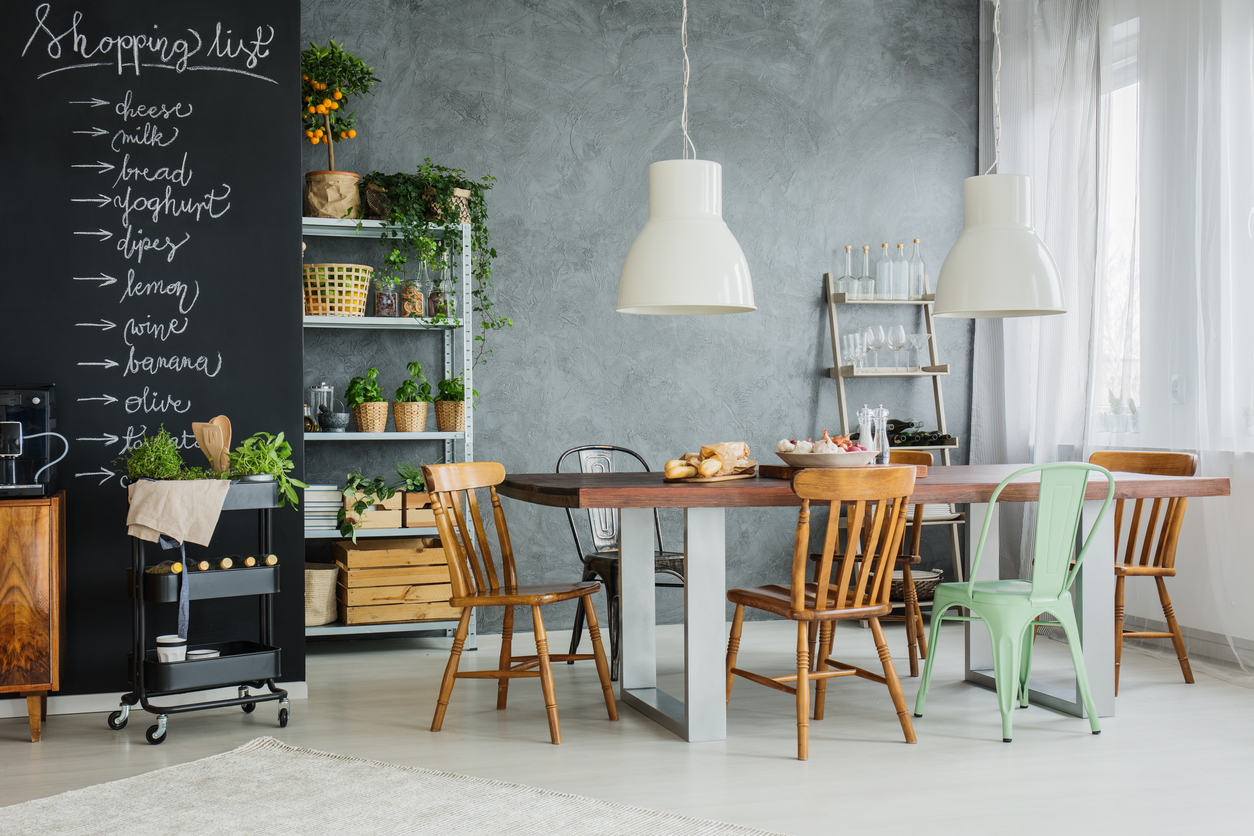 Turn around a table that may be on its last legs (pun intended) with these DIY ideas.
We all know that there is no need to replace most less than perfect furniture. So, what if your furniture is just a little worn? Or if you come across a really great table at an estate sale, but it needs a little love? We know you are on board with making due, repurposing, upcycling, and doing-it-yourself, but sometimes that is a little easier said than done.
Read on for some easy DIY ideas for dealing with a kitchen, coffee, or end table that just needs a little TLC.
DIY Ideas for Reviving a Lackluster Tab
1.Chalkboard Paint – For those with budding artists (or anyone young at heart) in the home, consider painting a wooden table with chalkboard paint. Turn a functional piece of furniture into a work of art with a couple of coats of chalkboard paint.
2. Stencils – By the same token, non-chalkboard paint can be used on a wooden table that has seen some action. Rather than just painting the whole table, use stencils to create artful designs to cover the worst of the damage. Have a table covered with water rings? Hide them with paint and some thoughtfully arranged stencil painting.
3. Decoupage – Not that into the painted look? Create a completely customized tabletop by decoupaging it. You can use repurpose everything from wrapping paper, greeting cards, newspaper, magazines, and more. If you plan on using the table on which to serve drinks or food, you will want to cover it with cut-to-size glass to protect your handiwork. Decoupaging can work on a variety of surfaces, like wood, laminate, or plastic.
4. Wallpaper – If you have any of those particleboard or laminate tables (you know the kind that you can get at IKEA), one clever idea is to cover the tabletop with wallpaper or shelf paper. This works best with a tabletop with square, as opposed to rounded, edges. Use a fauxbois print for extra DIY points.
5. Milk Paint – Like the idea of repurposing a table, but not of using paints containing VOCs or of utilizing wood stripping chemicals? Consider milk paint. Milk paints are water-based paints made from milk proteins, lime, and added pigments. Milk paint has been around for thousands of years and is a much safer and greener choice for painting–especially for furniture on which you plan to eat.
Related on EcoSalon
9 Down-to-Earth Natural DIY Decorating Ideas
9 Easy (and Cheap) DIY Home Decor Projects for Under $25
4 Super Easy DIY Ideas for How to Distress Wood