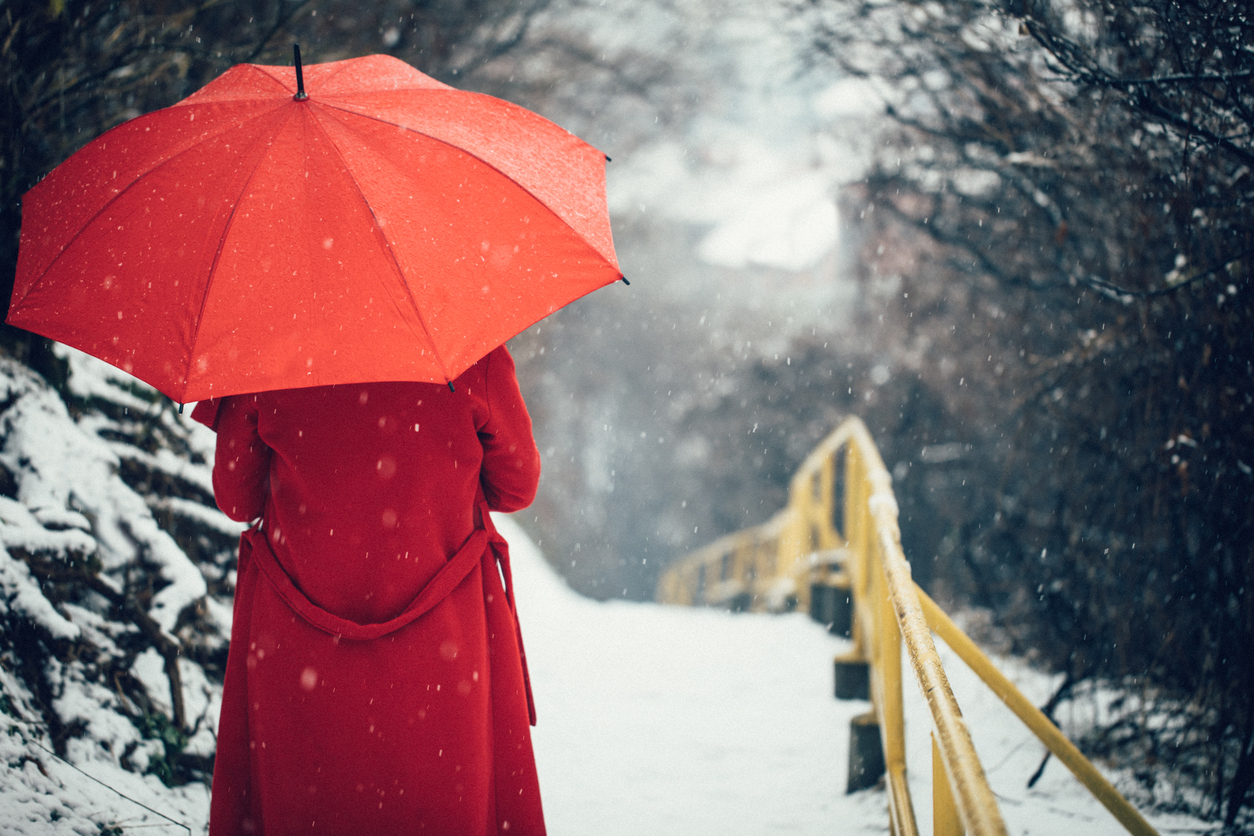 Brick, cherry, ruby, wine, scarlet, and merlot–regardless of your favorite, one thing's for sure: red is the trending color of the season. A longtime favorite of designers, filmmakers, and individuals alike, red conjures feelings in us like no other color can. From lust to disgust, and everything in between, it's symbolic for sex and blood and love and religion and confidence and power and wealth. Often touted as a universally flattering color, we think there's no better way to include everyone than in an edit featuring the magnificently magnetic hue.
1. Full Body Bordeaux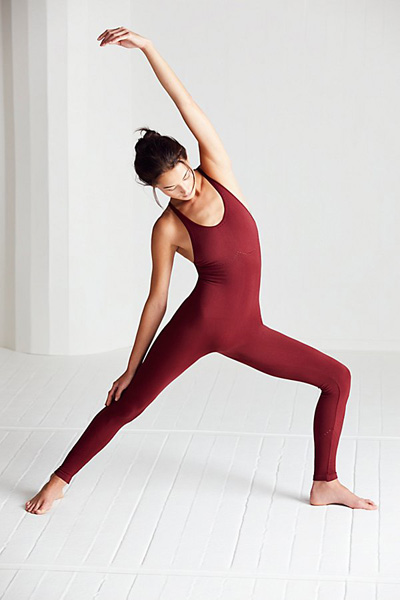 Get a jumpstart on your exercise and wellness plans for the New Year in this stunning bordeaux bodysuit. Not only is the color eye-catching, but the "next-to-skin fit" is also visually appealing. Perfect for those times when you're feeling understatedly sexy, this piece is great for a little confidence boost at your next yoga or barre class, or when you're just hanging around the house. Easy to layer, you can simply toss on a t-shirt or sweatshirt before heading out. Another option includes actually dressing it up for a night out. A jacket (try a blazer, cardigan, or dolman top), some jewelry, and a pair of heels are all you need to elevate this beautiful bodysuit. Priced at $98.   
2. True Red Tunic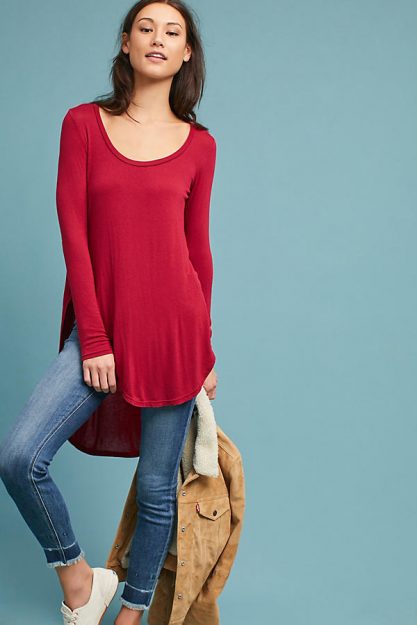 Easy layering pieces are a girl's best friend. Throw in a laid-back boho vibe, and you've got the perfect everyday top. Great for when you're feeling effortless, you'll want to toss on this true red tunic with a pair of jeans and boots and head out the door. An excellent length for pairing with tights and leggings, this is the ideal top to team with knee-high or over-the-knee boots this winter. Still feeling chilly? With the generous tail on this tunic, we think it will create great lines when paired with a sweater or jacket that falls at standard length. Easily dress this piece up or down with jewelry and accessories. Priced at $68.
3. Crimson Cutout Skirt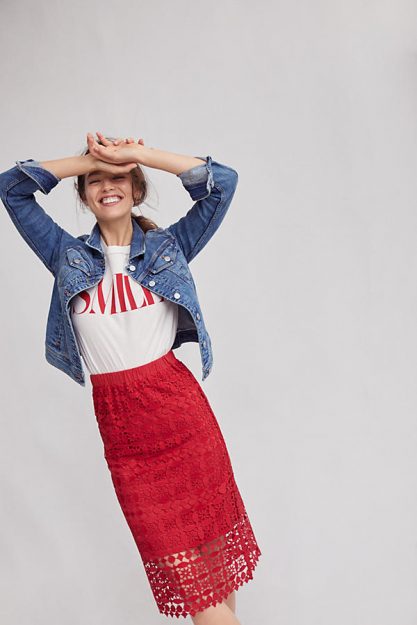 This classic straight skirt in crimson red would be a surprisingly versatile addition to any wardrobe. The epitome of day-to-night dressing, you'll be able to wear this lace-like piece for a variety of occasions. Try flats and a blouse for work during the day, then slip on a pair of strappy heels and a silky camisole for evening. For casual weekend hanging, pair this skirt with a graphic tee and ankle boots. Easily warm it up for chilly weather with the addition of tights, a cozy sweater (monochromatic if you so wish), and a pair of booties. Priced at $128.
4. Earthy Umber Dress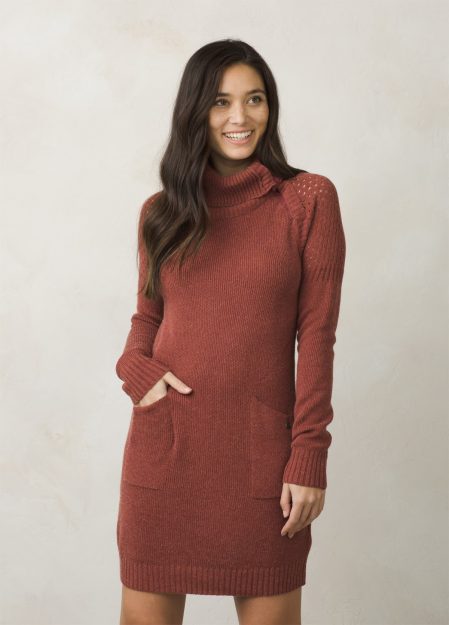 The perfect sweater dress, personified, you'll want to warm your body in this cozy, form-fitting knitwear all winter long. Featuring a red umber hue, this color is natural and understated and would look fantastic paired with other earth tones like caramel, coal, tawny, ebony, and clay. The attention to detail–oversized collar, open mesh shoulders, and pockets–ensure this dress is never boring to look at. Style it with knee-high boots and a pair of decorative socks with lace cuffs that peek out of the top. Not feeling that look? Then pair this dress with tights and ankle booties instead. Priced at $99.
5. Tattered Tomato Skinnies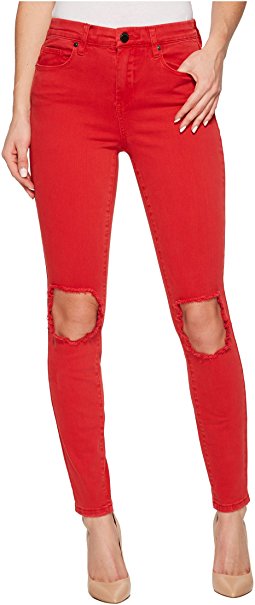 Anytime you're feeling like you need a lift, all you have to do is reach for these in-your-face tomato red skinny jeans. With major distressing around the knees coupled with bold color, these pants are definitely not for the faint of heart, but they are a great alternative to typical humdrum winter hues. Wear these with your favorite cold weather sweaters and boots, then pull them out again in the spring and summer. Want to make this look even trendier? Layer a pair of tights underneath. Fishnet, lace, and plain tights are all on-trend. Priced at $108.
*Disclaimer: Help support EcoSalon! Our site is dedicated to helping people live a conscious lifestyle. We've provided some affiliate links above in case you wish to purchase any of these products.
Related on EcoSalon
5 Cozy Picks for Luxurious Winter Lounging: Friday Finds
5 Glam Looks Perfect for Ringing in the New Year: Friday Finds
5 Very-Wearable Winter Fashion Trends to Try: Friday Finds