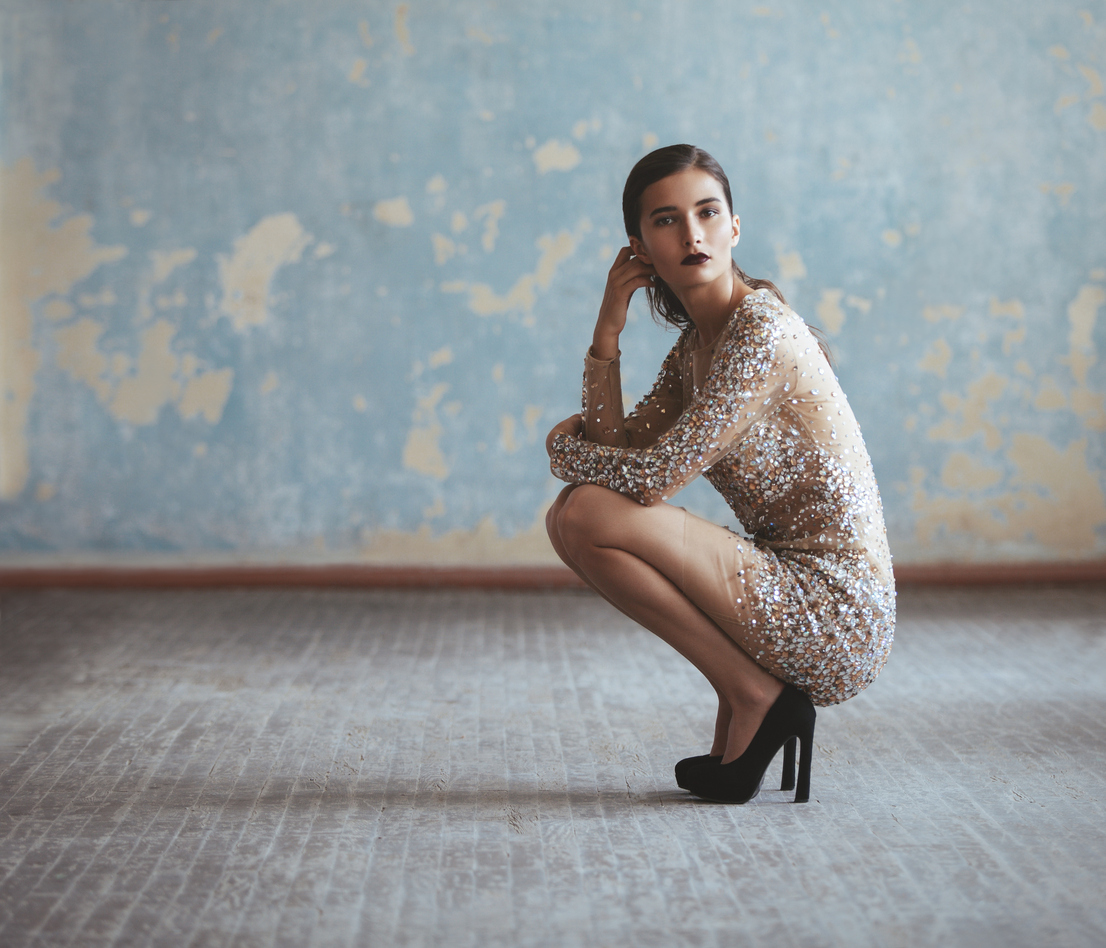 Good friends, champagne, and a great, photo-worthy outfit (that you feel great in) are all you really need to welcome the New Year in style. Check out our list below and you'll be a third of the way there! Whether you're aiming for casual chic or head-to-toe glam, we've got the inspiration you need for picking the perfect outfit.
1. Plunging Sequin Romper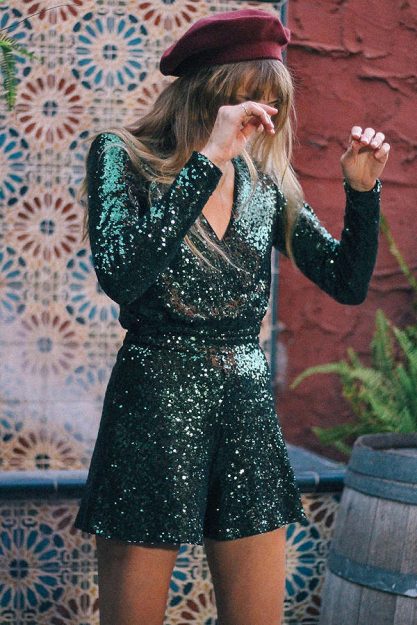 For an outfit that looks just as amazing going as it does coming, consider this glittering green romper for a fun take on dressing up. Perfect for celebrating the New Year in style, you'll love having all the benefits of a glamorous dress without the skirt. The plunging, wrap-front is sexy, the long sleeves are great for a touch of added warmth, and the open slit exposing the back really makes this piece special. Pair the romper with black tights, black velvet booties, and your favorite accessories. Priced at $129.   
2. Velvety Smooth Blazer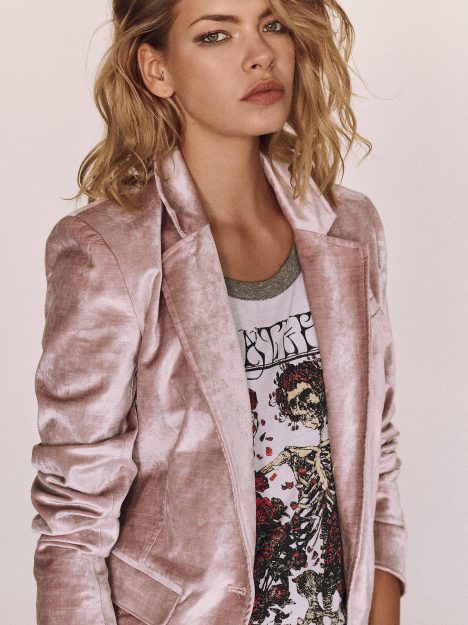 Not every New Year's Eve gathering requires cocktail attire. With that in mind, we looked for a special piece that could be dressed up or down, always enhancing the outfit with which it's paired. After stumbling upon this gorgeous rose quartz blazer, it had to make the list! Perfect teamed up with a pair of black faux leather leggings, a sexy cami or graphic tee, and a pair of heels, this velvet blazer is sure to add a touch of understated glam to any outfit. Other cool combos include wearing this blazer with a dress, pair of jeans, joggers, or pencil skirt. Priced at $148.    
3. Otherworldly Galaxy Skirt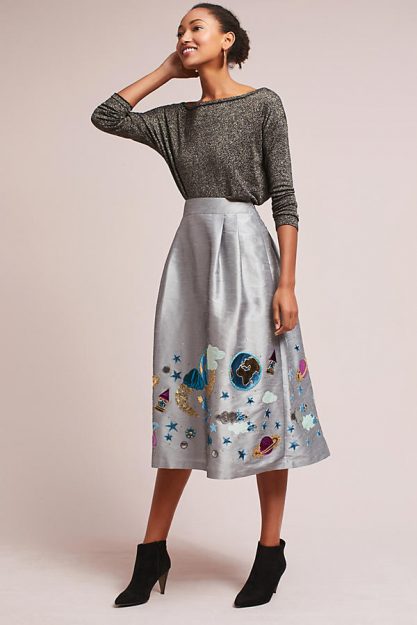 If you've been searching for an outfit that's out of this world, a quirky galaxy skirt might be just the thing you need to create a conversation-starting outfit for New Year's Eve. The imperfectly perfect embroidery of planets and stars gives it a handmade feel, while the sparkle and glitter dress it up. When it comes to top pairings, find inspiration from the teal, purple, silver, or gold in the design, or go with a neutral color, like black or white. From a simple satin tank, to a fitted long sleeve blouse, or a soft chenille sweater, you'll find plenty of apropos pairings. Commit to the galaxy theme with these fun earrings. Priced at $298.
4. Glittering Geo Dress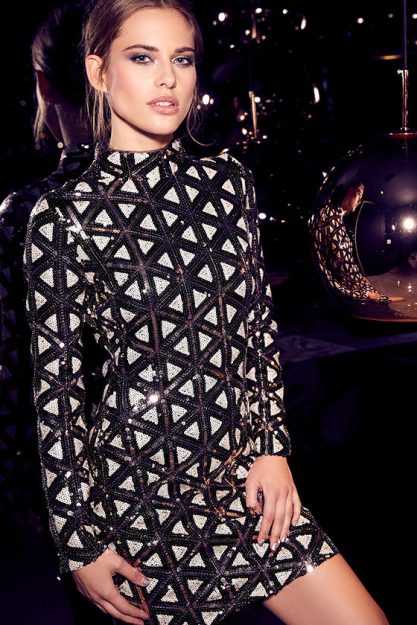 Satisfy your love for geometric designs, modern lines, and shiny things with this party-ready dress that's perfect for wearing while sipping champagne, taking selfies, and watching the ball drop with your best pals. Simple and straightforward, this dress is best styled traditionally. Tights and booties or bare-legged and strappy heeled, the only thing left to include is a clutch and a piece or two of jewelry. Priced at $72.
5. Furry Statement Coat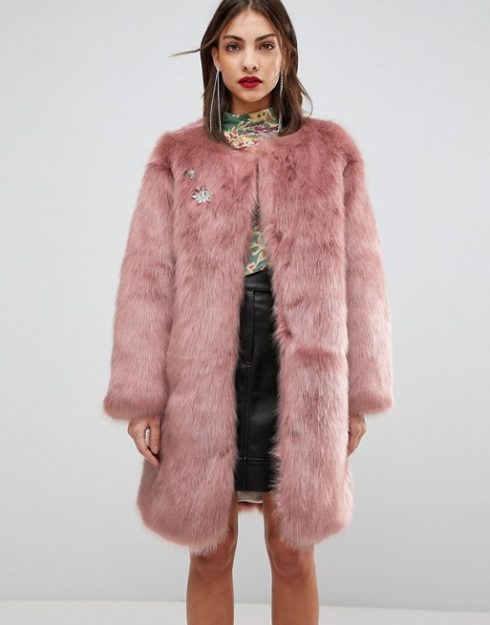 By the time New Year's Eve rolls around, nearly all of the United States will be feeling some sort of winter chill, which makes this statement coat the perfect addition to all of your party outfits. Stay warm and look fashion-forward in this entirely faux-fur coat that features a dusty mauve hue and knee-grazing length. A great way to wear skimpier pieces without freezing your buns off, you'll stay toasty thanks to this roomy, oversized design. Great with jeans, jumpsuits, dresses, skirts, and more, you'll find plenty of reasons to don this outerwear on New Year's Eve and beyond. Priced at $158.
*Disclaimer: Help support EcoSalon! Our site is dedicated to helping people live a conscious lifestyle. We've provided some affiliate links above in case you wish to purchase any of these products.
Related on EcoSalon
5 Ways to Crush the Velvet Trend: Friday Finds
5 Edgy Menswear-Inspired Picks for Fall: Friday Finds
5 Dazzling Looks That'll Have You Holiday Party-Ready in a Flash: Friday Finds