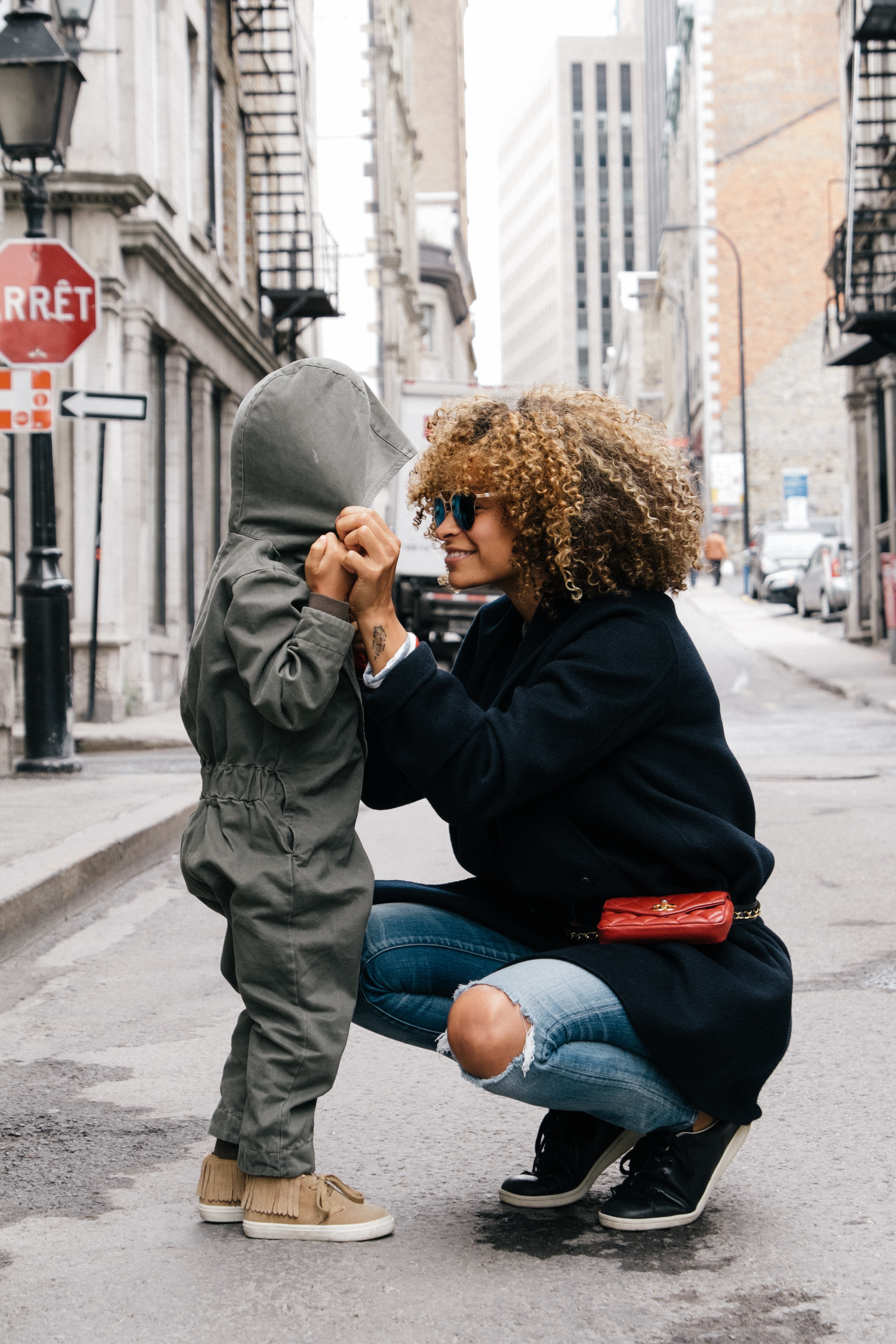 Velvet is one of the hottest trends of the fall and winter seasons, while also being one of the easiest to wear. It comes in a variety of styles and colors and adds a touch of luxury to normal, everyday outfits. We recommend choosing just one velvet piece to wear at a time, unless you're going all out in a pantsuit, especially since velvet looks so great mixed with other fabrics and textures. Below, you'll find everything from daily basics to statement pieces that are perfect for the chilly weather ahead.
1. Statement-Making Jacket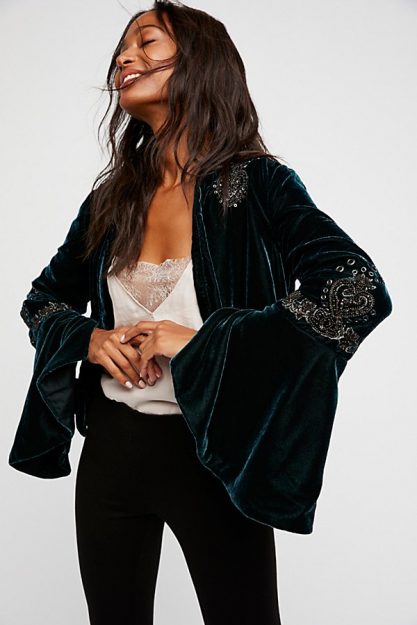 Stunning. Gorgeous. Unforgettable. With descriptives like that, a jacket like this is sure to wow throughout the holiday season and beyond. Statement jackets are a great way to incorporate some velvet this time of year, too. From blazers to bombers, and everything in between, you can take pieces like these and add a touch of the crushed fabric to pieces you already own. We're loving the simplicity of the model's outfit. Basic black pants and a silky camisole are all you need to let this jacket take center stage. It would also look amazing with a simple little black dress and booties. Priced at $368.
2. Casual Chic Sweatshirt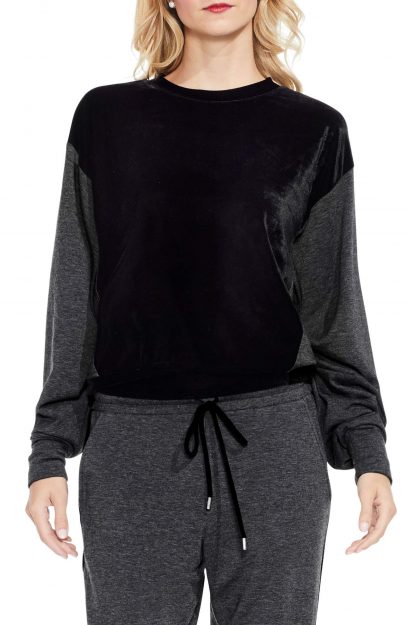 Get your chic on this winter in a comfy, cozy, and ultra stylish sweatshirt with a very wearable velvet front panel. A great way to combine effortless and glamorous, this is a piece you'll want to dress up and down, depending on your mood. Great with the matching pants, you can choose to go that route, or opt for jeans, leggings, or even a bodycon midi skirt. Pair with sneakers, loafers, a dressy boot, and more. Could also looks great with some flashy earrings and a statement lip. Priced at $47.40.
3. Pretty Practical Pants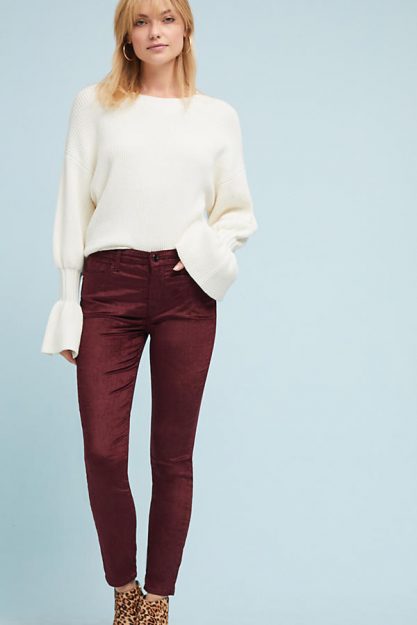 It's easy to imagine the feel of the luxe velvety exterior on these visually appealing pants. This is a true commitment to wearing the wintry textile, but a fashionable and practical one, nonetheless. Besides, a nice little pop of color in a sea of black is always a good thing, especially considering that these will pair well with so many of the neutrals you already own. We'd love to see this with a chunky cable knit sweater and knee-high boots, or dressed up with a pretty cami, fitted blazer, and heels or booties. Priced at $179.
4. Party Circuit Dress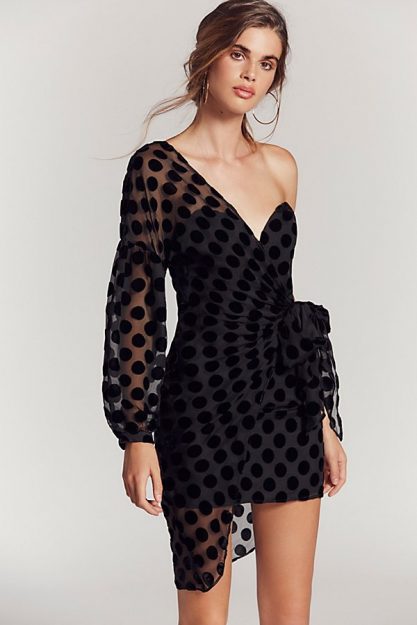 A little bit retro with a lot of class, this dress is a stunning choice for hitting the holiday party circuit with a dash of velvet dotted throughout. With a dress this pretty, you don't really need much jewelry–a pair of earrings and a cocktail ring should suffice. When it comes to shoes, you can go the traditional route with heels, or go closed-toe in a pair of ankle booties. If it's extra chilly, wear tights. And don't forget your clutch all of the essentials. Priced at $220.
5. Stomping Ground Shoes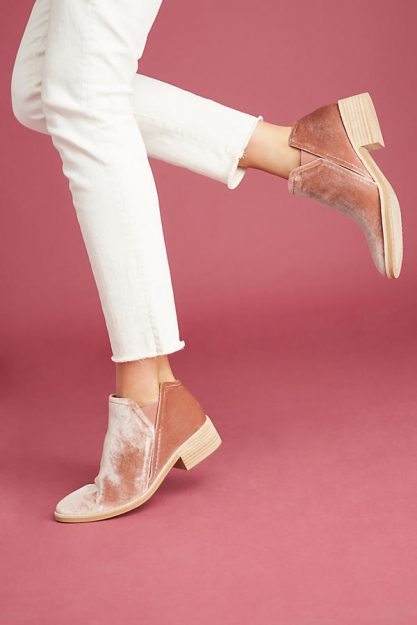 One surefire way to wear velvet this season is on your feet. Rich, luxurious, and smooth, the iridescent-like exterior of these pale blush boots is a unique choice. Don't let the special coloring deter you–they'd still look great with lots of fall and winter staples. Pair them with winter whites, tan, beige, black, multicolored pieces, and denim. From jeans to dresses, we think you'll be pleasantly surprised with how many ways you can style these boots. Priced at $128.
*Disclaimer: Help support EcoSalon! Our site is dedicated to helping people live a conscious lifestyle. We've provided some affiliate links above in case you wish to purchase any of these products.
Related on EcoSalon
5 Boho Style Pieces for a Carefree Descent Into Fall: Friday Finds
5 Looks Inspired by Pantone's NY Fall Color Palette: Friday Finds
5 Nautical Pieces to Set Sail in This Fall: Friday Finds