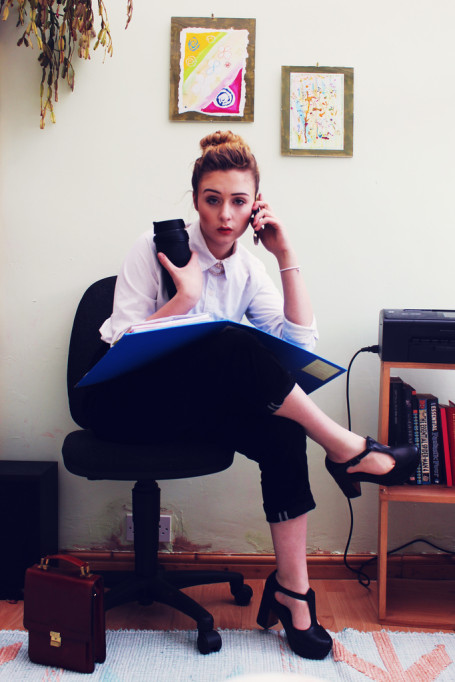 Hey ladies, check out EcoSalon's collection of cool gadgets that will simplify your life.
Here in the Information Age, we've got a lot of advanced technology at our disposal. Tasks that used to require a computer the size of a small house can now be done by a mobile phone.
Cool gadgets are everywhere–the office, the kitchen, even the garden! But how many of these devices do you really need? More importantly, how many of them will actually help you get through the day with less stress, instead of just adding another cord to your life?
At EcoSalon, we couldn't care less about impressing the geeks at the coffee shop. We want cool gadgets that make our lives easier. That's why we've rounded up seven technologies designed with busy women in mind. Enjoy!
7 Cool Gadgets Every Woman Wants (and Probably Needs)
1. thingCharger – Going somewhere? Don't forget all the power cords. There's one for your phone, one for your tablet, one for your laptop. Now multiply that by the number of family members traveling with you. Oy vey. With thingCharger, you only have to remember one thing. Just plug it into any outlet and you'll have a neat charging station — free of ugly wires. And yes, it really does work for ALL your cool gadgets.
2. Bag2Go –  The only thing worse than realizing you've forgotten something, is realizing the airline lost the bag in which you packed it. That's why Airbus teamed up with the T-Systems global IT services company and luggage manufacturer Rimowa to create Bag2Go. This specially-designed luggage integrates electronic tagging for paperless check-in, along with a scale to weigh contents.  Additionally, it is equipped for real-time tracking so you can check the location of your suitcase at any time, regardless of where in the world it happens to be (except when it is in flight). Bag2Go also looks after the contents: you'll get an immediate notification whenever the  suitcase is opened.
3. MyDx – Want to know the truth about chemicals in your food, water, air, and even marijuana? MyDx (My Diagnostic) is the worlds first portable analyzer for everyone. It's a simple and affordable device that can detect the chemicals we cannot see.  Test samples of solids, liquids and gases, and get an in-depth analysis of your sample within a matter of seconds.
4. SticknFind – Constantly losing your keys? Kids always forgetting where they left their favorite toy? Save time (and your sanity) by tagging valuable items with StickNFind. This quarter-sized sticker is a homing beacon for your every day life. Can't find something? Just fire up the app and the Radar Screen will display all marked devices within range. Start walking, and see if you're getting closer or further from the blue dot on your Radar Screen. StickNFind Stickers also have a buzzer and light, so you can even find your tagged items in the dark.
5. Cobra Tag – This device is very similar to StickNFind but slightly more sophisticated. And unlike the previous entry in our list of cool gadgets, it works both ways. "Sync the Cobra Electronics Tag to your smartphone (there's an app for that) and attach it to your keys. Next time you're on the hunt, use the app to make the tag ring. It works the other way too: Press the tag to call your misplaced phone," explains Women's Health Mag.
6. BioLite Stove – Like to venture into the back country but feel more comfortable knowing civilization is only a phone call away? Just be sure to bring along the BioLite Stove. Heat from the camp fire generates electricity via a thermoelectric generator to power a fan creating airflow for improved combustion. Surplus electricity is sent to the USB port for charging devices.
7. Everpurse – This stylish clutch has a special charging pocket into which you place your smartphone. The patent-pending docking system guides your phone smoothly onto a dock connector at the bottom — so you don't have to fish for a cord! To charge your phone itself, simply place Everpurse on its charging mat. Easy peasy.
Related on EcoSalon
21 Inspirational Quotes for the Geek in All of Us
7 Cool Gadgets for a Smarter, Healthier Home
Wearable Technology: Can It Really Improve Your Health?
top image: anniepancake