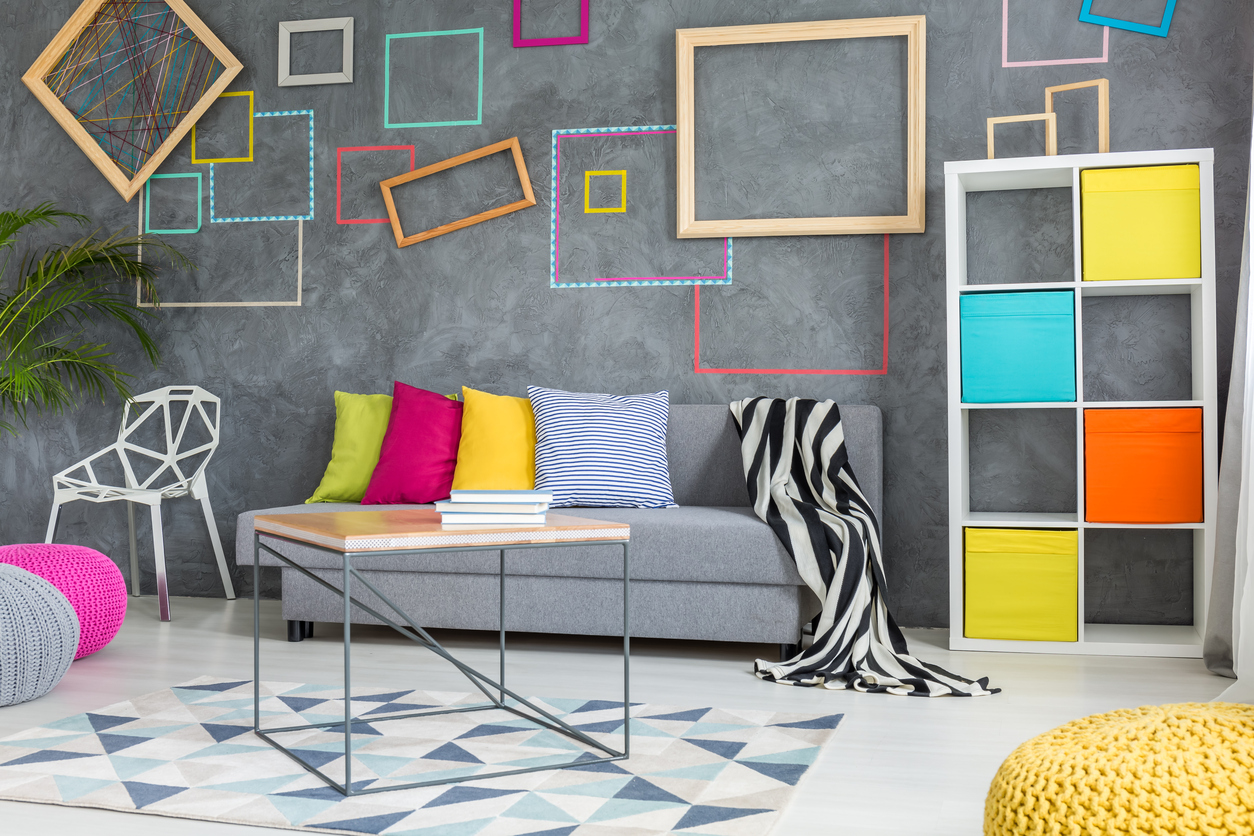 Bring color into your home with easy DIY color projects.
Color is more than just a way to add visual interest. Adding color can make your home cozier, help you start your day feeling invigorated, and provide that warm feeling of a safe haven when you return from work in the evening.
Bringing color into your home is also a way to show off your personality and your personal style. Get creative and inspired to take on some easy DIY color projects to brighten your home.
DIY Color Projects
1. Colorful Table Linens
Turn plain cotton napkins, runners, and/or table cloths into colorful coverings. Use fabric paints to create color-filled color sprays, repeat patterns, polka dots, or other colorful designs.
2. Painted/Decoupaged Bookshelves
Add color to plain bookshelves by painting the backs and/or the fronts of shelving units. You can also mix and match decoupaging with colorful papers to add color and pattern.
3. Tie-Dye Pillows
One super easy way to get colorful pillows is to buy plain white pillows and tie-dye them. Instead of adding multiple colors on each pillow, tie-dye individual pillows different colors for a modern  look.
4. Dipped Dyed Lampshades
Bring faded lampshades back to life by dip dying them. Dip dying is both simple to do and completely on trend. Choose one color and dye all the lampshades in a room, or go for it and use a different color for each shade.
5. All the Trimmings Curtains
Add fun fabric trims to plain curtains for instant color. Make a visit to the fabric store to get inspired by everything from pom pom trims, tassels and fringe, embroidered jacquard ribbon, and more. Don't worry if you can't sew–a little fabric glue will do the trick.
6. Splash Art
Turn a plain piece of canvas into a colorful work of art–and painting skills are not required! Anyone can drizzle, splash, or spray using colorful acrylic paints to create an abstract work of art.
7. Ombre T-shirt Rug
Score some overachiever DIY points by repurposing t-shirts to make an ombre t-shirt rug. Dye old t-shirts using shades of your favorite color from light to dark. Once the t-shirts are dry, cut them into strips and follow this tutorial for making a rag t-shirt rug.
Related on EcoSalon
7 Stunning Watercolor Effect Ideas for Painting Up Your Space
7 Sure Fire Ways to Make a Statement with Neutral Colors
12 DIY Home Projects On the Cheap to Make Your Space Look More Expensive