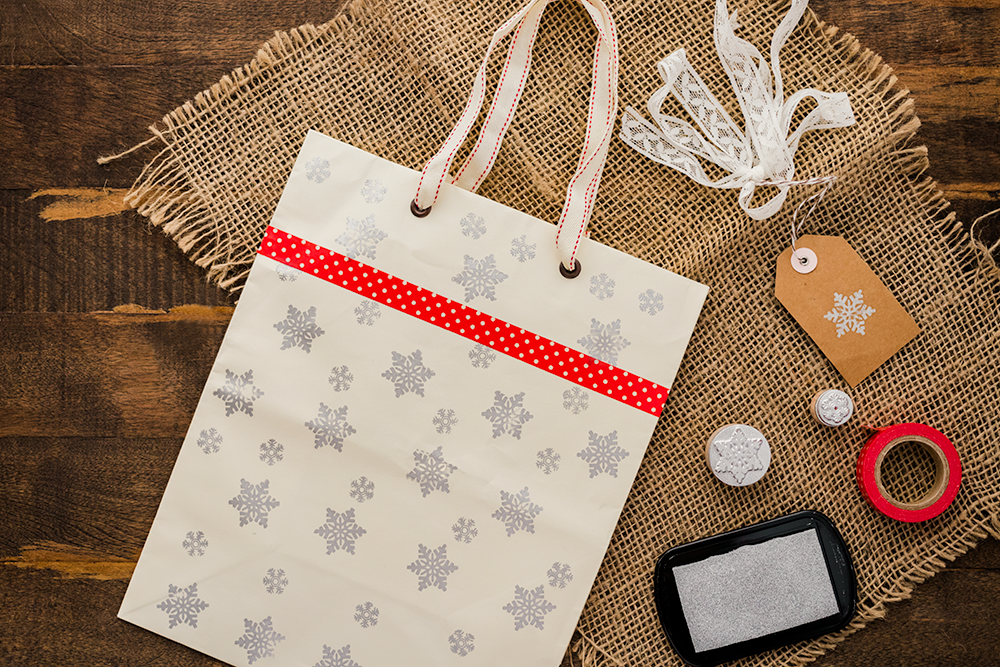 Reduce waste and put a personalized touch on your holiday gifts this season with these DIY gift bags. These rustic stamped bags make the perfect vessel for all your holiday gifts and the recipients will love that you made them yourself.
These DIY gift bags are fun and easy to make! Involve your kids for a fun crafting session and teach them the importance of recycling while you're at it.
The waste that accumulates during the holiday season is largely due in part to gift wrap and shopping bags. According to Stanford University, Americans throw away 25 percent more trash during the holiday season. If just three presents per American family were wrapped in reused materials "it would save enough paper to cover 45,000 football fields."
By repurposing shopping bags into gift bags, you reduce your holiday waste and save money. The only cost you'll have for this DIY project is the accessories like washi tape, stamps, ink, and ribbons. But you can reduce those costs (or avoid them altogether) by reusing materials from past gifts.
Gift bags are preferable to the environment than wrapping paper since wrapping paper is torn apart upon opening. Gift bags, however, can be reused for years to come. Encourage your gift recipients to reuse the bags instead of disposing of them after.
There are also alternatives to using tissue paper in gift bags. You can use already read newspapers or magazines neatly crumpled instead. If you get some weird glances at the holiday gift exchange, simply explain that you are choosing to reuse materials in order to cut back on waste.
Tips
I like to use Anthropologie bags when I make these since they are solid and sturdy enough for reuse. You can cover the store logo on the bag with a strip of decorated washi tape. If you don't have any extra shopping bags on hand, then you opt for brown paper craft bags made from recycled materials.
If your reused gift bags and/or tissue paper are wrinkled you can make them look like new again with an iron. Heat an iron over low heat with no steam and then press the bags and tissue paper until the wrinkles are gone. Be sure to turn off the iron after and move it away from the bags and paper.
You can also make this project even more eco-friendly by making your own stamps from wine corks! Pair them with eco-friendly stamp pads made from non-toxic ink to avoid harsh fumes from chemicals.

DIY Gift Bags
What You'll Need
Shopping bags
Washi tape
Holiday themed stamps
Stamp pad
Recycled gift tags
Ribbon or twine
Directions
Flatten your shopping bag and place it on a hard surface. Press a stamp into the ink pad and then press the stamp onto the bag. Make sure to press evenly to ensure the ink fills out the stamp shape. Repeat until desired design is achieved.
Place a strip of washi tape over the shopping bag logo. Trim the tape so it hits the side of each bag.
Let the stamped bag dry for about 10-15 minutes. Once dry, flip the bag and repeat above on the other side. Let dry for 10-15 minutes more.
Decorate each gift tag with a matching stamp and tie onto the bag strap with a piece of ribbon.
Fill decorated bags with gifts and top with recycled tissue paper. Happy gift giving!
Related on EcoSalon
9 Simple Christmas Crafts to DIY Your Way to a Happy Holiday
How to Avoid Overspending this Holiday Season (and Beyond!)
Holiday Special: Your Health and Wellness Gifts Guide is Here
Images via Karissa Bowers