Edgy jewelry made by local artisans in five countries, using materials like naturally discarded buffalo horn and reclaimed bombshells.
When launching her new jewelry label, Edge of Ember, designer Lynette Ong knew she wanted to ensure the pieces were not only going to be beautiful, but also made in the most ethical way possible. "The inspiration for Edge of Ember first came to me two years back when I was in Ubud, Bali where there were tons of silversmiths and art workshops," says Ong. "Most of them had an open workshop concept where customers could see the artisans working on these uniquely handcrafted pieces. I found these gorgeous works of art absolutely amazing. Yet with the overwhelming trend in the marketplace towards mass production, customers get either machine-lasered fare from factories or designer handmade items that were exorbitantly priced."
Fueled by a desire to share the stories and skills of these local artisans with the rest of the world, Ong, who was living in Hong Kong at the time, traveled extensively though Asia to find and form parnerships with the five local non-profit, fair trade organizations and artisan groups in Cambodia, Nepal, Vietnam and Indonesia that she works with today.
Designer Ong has not had any formal design training, and calls the brand's aesthetic a reflection of her personal style. "I have always loved jewelry," she says. "I think accessories complete an outfit and showcase an individual's personality. But it was only when the Edge of Ember idea came to me that I started dabbling with jewelry design. I love combining simple, classic pieces and bolder jewelry to create a look that is versatile enough to wear for both casual and formal occasions."
Edge of Ember's first collection is called SARAT (which is the Khmer word for "beauty") and features handmade jewelry pieces from Cambodia, Indonesia and Vietnam, with organic hand-hammered metals, bold geometric studs and ethnic-inspired tassels that are accompanied by an elegant mix of crystals and pearls. "The studs and spikes give an edgy and raw feel that I translated from bustling developing cities like Phnom Penh and Hanoi, the crystals set in antique-plated bezels show a hint of vintage and Art Deco, and the pearls and tassels add a touch of old school glamour," says Ong. "I like to contrast the edgy and feminine, and the ethnic and the contemporary in pieces."
The matte gold plated geometric studs and spikes used in many pieces are made from bombshells rescued from Cambodian land. The local artisans Edge of Ember work with are all part of the Rajana Association, a fair trade organization that helps create jobs for skilled craftspeople. The horn bangles are made in Vietnam, where local artisans use naturally discarded buffalo horn to delicately create these stunning pieces. All hammered pieces – which are Edge of Ember's signature style – are made in Indonesia, where artisans meticulously hammer metals by hand to create the soft-textures, versatile pieces.
The brand also gives back to the local communities where their artisans live and work by channeling 10% of all proceeds into the Ember Project, the brand's philanthropic arm. The Ember Project sponsors projects that focus on issues affecting women and children, and charities that address the problems women face because of the inherent gender inequality in these developing countries. Two of the initiatives, Daughters of Cambodia and Shakti Samuha in Nepal, rescues women from prostitution and sex trafficking and provides them with the skills to sustain their new lifestyle, while the specific Room to Read program by the Girls' Education Program in Vietnam, helps young girls to complete their secondary education.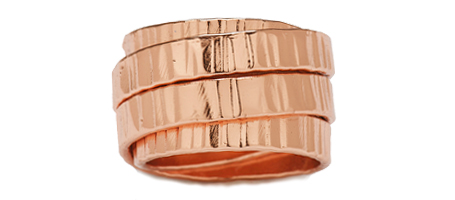 Says Ong: "I see these pieces on a confident, stylish woman who isn't afraid of having fun or taking risks, who can throw together a perfect outfit from seemingly disparate elements and is assertive, intelligent and socially conscious."