Textile expressions are shaping next season's ethical spirit
It is amazing to think that the Spring/Summer 2012 fashion week presentations have been underway for close to a month now. We kicked off the season with our announcement of the Ethical Fashion Show in Paris during the first few days of September, and now things have come full circle with the close of Paris Fashion Week today. Plenty of designer and runway celebrities have reveled in the media spotlight, but some very deserving names on the ethical fashion and textile innovation scene might have slipped under your radar. Read on for highlights of the bright new design stars we currently have our eye on.
New York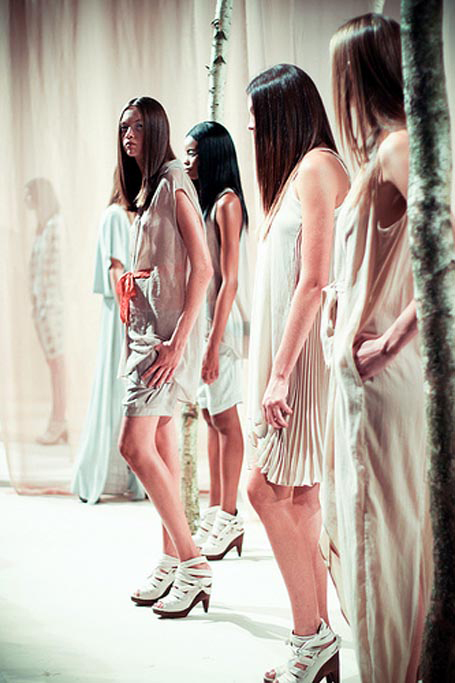 Kaelen S/S 2012 with Coclico shoes
EcoSalon was on the scene during New York Fashion Week (NYFW), and for the first time ever a (Sustainable) Fashion's Night Out at the Textile Arts Center in Manhattan set the stage for fashion as a vibrant community outreach initiative. As a fiber and textile enthusiast, I was rather smitten with Kaelen's Spring/Summer 2012 collection presented at Drive-In Studios. What's not to love about cool macramé fringe and pleat dresses presented in a stand of birch trees? Designer Kaelen Haworth made wood nymph chic (and Steve Nicks redux) seem transcendent. The pairing with ethically made Coclico shoes was pure genius as well.
Titania Inglis S/S  2012 organic dip-dyed peak dress
Brooklyn-based designer Titania Inglis had a whole lot of textile brilliance going on with her latest collection featuring natural dye methods, local production collaborations, and zero-waste experimentation. I love that Titania creates garments that are versatile as a suite of designs that dovetail efficiently together.
The above dip-dyed 'Peak Dress', created with natural dye expert Isa Rodrigues at the Textile Arts Center, has timeless appeal. The chic styling with Bliss Lau jewelry accents the fluid geometry of the draping. The peak dress was created out of Japanese organic cotton voile with a stripe texture, dip-dyed with logwood for the gray hue, and a mix of natural dyes for the peach hue.
Titania Inglis S/S  2012 collarless jacket and pleat short
This collarless jacket and pleat short are also great investment pieces as separates to re-invigorate an existing wardrobe. Materials include a dip-dyed organic cotton denim pieced with a dead stock cotton twill for the jacket, and the same dead stock cotton twill for the short.
Ivana Helsinki S/S 2012 celebrates ethnic prints for Indian Summer
Another favorite textile-inspired line up at NYFW was Ivana Helsinki's Indian Summer collection. Finnish designer, Paolo Suhonen's artistic melding of ethnic patterns and graphic feather motifs pave the way for a trend-free and border-defying form of global nomadism. I like that Suhonen always looks to her Scandinavian roots for ongoing inspiration and indigenous source material as well.
London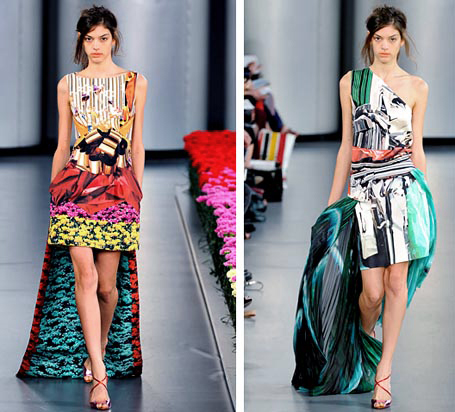 Mary Katrantzou S/S 2012 takes digital printing for a bold ride
Designers at London Fashion Week certainly were not shy about bold innovation in textile printing technologies, and many would agree that Mary Kantrantzou is still a clear frontrunner in the wild abstraction and remixing of patterns that are mind-blowing on the runway as well as hot on the retail scene. Spring/Summer 2012 was no exception for Katrantzou, although some felt that her pop art 'brushstrokes' were a bit too broad this time around. Regardless, I like that this designer pushes her medium to create textiles that fuse repeat patterns in nature with a textured maps of metallic car parts.
Ada Zanditon S/S 2012 ethically-produced Poseidon Dress
Ada Zanditon was, as usual, a must-see show on the ethical fashion circuit, and in keeping with the current trend to host film or installation projects in lieu of a full-blown runway show, Zandition's Poseisus collection did not disappoint. The pièce de résistance was this Poseidon Dress, which pays homage to the principles of biomimicry as well as the plight of endangered seahorse species off the south coast of London.
Felicity Brown S/S 2012 marries Victorian grace with hand-dyed tribal patterns
One of the most romantic expressions at the London shows was Felicity Brown's S/S12 exquisitely dyed and adventurously draped dresses. The designer describes her intent best: "Taking inspiration from Victorian lady explorers in Africa, such as Mary Kingsley, Felicity imagined how the influence of the tribes' women would infuse into their dresses and create a hybrid of the two opposing cultures. The stiff rigidity of the neckline and corseted bodice is reworked with fluid, laser cut silk jersey tubes that have been hand dyed with a deconstructed tribal pattern. The contrast and tension between soft femininity and strong cage like structures are another theme that resonates powerfully throughout Felicity's work." – S/S12 press release
Michelle Lowe Holder's zero-waste designs at Estethica
On the accessorizing frontier, Michelle Lowe-Holder created a stunning showcase of her zero-waste cuffs, collars, and neckpieces crafted out of fabric and textile wastage for London Fashion Week's Estethica. I also love that this designer also styles her look book shoots in a manner that defies gender, age, and racial stereotypes – totally modern, in the best sense of the word.
Milan
I am basically going to skip over the Guccis, Puccis, and The Sartorialist street style shots from Milan Fashion Week. We know that the Italians are unbearably stylish when it comes to making upcycled boyfriend jeans and cobble-crushing stilettos look killer. I am married to someone who was born in Milano, and trust me, he can make a plain white shirt look like a million bucks.
Km/a's recycled parachute coat melds materials and conceptual storytelling
I do want to call out one of my favorite labels, km/a of Vienna, who exhibited again this season at WHITE Milano. Sass Brown has profiled them in the past on Eco Fashion Talk, and they have also been standout exhibitors at The KEY.TO during Berlin Fashion Week. Km/a's novel approach to fusing art, fashion, and the recycling of parachute materials as well as military blankets puts whole new spin on surplus chic and textured storytelling.
Paris
With Paris Fashion Week coming to a conclusion today, I am happy to report that there appears to be a new wave of locally made, ethical fashion in France. Hélène Sananikone, owner and proprietor of Green in the City in the Marais, shared news that, now more than ever, ready-to-wear ethical brands are increasingly available and with colorful and vibrant hues for the upcoming season.
Hélène wrote to us, "When I opened my boutique only three years ago, I could hardly fill my store with French ready-to-wear brands. It was also not very easy to find these designers at the shows that I visited in Paris, and it honestly seemed as if all of the eco fashion was happening abroad. Now, more and more French eco designers have their place at the most fashionable fairs. They can develop fabrics with their manufacturers, particularly exclusive prints with Oeko-Tex dyeing. For a long time they had to be careful and propose basic colors. Now for Spring/Summer as well as for Autumn/Winter, they can dare to add colors and unique prints. Eco fashion need not envy fashion anymore. It is fashion."
Parisian label 'Ambryn Tribu Urbaine' creates hand-drawn whimsy for textiles
Ambryn's A/W 2011 illustrates eco-luxurious hues and trans-seasonal appeal
Green in the City carries French-made Ambryn Tribu Urbaine in their boutique and for Spring/Summer 2012, this indie label is offering a unique interpretation of 'Behind the Garden' with hand-illustrated prints and ethically-sourced fabrics. I am still savoring Ambryn's Fall 2011 pieces – particularly the hand worked green collar on the above piece for autumn.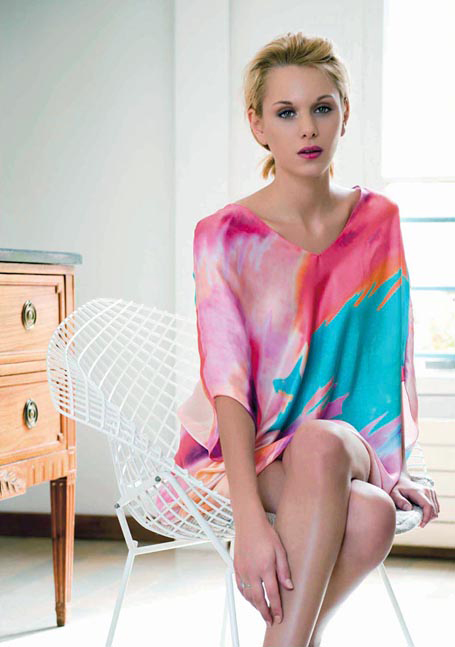 EELD S/S 2012 'Bird of Paradise' bio-silk top made locally in France
Also not to be missed on the broadening ethical fashion scene in Paris is the new French-made label, EELD. Designer Chloe Bourrioux recently debuted her bio-silk and eco-friendly dyed pieces for S/S 2012. Added details like her support of traditional lace making techniques from the world famous Calais region and silk from Lyon makes EELD a genuinely French expression of textile rich fashion and local goodness.
Lead image: Michelle Lowe Holder, Kaelen photo by Jeannine Tan via Kaelen's blog, Titania Inglis photos by Evan Browning,  Mary Katrantzou via Style.com, Ada Zanditon photo by Sarah Brimley, Michelle Lowe Holder photo via Oxfam.