Just in time for holiday shopping and gift giving: The Box is back!
Our exclusive EcoSalon shopping must-have, the curated eco product assortment known as The Box, is back, with the Holiday Food Box. We're offering $500 worth of holiday eco-goodies for just $99 and these won't last. That's a guarantee.
Are you a food lover? Whether you love eating food, cooking it or just talking about it, this box is for you. It's full of anything a foodie could ever want, from cookware to gourmet goods to shade-grown coffee, so be sure to snag one before they're gone.
(If you do miss out this time around, our friends at The Daily Meal are hosting a giveaway for the last remaining Food Box standing. Head on over to their site and register to win!)
Just look at what we have in store for you this time around:
Slate Cheese Board
Serve up a round of artisan cheeses on this simple and functional Slate Cheese Board from VivaTerra. Chalk lets you introduce guests to new cheeses with style. And don't think this board is reserved for cheese only; the modern design makes it the perfect serving platter for everything from charcuterie to chocolate, so get creative!
(Retail value of $69)
Mortar and pestle
Made from 100% organically-grown bamboo, this bamboo mortar and pestle from Core Bamboo will brighten up any kitchen. Now you'll be able to make handmade pesto, crush mint for your mojitos and grind together fresh herbs for garnish. Unstoppable, mama.
(Retail value of $37.50)
2 pounds of coffee from Coffee CSA
Now that you get your kale, chard and carrots thanks to a C.S.A., why not your coffee? Coffee CSA makes sure that you get the best selection of coffee directly from small-scale farms. No middlemen, just farmers and people like you who love great coffee. You'll get two pounds of fresh-roasted premium coffee delivered right to your doorstep.
(Retail value of $29.98 – $32.98, depending on the coffee farmer selected.)
Bamboo Bottle Company Reusable Bottle
This isn't your your mother's water bottle. With a unique design that uses bamboo and glass, Bamboo Bottle Company has created a bottle that will not only keep you far, far away from disposables, but you can fill it with hot and cold drinks alike, meaning you can go from coffee in the morning to water in the afternoon. The glass interior is removable and dishwasher safe so keeping your bottle clean is easy. Cheers!
(Retail value of $25.00)
Wei of Chocolate
We all know that chocolate makes us feel better, but Wei of Chocolate just might go above and beyond your normal cocoa expectations. Wei Relaxed dark chocolate is organic, fair trade, dairy-free, gluten-free, soy-free, 68% cacao, and enhanced with flower essences that work to calm & relax the mind and help you sleep better at night. Who knew chocolate could do so much?
(Retail value of $11.00)
Night Owl Paper Goods Recipe Card Books
Keep all your recipes in one place with this cute recipe card book from Night Owl Paper Goods. 24 recipe cards printed on a letterpress are held inside a sustainably-harvested birch wood cover, and with a self-standing easel is easy enough to prop up when you're in the midst of your culinary creations.
(Retail value of $26.00)
D.I.Y. Delicious by Vanessa Barrington
If you follow EcoSalon's food section, we're pretty sure you're fans of homemade food. Cooking from scratch not only puts good food on the table, but it allows you to experiment. EcoSalon's very own food columnist, Vanessa Barrington, leads the way through the homemade cooking process in her book D.I.Y. Delicious, full of new explorations – ever made yogurt? – and simple solutions to the question, "Can't I make that myself?"
(Retail value of $24.95)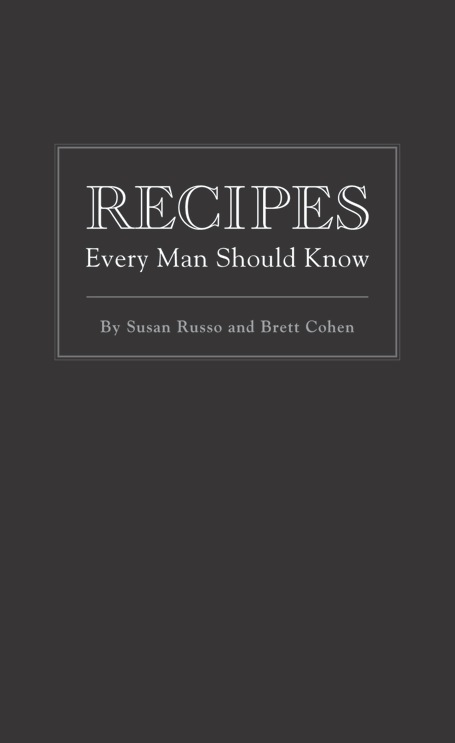 Recipes Every Man Should Know by Susan Russo
There are just some things men should know how to do. Cooking is certainly one of them. Here's the perfect gift for your husband/boyfriend/lover/brother/nephew/next door neighbor, because every man should know a thing or two in the kitchen. Penned by one of our favorite food bloggers, Susan Russo, this is the down and dirty guide for ensuring that a man can easily navigate the wide world of food. Fingers crossed you get to reap the benefits!
(Retail value of $9.95)
Zhena's Gypsy Tea Hazelnut Chai
Making tea is an art, and Zhena's Gypsy Tea does it well. 100% organic and 100% Fair-Trade certified, this container of 22 sachets of Hazelnut Chai is sure to become your winter favorite. Think of it as a hazelnut torte, turned into a tea. Brew a batch and within minutes your house will be smelling of cinnamon, ginger and vanilla.
(Retail value of $9.95)
Fat Toad Farm Caramel Sauce
If ever there were a sauce you'd want to put on everything, this is it. Made from organic goat's milk, Fat Toad Farm's caramel sauce is creamy, rich and flat-out amazing. A family farm, Fat Toad's 47 milking does are pasture-raised, their milk used for making cheese and caramel, or cajeta. Because this form of caramel is primarily dairy based, it's creamier and less sweet than standard caramel sauces. Be careful not to down the entire jar on one apple.
(Retail value of $12.00)
Twig Servers
A gorgeously prepped salad should have equally gorgeous serving utensils, and these Twig Servers from VivaTerra are just what you need. Nature-inspired, they're a chic complement to an organic meal, and their design makes them fit perfectly in your hands. Now it's just up to you to serve up a mean bowl of greens.
(Retail value of $45)
Innate Gear Doppio
Espresso, wine, whisky; this reusable mug from Innate Gear does it all. Throw it in your bag and you'll always have something to put your afternoon Americano in, even if you're on the go. And it's called a Doppio. Which is just adorable.
(Retail value of $9)
Bambu On the Go Reusable Utensils
There's no need for grabbing a flimsy, single-use fork for with your to-go lunch when you've got the
Bambu
 On the Go set stashed away in your purse. The reusable Certified-Organic bamboo utensils fit into a cork travel container, and it's tough enough to throw in the washing machine when it gets dirty. You'll never have to eat with a plastic spork again. Life. Problems. Solved.
(Retail value of $15)
Aspenware Compostable Cutlery  
Spring and summer picnics are a ways away, but you'll be well prepared with two sets of Aspenware compostable cutlery. With four spoons, forks and knives in each set, you'll be able to outfit an army. Or at least all your eco-friendly friends.
(Retail value of $2.99 per pack)
Full Circle Ring Veggie Brush
Scrub your veggies clean with this Ring Veggie Brush from Full Circle. Made from bamboo and natural and recycled plastic bristles, it's an ergonomic dream and will also ensure that your veggies have that fresh look even after the supermarket wax has been scraped away.
(Retail value of $4.49)
Architec Mixing Bowls
If you're cooking organic, shouldn't your kitchenware be just as environmentally conscious? These stacking mixing bowls from Architec are the perfect plastic alternative. Made from 98% natural and recycled materials, the two, three and four quart set will satisfy all your baking needs. We foresee a delicious batch of chocolate chip cookies already.
(Retail value of $29.99)
Epicurean Cutting Board
Slice and dice in style with this 12″ x 9″ EcoPlastic cutting board from Epicurean. Not only is this board made from recycled poly, but it's also made in the USA, ensuring you can chop your vegetables with a good conscience.
(Retail value of $19.99)
Lodestar Garlic Olive Oil
If you're attending any good dinner parties in the next few weeks this Lodestar Farms Garlic Olive Oil from Greenfeet makes the perfect hostess gift. This award winning olive oil is made with sustainably harvested olives in the Sierra Nevada foothills, and can be used for everything from dressings to dipping.
(Retail value of $13.95)
Stainless Steel Robot Tea Infuser
Steep your evening cup of tea in this fun, Stainless Steel Robot Tea Infuser from Greenfeet. The arms and feet move to fit your favorite tea mug. In need of more fun eco-friendly kitchen products? Check out the rest of the Greenfeet site for a wide selection of culinary goods.
(Retail value of $8.95)
Navitas Naturals Power Snacks
Power up with one of these Power Snacks from Navitas Natural. This isn't your average trail mix; superfoods are the name of the game in these snack mixes, which feature cacao, maca, chia, and camu-camu. Easy to pack, they're perfect for staying energized while you're traveling this holiday season. Plus they're raw and organic, which should please anyone looking for an on-the-go natural boost.
(Retail value of $8.99)
Bird Salt and Pepper Shakers
These whimsical salt and pepper shakers from VivaTerra will bring a smile to any guest at your table. And if you don't want them for your own home, they make a beautiful gift for any bird lover in your crew.
(Retail value of $25)
To buy:
We're sorry, this Box edition has sold out! Check out the other available options – they're pretty fabulous, too.