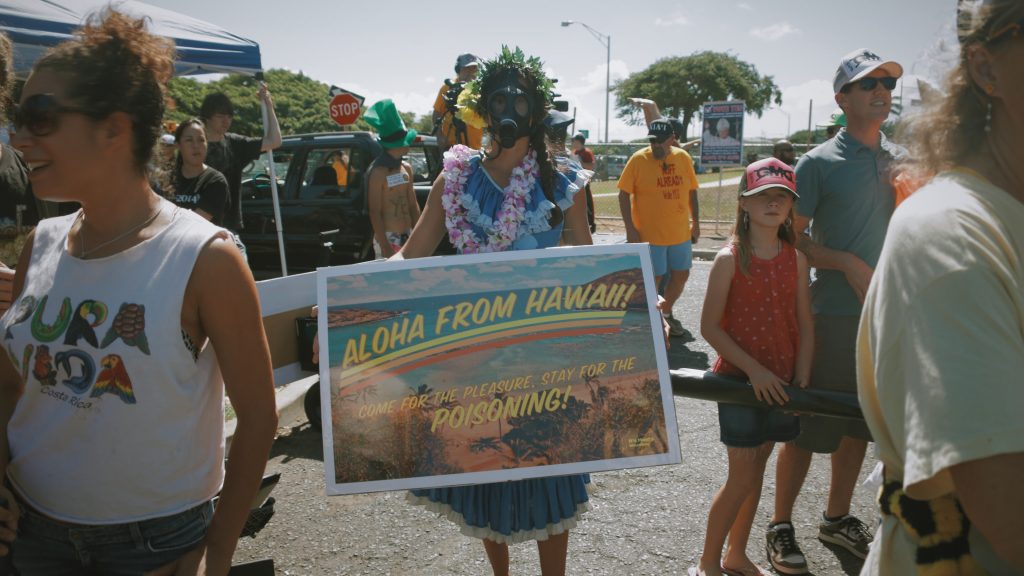 Hawaii's idyllic, self-sustaining past came to a brutal halt in the 1960s, when the archipelago became ground zero for the world's largest chemical companies to test their most dangerous proprietary pesticides and turn it into a GMO food factory. Filmmaker Cyrus Sutton delves into this question of sustainability, genetic engineering, and homeland in the new film "Island Earth."
The 63-minute documentary, which is available to the public on iTunes, follows the journey of Cliff Kapono, a PhD candidate and scientist, to understand Hawaii's complicated connection to GMO food. While he believes in the power of genetic modification to further the development of better, more resistant foods, he also understands the way the technology has been used by chemical companies and the devastation it has caused.
Through interactions with people on both ends of this complex spectrum of thought and philosophy, Kapono becomes the viewer's guide.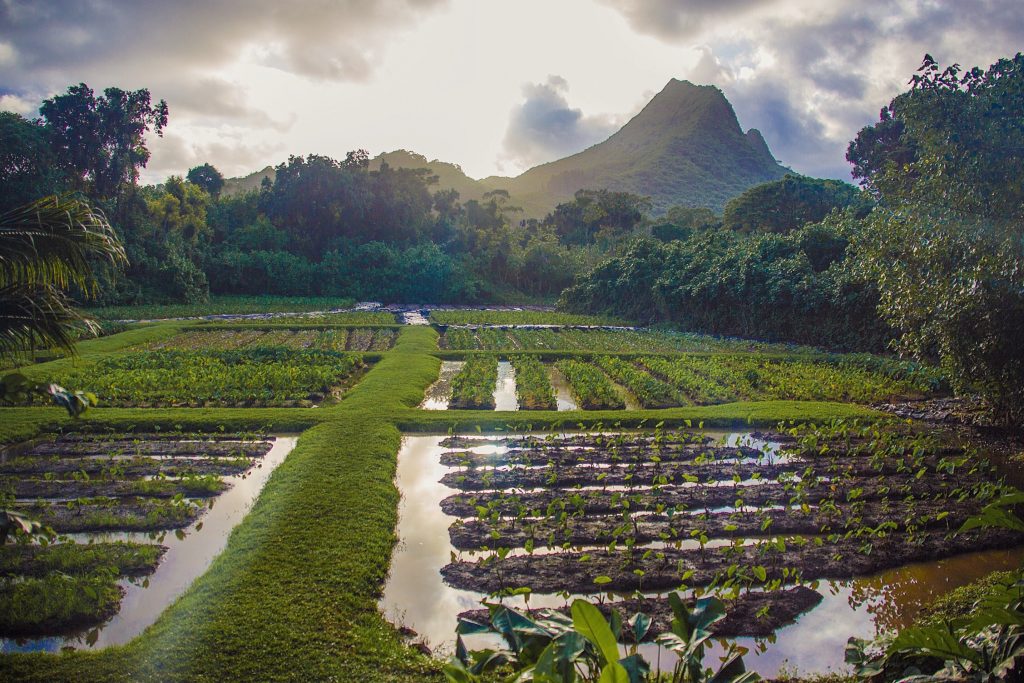 Hawaii's Self-Sustaining Past
The film offers a glimpse at what island nations such as Hawaii once were – "entire worlds" in the era before globalization, according to Peter Vitousek, Ph.D, Professor of Biology at Stanford University. Before Europeans arrived, the population of Hawaii was even greater than once it was colonized, and yet the islands produced enough food to feed everyone. This was thanks to native Hawaiians' ingenious use of the natural resources of the island: water trickling from the sacred forests would seep into the taro terraces below before journeying further, through the villages, to where fish ponds on the coast naturally sourced fish from the oceans.
These pre-colonial systems were scrapped, and today, while approximately half of Hawaii's land is designated for agricultural use according to the Hawaii Data Book, the state imports between 80 and 90 percent of its food; commercial crops grown on the island are shipped elsewhere (and often return to Hawaii in processed form).
Because Hawaii has three growing seasons, the island is subjected to three times as much pesticides, and they have the acute instances of illness to prove it, including one at a school highlighted in the film.
"Within two generations, Hawaiians have become canaries in the coal mine for a tangled web of public policy and private interests," notes a press release for the film.
GMO Food: Walking the Line Between Innovation and Destruction
The film effortlessly toes the line with regards to GMO technology, addressing the danger posed by Big Ag yet offering a measured view of the scientific possibilities afforded by GMOs.
Dennis Gonsalves, retired Professor Emeritus of Plant Pathology at Cornell and director of the USDA's Pacific Basin Agricultural Center, is one interlocutor who explains the ways in which genetically engineered papaya saved the papaya industry in Hawaii after most of it was wiped out by disease. Today, 85 percent of the papaya grown in Hawaii is genetically engineered.
"I felt like my mind changed while making the film," notes Sutton of his own preconceptions with regards to GMO food. "It was only after interviewing people who had devoted a large part of their lives to understanding the technology that I realized that it would be irresponsible of me to villainize it."
But the film also illustrates how the GMO food crisis reached its breaking point in Hawaii.
"GMOs originally came on the industrial agriculture scene to reduce the amount of pesticides needed by creating traits that would make plants stronger in fighting pests and disease," says Kapono. "But somewhere along the way, it seems something has changed."
The issue highlighted by the scientists in the film is compared quite appropriately with a similar issue plaguing the medical industry: companies sell seeds that are resistant to their pesticides to sell more chemicals, just like drug companies sell medicines that treat symptoms rather than curing illnesses: this isn't treating the problem, but rather selling a temporary solution.
The film effortlessly builds rage and indignation in the viewer, as it explores 2016 legislation that maintained that Maui could not ban GMO food production or Dustin Barca's 2014 campaign for mayor of Kauai on a platform of fighting GMO food in Hawaii, which failed in the face of incumbent Bernie Carvalho.
"Now it's really just time to lead by example," says Barca, going back into his garden to continue the hard work.
In fact, Sutton made the bold decision to end the film on this loss.
"I had an original ending that was more of a call to action," says Sutton. "I felt like it was disingenuous. It was more accurate to end bittersweet."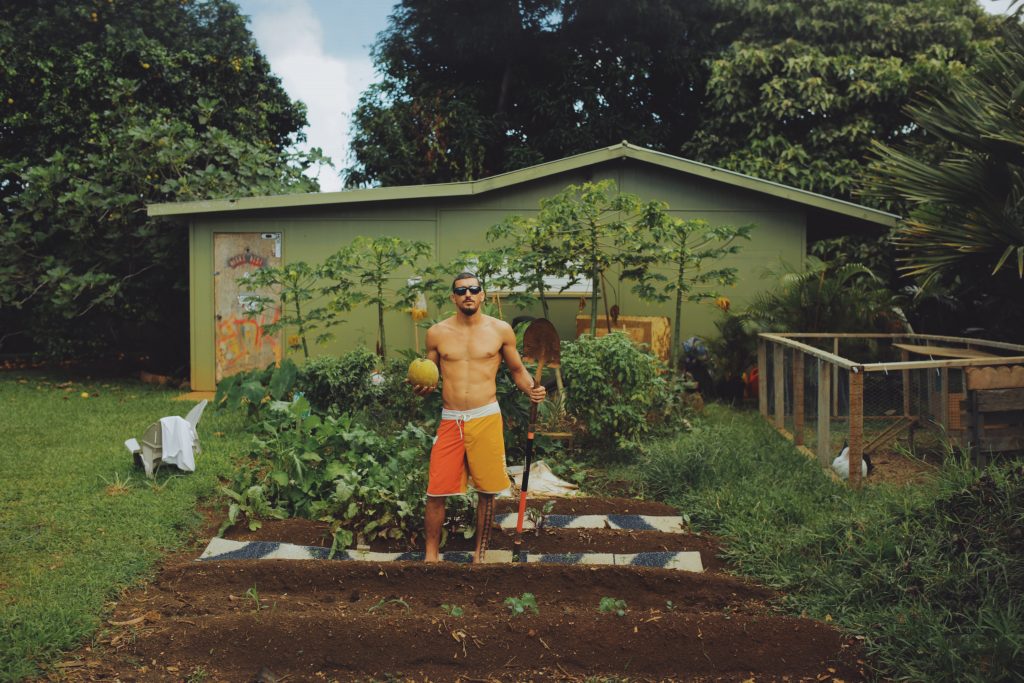 Locals Are Fighting the Good Fight
Barca, who is also an MMA fighter, is not the only local battling the GMO food issue in Hawaii.
The film also features Dashiell (Dash) Kuhr, founder and director of Hawai'i Institute of Pacific Agriculture (HIP Agriculture), where he explains the notion of a permaculture garden or "food forest," a project that he says needs "very little energy" to maintain.
Hawaiian cultural practitioner and educator Malia Chun, meanwhile, says that as a working parent who doesn't have the time to grow her own food, she is doing what she can by voting with her dollar.
"The only way these corporations are able to survive and thrive is because we keep feeding them our money," she says.
"Part of what drew me to make the film was just being inspired by the level of ownership of community that local people have," says Sutton. "Time will tell, but I think if anyone has a good shot, I think they do."
Related on EcoSalon
Ho'oponopono: What Hawaii Taught Me About Forgiveness and Healing
Non-GMO Project Brings Transparency to Organic Foods
What's the Latest in Genetically Modified Foods? Apples that Don't Turn Brown: Foodie Underground