Between all of our obligations and the countless hours spent on social media, life can quickly leave us feeling burned out. Slowing down is important, which is why inner peace is so vital to our sanity. And although it may seem next to impossible to attain amid our hectic schedules, it's officially time to shift your thinking. Karma Bliss founder and CEO, Devi Brown is here to share her tips, and offer you the tools you need in order to change your life for the better.  
Imagine going to bed with a clear head, a full heart, and feelings of satisfaction and gratefulness. Now imagine waking up with a smile on your face, feeling refreshed, renewed, and ready to conquer the day. Picture this becoming more than just coincidence, but a real habit that purposely weaves itself into the fabric of your life; something you make a conscious decision to welcome into your heart and mind.
Finding and attaining inner peace isn't just a far off fantasy. In fact, it's well within your reach, and Devi Brown, Karma Bliss founder, CEO, and iHeartMedia radio host, has the tools and know-how to help you meet your personal goals.
Even the individuals who look like they have it all together, who have the most lavish lives, and the best social media presence, can be suffering inside. In other words, no matter your place in life, it's okay to seek self-improvement while on the path to finding inner peace and, ultimately, happiness.
Brown, who also happens to be a successful radio personality, is a great example of how a humble journey can reap major rewards. Thanks to her own trials and triumphs, she was inspired to help others find their happy place, too. Because of her desire to share her successes, Karma Bliss was born. And boy, are we glad it was.
I had the pleasure of getting to know this inspiring woman, entrepreneur, and someone who I've dubbed the "Inner Peace Guru." As we chatted about her personal transformation, and all of the great things Karma Bliss has to offer, I realized that this is more than just a business – it's her passion. Take a few moments out of your busy day to read her story, and hopefully learn a thing or two about how to improve your own life. I just know you'll be pleasantly surprised.
I was so inspired after talking to Devi, that I couldn't wait to begin my own little journey to finding balance and inner peace. Fortunately, the company has all the tools to help me along the way. Karma Bliss really says it best: "When life moves too fast, it's time to slow down." You owe it to yourself!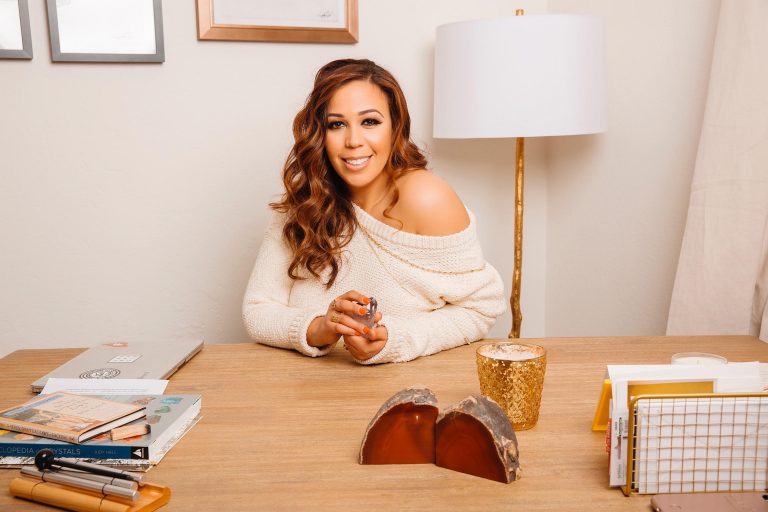 Jamie Duncan: How did you get into this line of work, helping people connect with their inner selves?
Devi Brown: Something I refer to as the "gateway drug." Choosing to work on myself first, and then wanting to share that peace with others is how I got started. I was pretty stressed out, but after discovering meditation, that changed everything for me. What the journey entails is different for everybody, but by inviting in more peace, patience, and synchronicity, I was able to get there. Eventually, my radio listeners, friends, and family were asking about my transformation, inspiring me to share with others.
JD: You've been described as a "powerful changemaker." Where do you find your inner strength to influence so many?
DB: I think we all are. I think that's the thing about each of us – we don't always recognize our own power. Kindness, love, resilience, and personal change influence the people who are watching. For me, it's just that my biggest, I think, goal for my journey, is to constantly evolve, learn more about me, and exist in the world in a way that serves others better.
JD: What does a typical day in your life look like?
DB: I'm super drawn to meditation. When you kinda realize you can be both meditative and career oriented at the same moment, it's a good feeling. I wake up around 7:30 in the morning, spend time meditating and getting centered about the day — you know, what to manifest, and how to maintain peace and balance. I head into work, and then when I leave, I try to have at least 15 to 30 minutes outdoors without my phone. Maybe take my shoes off. I meditate again later in the afternoon, then I work on Karma Bliss and fulfill orders. I make it a habit of journaling before bed. Lately I've been into writing a couple pages on what I'm grateful for, but I also like to journal about any and everything that's on my mind. Then I squeeze in a little reading before going to sleep.
I find that my sleep is improved thanks to journaling. You have things on your mind that you don't even realize you're thinking about. The second that pen hits the paper it kinda takes you to a meditative place. It can be very telling, plus it's a great way to unplug and disconnect. There's just something about paper journaling — the nostalgic longing for that pen to paper feeling. It's such a humanist, tangible way to unwind.
JD: How can others incorporate your practices and products into a daily routine?
DB: Don't overthink it. That's one of the things that I did so much. I felt like I wasted so much time thinking and not doing. I held myself back thinking about all the reasons why I didn't have time, why I wasn't starting. I realized that your spirit tells you what you need and where you need it. You're not going to get it perfect, and you're not supposed to. Practicing everyday is more important than always mastering. Just spending 30 minutes twice a day is all you need, but even if you don't get that, 15 minutes, is great, too. Do what you can where you are.
JD: What makes your products so special and unique to Karma Bliss?
DB: For one, the whole thing about KarmaBliss is that we have awesome and really beautiful pieces, but the whole basis of the business is about self-discovery. Not only does Karma Bliss offer a ton of info on how to get started, but we also help you utilize the tools, and unlock those pieces of you. Giving the how-tos and the guidance to maximize your purchases is what sets us apart. That way, rather than put your items (and your goals) on a shelf somewhere and forget about them because you don't know where to begin, you now have that much needed direction.
One special feature that we're really proud of is our curated Bliss Bags. People are getting into stones and crystals, but they don't know what would be good for them. We've taken the guesswork out of all of that. Right now, we have five: Dharma, Emotional Healing, Friendship, Love, and Vitality, and each one has stones that will attract those elements into your life, plus instructions on how to use them.
JD: Can you tell us a little about the Meditation Tools and Vision Boards that are coming soon to your website?
DB: In the fall we'll be introducing two new products – a signature vision board and a beautiful meditation chair. The vision board will really take things to the next level. Sometimes we have a tendency to hide it away – our vision boards and dreams, but I'm a big believer in getting everything out there, so we created a board that you'll want to see everyday and be proud to make a part of your daily life. The meditation chair is beautiful. It's really low to the floor, enhancing the grounded feeling that meditation often brings.
And, coming summer of 2017, we have workshops pending. I'm certified in primordial sound meditation, which will be an integral part of the workshops and retreats that Karma Bliss has in store.
JD: If someone is struggling to find inner peace while reading this article right now, what advice would you give them?
DB: I would really love to share the idea of just accepting yourself now, right here in this moment. Sometimes we resort to suggesting that people focus on self-love, and self-love is great, but the only road to self-love is self-knowledge. That can really take some time to dig deep into the pieces of yourself that you're not always proud of, which is why I like to suggest focusing on acceptance as a starting point.  
Don't shy away from asking yourself the difficult questions – if you feel a negative emotion, ask yourself why you feel this way. Continue to ask why, why, why, and what do I need to combat these feelings. Ask yourself questions, and then ask yourself questions about the answers – be straight with yourself. Happiness is a natural byproduct of self-discovery, and so is love.
JD: What else can you share with our readers?
DB: Just that we have to adjust our thinking sometimes about what it takes to be who we want to be and not be scared to do that. Let's not trick our minds into thinking that we can't change and evolve, because it's literally built into our DNA. It's who we are. It's why we're alive. Change is a constant, and something that can be absolutely amazing for all of us.
Where do you think your life could use improving? Share your thoughts with us on the EcoSalon Facebook page!
Related on EcoSalon
How to Meditate: A Gift to Give Yourself
The Many Benefits of Meditation for Your Mind and Body
8 Powerful and Beautiful Healing Crystals and Stones for Your Home
Image of Woman Meditating via Shutterstock