October is breast cancer awareness month and we're showing our support by bringing you products where proceeds really are donated to organizations that care about funding breast cancer research.
Titties, melons, jugs, Thelma and Louise, whatever you call your lady lumps, it's important to remember that breast cancer is no joke! Chances are, if you don't have firsthand experience battling this disease, then you have probably been affected by someone who has. It's easy for the majority of us who haven't had breast cancer to forget just how sobering the statistics are. So before we get into the products that support breast cancer research, let's take a look at some facts and figures from BreastCancer.org:
About one in eight U.S. women (about 12 percent) will develop invasive breast cancer over the course of her lifetime.

Besides skin cancer, breast cancer is the most commonly diagnosed cancer among American women.

For women in the U.S., breast cancer death rates are higher than those for any other cancer, besides lung cancer.

A woman's risk of breast cancer approximately doubles if she has a first-degree relative (mother, sister, daughter) who has been diagnosed with breast cancer. Less than 15 percent of women who get breast cancer have a family member diagnosed with it.
Now that you have a little more information, let's also discuss your breast self-examination. You must do these! There are no ifs, ands, buts, or boobs about it! And if you don't feel like scouring the net for an image, then here, meet your new best friend…
And finally, when October rolls around, you'll be seeing more than just the color orange in your big box stores and other retailers. There will likely be a sea of pink products all touting their support for breast cancer awareness. And while these are visually mindful, the actual idea is often poorly executed. From cancer causing chemicals in makeup found at high-end counters, to a bunch of junk that may have been constructed courtesy of child labor, it's easy to understand why these aren't well thought out. Check out Think Before You Pink for additional advice, donate directly to the charity of your choice, or take a peek at our list below.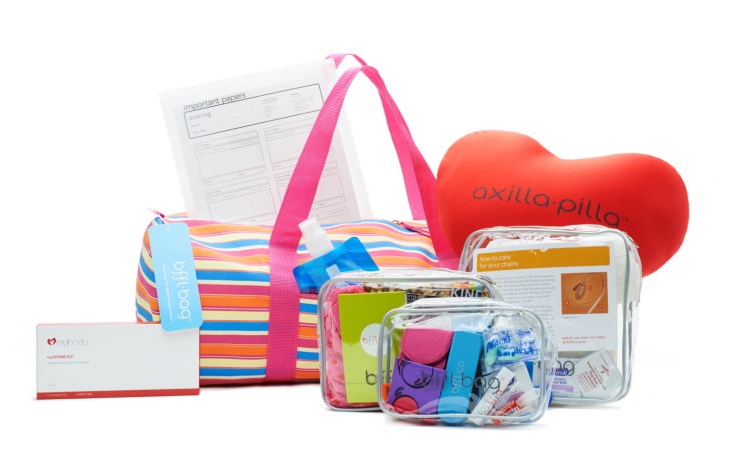 This bag is perfect for the loved one in your life after breast surgery. The bright and cheerful Breast BFFLBag has been carefully curated to contain the essentials to transition patient from hospital to home. It contains a specially-designed axillapilla comfort pillow for the underarm area, wound and drain care supplies, Bio-Oil, toiletries, KIND snack bars, and more. The Best Friends For Life Co. has several specialty bags to choose from, including: a double mastectomy bag, lumpectomy bags, chemo packs for him and her, and many more thoughtful gifts for those undergoing treatment or after surgery. The best part is that 15 percent of the proceeds from this bag can be donated to Soul Ryeders at checkout.  
From the packaging to the working conditions to the product, Organic Boutique sells a wide range of certified, eco-friendly flowers. The beautiful bouquets are perfect for sending just because, or as a thoughtful get well sentiment to a patient currently recovering from treatment or surgery related to breast cancer. Choose from either the Breast Cancer Fund Yellow Roses, or the Dr. Susan Love Research Foundation Sweet & Lovely Rose Bouquet, and they will donate 5 percent of the proceeds to the named charities.
3. Karma Bliss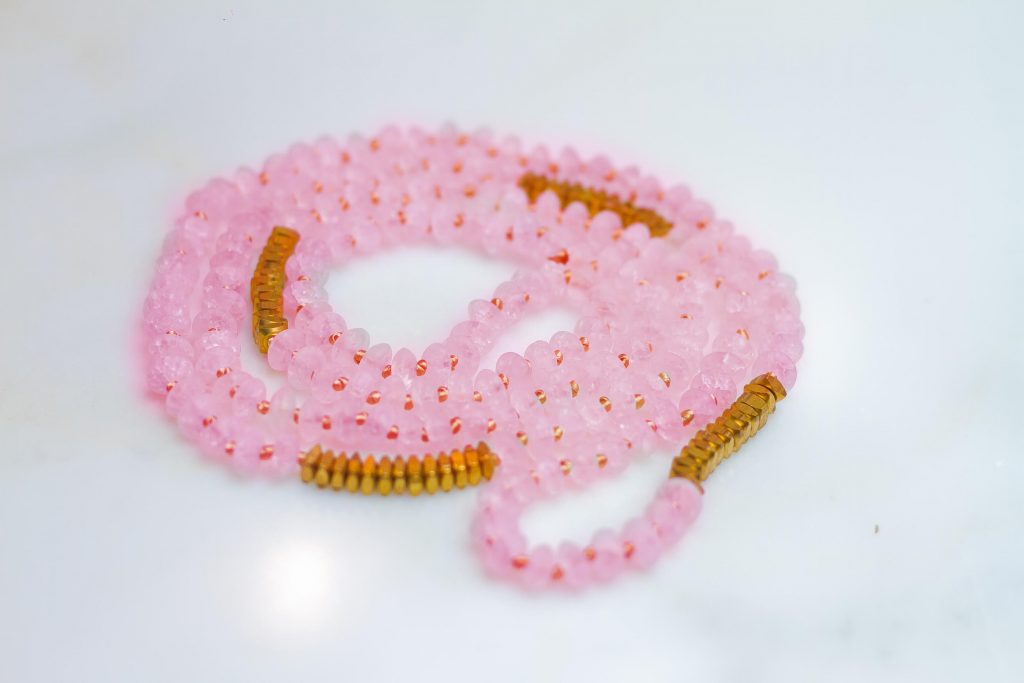 The online meditation and healing boutique Karma Bliss is raising awareness for the month of October with the rose quartz KB Wrap Necklace, "Love".  Representing healing, peace, and unconditional love, this beautiful piece of jewelry invites hope and faith to its wearer. Perfect as a gift, or a remembrance piece, when purchased during the month of October, 50 percent of the proceeds will be donated to the Young Survival Coalition.
Whether you're going it alone or with a partner, sexual health is important, which why I'm loving this next breast cancer awareness buy. Purchase either the OhMiBod Lovelife Discover Mini Vibe in phthalate-free body safe silicone, or the vegan-friendly Sliquid Pink Lemonade lube that's glycerin and paraben free, and Babeland will donate ten percent of the proceeds to the Young Survival Coalition.
Along with breast cancer research and early detection, remember to support and encourage loved ones to do those self-exams and take good care of one another. Boobies are replaceable, lives are not! Have you or someone you care about been affected by breast cancer? Share your stories with us on the EcoSalon Facebook page throughout the month of October and beyond.
Related on EcoSalon
10 Foods to Fight Breast Cancer
Is Cell Phone Radiation Causing Breast Cancer?
We Love Breast Cancer Awareness, We Hate Breast Cancer Commercialization
Image of Woman With Pink Balloons via Shutterstock
Image of Self-Examination via Sisters Network, Inc. – Chicago Chapter