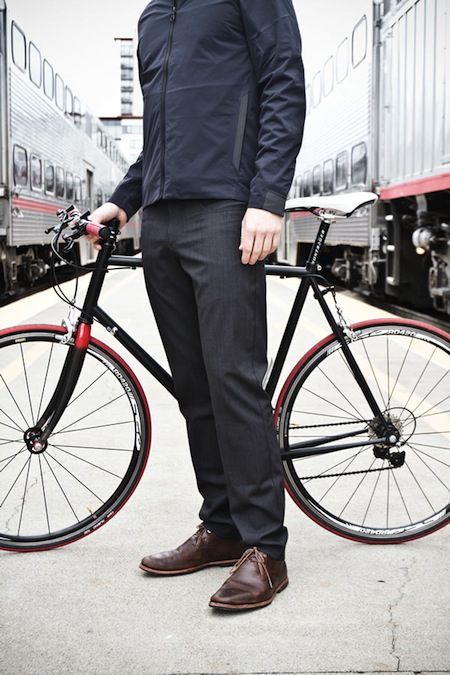 Nonetheless Garments combine functionality and effortless class in a menswear collection that is based on triple bottom line and cradle-to-cradle philosophies.
"For years, traveling to school, work, and social occasions via public transportation or bicycle was a daily inconvenience. I found myself needing to ride with excess belongings like a momentary visitor in my own city. Restrictions were taking away from my multifaceted life and times, which became a core problem. More telling, authentic solutions mindfully took on a new product category to supply an industry. A new kind of menswear was born for us active professionals needing tailored yet functional goods." – Jonathan Shaun, founder Nonetheless  Garments

If you're looking for a fantastic Valentine's Day gift for your special gent, Nonetheless Garments offers the perfect gear for a guy on the go. Marrying functional textiles, polished aesthetics, and modular design into tailored and sophisticated menswear makes these garments ideal for an urban commuter that needs practicality and class. As all Nonetheless pieces are made to last through purpose-driven design; this is definitely a gift he can use and treasure for years.
In 2009 Jonathan Shaun founded a menswear label that would provide men with sharp, tailored and stylish garments that could endure the bicycle rides of the modern city dweller. Based in Chicago, Nonetheless Garments are crafted for the nomadic individual with sustainable practices at the core of the design. All items are designed to be Cradle-to-Cradle products, and the label aims for a zero waste production as an ultimate goal. Re-purposed, recycled and high performance, highly functional materials make up the Nonetheless collection, which can be washed in cold cycles and easily line-dried. All garments are designed and manufactured in Chicago in fair wage environments, with meticulous internal auditing of factories.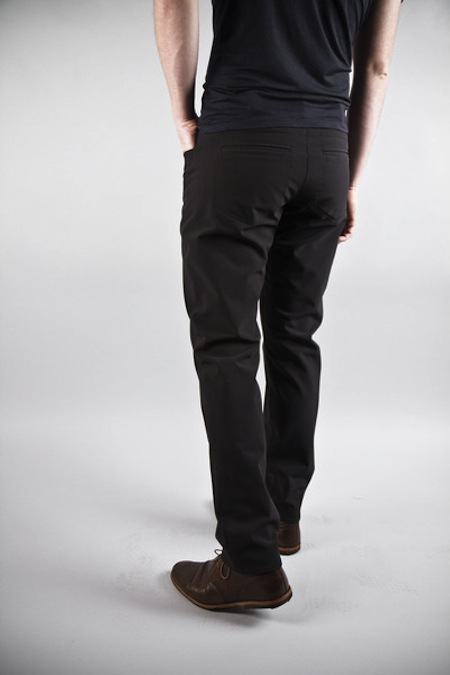 Practical refinement is personified in the Weatherproof Commuter Pant, made out of a soft shell fabric that will take the wearer through any weather, but is 100 percent more breathable than any weatherproof material on the market because of convective properties. The slim fit and sleek stitching make these trousers office and "wine and beer garden appropriate." The 5-pocket design is meant to hold a bevy of small items like mobile devices, keys and cards, while a gusseted crotch for more freedom of movement, a gripper waistband for no-slip performance, and extra room in the thigh area all provide comfort and ease whether on or off the bike.
Along the same lines is the NeoShell Heavy Duty Jean, made out out of the same soft shell material as the Weatherproof Commuter Pant, featuring a 4-way stretch technology and anti-sprocket leg openings. Slightly more affordable is the Narra Wool Pant, made out of 46 percent wool, 51 percent recycled polyester and 3 percent spandex. This unique fabric blend is a collaboration between Japanese Teijin Fibers Ltd., who pioneered the first recycled polyester and wool blends. Amazingly soft, odor and wrinkle resistant, these pants are ideal for the core commuter. Stay tuned for the soon to be available Elixir Commuter Pant, a lightweight version for the upcoming warmer months.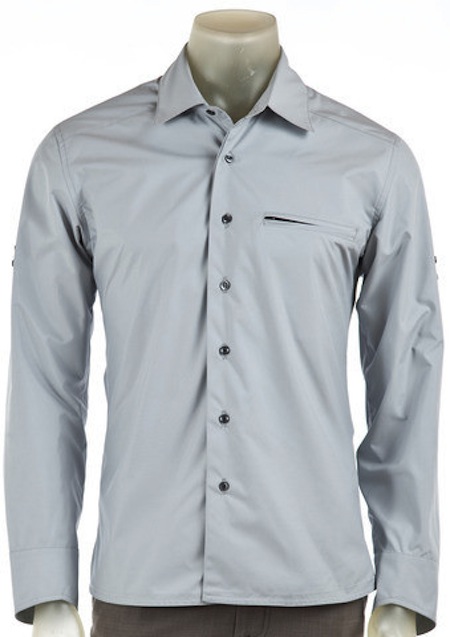 Shaun has also designed 2 shirt jackets: The Fluid Wool Jacket and the Trench Shirt/Jacket. Both are crafted with traditional dress shirt details in mind, with added features that enhance performance and allow for ease of movement. The Fluid Wool Jacket is manufactured from the same wool/polyester blend as the Narra Wool Pant, while the Trench Shirt/Jacket is made from a nylon/cotton blend with an expandable vertical seam on the back for increased mobility and ventilation. Both shirt jackets feature gusseted armpits and longer arms for freedom of movement, as well as side pockets and a zip chest pocket for nifty storage.
Perfect gear for guarding gadgets, sleek and stylish enough to wear pretty much anywhere, made to last, ideal for the bike saddle or on the go, and manufactured with respect for the planet and its people – sounds like it'll hit the sweet spot. Pair with a cold Northwestern microbrew and a big kiss for best results.
Images: Nonetheless Garments