The dress for life's pleasures and poisons. Dorian Leigh in Piguet evening dress, Paris, 1949. Photograph by Richard Avedon.
It's a perverse pleasure watching the characters in Mad Men smoke and drink away without any fear of consequence. With the days of the three-martini lunch well and truly over – say nothing for the disappearance of mid-century bar accoutrements like chrome smoking stands and Murano glass table lighters – it's reassuring to know that while the cocktail hour might not be as much fun as it was, the spirit of the dress which was named for it remains intact.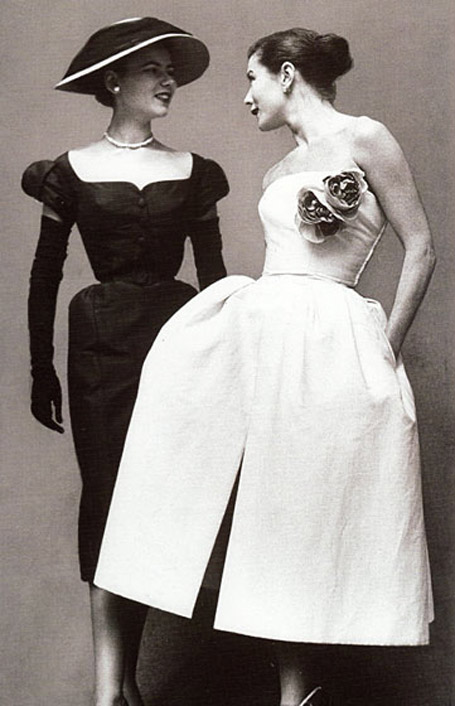 The nip-waisted, full-skirted New Look silhouette pioneered by Christian Dior dominated cocktail fashions thru the 50s. Thankfully, the gloves and hat were soon replaced with a great pair of heels.
Born in the years after World War I, the emerging cocktail culture corresponded with sweeping social changes that led to the independent "modern woman" venturing out into more diverse groups of people mixing in clubs, lounges and private cocktail soirées. Bridging the gap between an afternoon dress – suitable for afternoon tea – and a grand gown for attending evening balls, came the transitional cocktail dress, knee length and worn until the late 1950s with elbow length gloves and flirty little hats.
Sparkling in Paco Rabanne's futuristic gold paillettes, Audrey Hepburn in Two for the Road.
Favoring fine fabrics such as satin, silk, velvet and silk jersey – and after the success of Chanel's little black dress a.k.a the LBD in 1926  –  the color black, the short, often tight-fitting cocktail dress quickly became a desired item of attire for all women in the 1930s. For those in the progressive and fashionable Cafe Society, it became a uniform.
Julia Roberts memorably went searching for a dress for a night out in Pretty Woman. "I got a dress," she proudly tells Richard Gere. "A cocktail one."

From its early realization and onwards – Christian Dior's (Dior in fact coining the term "cocktail dress" in the late 40s) full-skirted New Look, Givenchy's elegant renderings worn immaculately by Audrey Hepburn in the 1950s classic's Breakfast at Tiffany's and Sabrina, to Paco Rabanne's swinging shifts in gold paillettes and Halston's essential draped disco dress for Studio 54 – the silhouettes, like the partying habits, have changed with the decades. Whatever your poison, the pleasures of a bold dress in a flattering fit with a face framing neckline can be both intoxicating and life-affirming.
Modern day Bon Viveur: Kate Moss in a lace-panelled cocktail dress by John Galliano for Dior Couture.
Now & Then: The History of the Cuff
Now & Then: The History of Turtlenecks
Now & Then: The History of Tights
Now & Then: The History of Skinny Jeans
Now & Then: The History of the Chevron Stripe
Now & Then: The History of Penny Loafers
Now & Then: The History of Go-Go Boots
Now & Then: The History of the Poet Blouse
Now & Then: The History of Ladylike Gloves