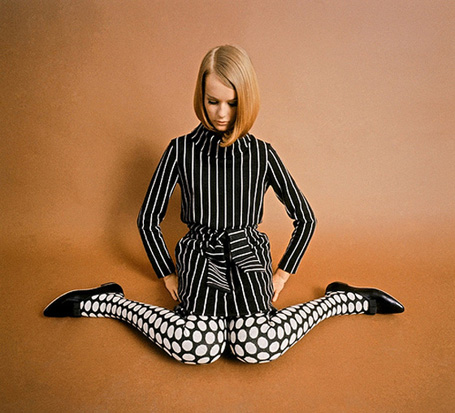 Women in the 60s were happy to say goodbye to girdles and the tyranny of stockings.
It has long been assumed that the pill was responsible for women's emancipation in the 1960s. Ask anyone who remembers the time when roll-ons, suspender belts and girdles gave way for good to panty-hose – and they may have a different view of what freedom was.
The history books credit Allen E. Gant with creating panty hose – or as he called them, Panto-legs – in 1959. The real inspiration was more likely his wife, Ethel, who decided to sew her stockings to her underwear after pregnancy made her too wide to wear her garter belt.
Racquel Welch in Valentino for French Vogue in 1967
The idea really took off in the 1960s with the widespread wearing of mini skirts. The beginning of the tights revolution saw an interesting shift in cultural perspectives. It was, for example, not considered shocking to wear a 10-inch long mini-dress but widely accepted that a groomed young lady never went out bare legged.
Fifty years later, Kate Middleton's fondness for nude pantyhose has inspired modern day skirt-wearers to hit the stores in droves – despite fashion taste makers split opinions – to pick up flesh colored tights able to cover up pasty skin, prickly hairs or unsightly veins.
Karlie Kloss strides into the future of tights trends in Oscar de la Renta's fall campaign 
If tan tights are just too 80s for you, consider the recent trend for combining tights with different colored shoes as seen notably on Karlie Kloss in Oscar de la Renta's fall ad campaign.
A more interesting take on cold-weather tights than your basic-black, brightly colored tights can inexpensively update your winter looks with a mod-esque look that is a playful prelude to spring's 60s inspired styles.
Pucci Print and Platforms
Now & Then: The History Of The Cocktail Dress
Now & Then: The History of the Cuff
Now & Then: The History of Turtlenecks
Now & Then: The History of Skinny Jeans
Now & Then: The History of the Chevron Stripe
Now & Then: The History of Penny Loafers
Now & Then: The History of Go-Go Boots
Now & Then: The History of the Poet Blouse
Now & Then: The History of Ladylike Gloves
Image: oscarprgirl