A colorful and gluten free rendition of an American classic.
Full disclosure: standard American pancakes have never been my thing. Except for a backcountry version made with M&M's, they have never been one of my breakfast standards. On the too sweet, too fluffy and too thick side, classic pancakes are optimal if you're looking for a sugar high with an immediate crash. Not quite my style.
However, once in awhile you come across a version of a recipe that changes your perspective. A good friend named Lisa, who has an ongoing oatmeal vs. pancake breakfast debate in her household, came up with this one. As she says, when someone says "bowl of oatmeal or stack of pancakes?" oatmeal is regularly the winner, so she found a way to combine the two. The result is convincing even for those of us that aren't usually wooed by the traditional breakfast.
This version ups the ante, bringing in flaxseeds, blueberries and a dash of cardamom; they're even good as an afternoon snack if you manage to set a few aside.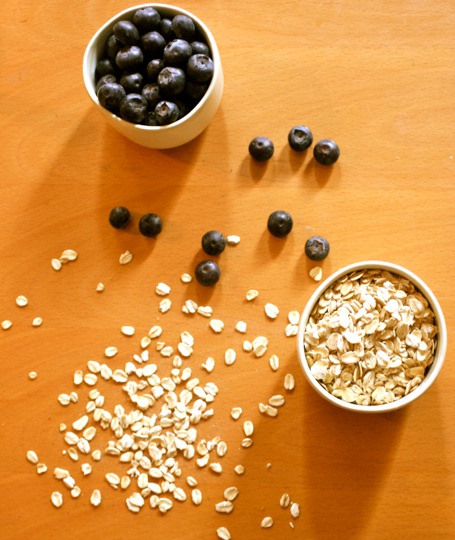 Oatmeal and Flaxseed Blueberry Pancakes
Ingredients:
1 1/8 cup coconut milk
2 eggs
1 cup gluten free rolled oats
1/4 cup buckwheat flour
1/4 cup ground flaxseeds
2 tablespoons olive oil
1 teaspoon baking powder
1 tablespoon sugar
1/4 teaspoon sea salt
1/2 teaspoon cinnamon
1/2 teaspoon cardamom
1 cup blueberries
Coconut oil for frying
Strawberry and Nectarine Medley
Ingredients:
3-4 large organic strawberries, sliced
1 organic nectarine, sliced and cubed
zest of one lime
1 teaspoon vanilla sugar (place a vanilla bean in a jar of sugar and store in your pantry for easy use)
2 tablespoons shredded coconut
Directions
Prepare Strawberry and Nectarine Medley by combining all ingredients in a bowl and setting aside.
In a large bowl, whisk eggs together with coconut milk and olive oil.
In a separate bowl. mix together dry ingredients. Add to egg and coconut milk mixture. Stir in blueberries.
Drop about a quarter of a cup into a hot frying pan, greased with coconut oil. Flip the pancakes when the top is bubbly and the edges are slightly dry.
Top with fruit and a dash of powdered sugar if you're really looking to impress.
Want more food inspiration? Check out the rest of our Sunday Recipe series.