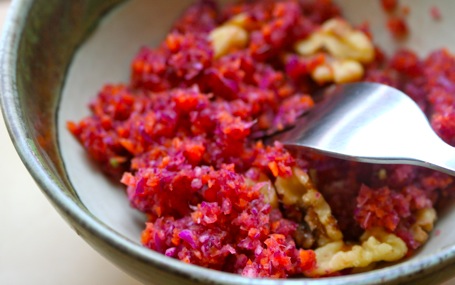 A salad that's as easy to make as it is bright. 
This colorful salad is a springtime staple in my kitchen. Light and fresh, it takes only a few minutes to put together, and the sweeter taste of orange is a perfect offset to the raw cabbage. It's packed with vitamin C, but if you're in the mood for a salad that is a little more substantial, add in some cubed avocado.
Ingredients:
2 cups chopped red cabbage
3 medium sized carrots, chopped
juice of 1/2 an orange
1/4 cup toasted walnuts
Directions
Combine cabbage, carrots and orange juice in a food processor and mix until evenly chopped and blended. Be careful not to over blend, as your salad will end up on the soggy side.
Place in serving bowl and sprinkle with walnuts.
Every month on Sunday Recipe, we bring you a new theme of recipes, perfect for whipping up on a Sunday. For April it's all about food that's easy to travel with, perfect for your spring outings. Enjoy!