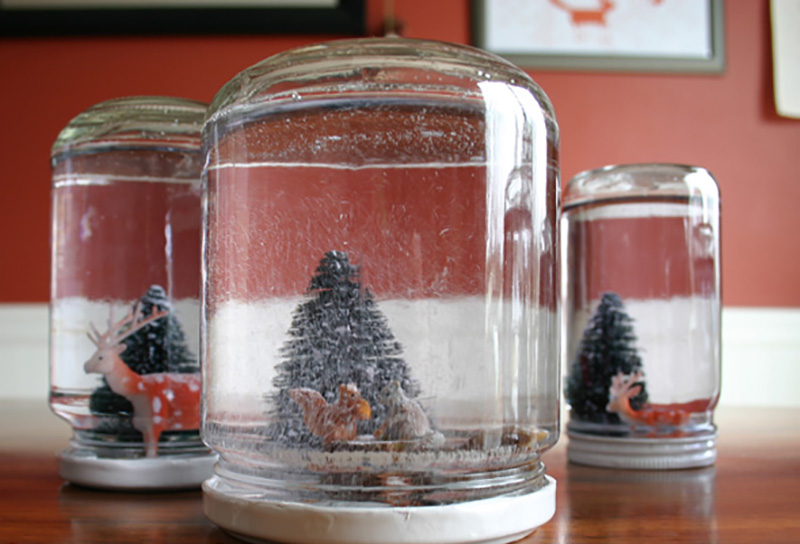 With the various winter holidays right around the corner, it's time to unholster your glue gun and get to making these DIY holiday snow globes.
Are you still looking for easy handmade holiday gift ideas? Or do you still need to decorate your pad with homemade holiday cheer? Don't despair; there is still plenty of time to get to work making some simple repurposed DIY holiday snow globes. Just dig through the recycling bin for some smallish glass jars (they must have lids), gather up the rest of the materials, lay some newspaper down on the table and get to work.
Handmade DIY holiday snow globes are easy enough for craft novices (and elementary-aged children) to make. You can even plan a holiday crafting night–complete with crafts and cocktails (or mocktails, if you prefer). Read on for the how-to and deck your halls with DIY holiday snow globes this season!
DIY Holiday Snow Globes Tutorial
Materials:
Smallish glass jars with lids
Glycerin (available at most drug stores)
Glitter
Brush trees and other decorations (available at craft stores or online at sites like Etsy)
Epoxy
Distilled water
Spray paint (optional)
Step one:
If so desired, paint the outside of the jar lids. Follow the manufacturer's instructions for using spray paint. Allow the lids to dry completely.
Step two:
Using epoxy, affix your trees and other decorative elements to the inside of the jar lid. Again, follow the instructions for using epoxy. Both the spray paint and epoxy are best utilized outside, or in a well-ventilated area, and while wearing gloves!
Step three:
Fill the glass jar with distilled water about three-quarters of the way full. Add glitter (a pinch will do) and a drop or two of glycerin. The glycerin should keep the glitter from clumping and sticking to the bottom. Baby oil also works if you can't find glycerin.
Step four:
Making sure the epoxy is completely dry, tightly screw on the lid to your snow globe. Turn the jar over and shake to make it snow!
Repeat this process and enjoy!
Related on EcoSalon
9 Super Easy Alternative DIY Tree Ideas for a Tree-Free Holiday
10 Super Easy Repurposed DIY Holiday Decorating Ideas to Pull Off in an Afternoon
9 Simple Christmas Crafts to DIY Your Way to a Happy Holiday