It's no secret the denim industry is extremely resource intensive.
We've learned just how intensive in recent years, thanks to research by eco journalists and, notably, an article in WWD by Ross Tucker in which Levi Strauss & Co. publicly "shared results of its life cycle assessment on what went into making one pair of its iconic Levi's 501 style."
Levi's being to jeans what Kleenex is to tissue, people were listening.
According to Tucker, Levi's found that making one pair of 501's requires almost 920 gallons of water and 400 megajoules of energy while expelling 32 kilograms of carbon dioxide.
"Levi's said this was equivalent to running a garden hose for 106 minutes, driving 78 miles and powering a computer for 556 hours," writes Tucker.
Ouch.
If you consider denim one of your wardrobe staples (and who doesn't?) best to think sustainably designed. To help, we've put together a denim guide with plenty of suggestions from the fabulous Jaime Palmucci of Denim Debutante.
Here are 17 good eco bets for denim:
Loomstate: Probably the most well-known of the "green" denim lines, Loomstate is known for their basic cuts and mid-weight organic cotton denim. Like Edun, Loomstate has temporarily put their denim line on hiatus based on fit issues, but there are still pairs online waiting to be bought.
REUSE: A new brand out of the U.S., REUSE creates their jeans with 80% recycled denim. Standard styles for women (men's jeans are reportedly on the way) and a wallet-friendly retail price of $75-95.
James Jeans: Eco-friendly washes for a dry aged denim look. Note: while this line doesn't use organic cotton, James Jeans creator Seun Lim uses organic compounds and sun bleaching to create the washes of her jeans.
Serfontaine: Eco-friendly washes and abrasions. Like James Jeans, Serfontaine doesn't use organic cotton. For their washes, they substitute organic fruit enzymes for chemical dyes and irritants.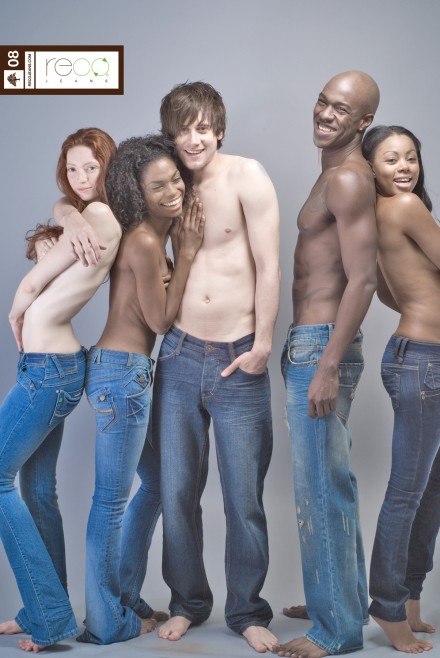 reco jeans: Like REUSE, reco uses Recycled Denim in their process. They go so far as to create seeded, plantable tags on their products to eliminate unneeded waste. (Factoid: Alanis Morrisette and Woody Harrelson created the line.)
Levi's Eco: Organic cotton, recycled rivets and buttons. Styles made with 100% organic cotton include the Red Tab Vintage Straight Jean for men, the women's Skinny Jean and Skinny Knee Knocker Short. Other elements of the Levi's® Capital Eâ"¢ lines include the use of recycled buttons, rivets and zippers and natural indigo to dye some styles ensuring minimized impact on the environment. Price range starts at $69.
Nudie Jeans: The Swedish brand known for their Selvedge also has some 100% organic pairs. They follow organic production procedures and use products like potato starch and pre-reduced indigo in lieu of chemicals.
7 For All Mankind: The eponymous brand and forefather of premium denim, 7 For All Mankind does carry some 100% organic pairs.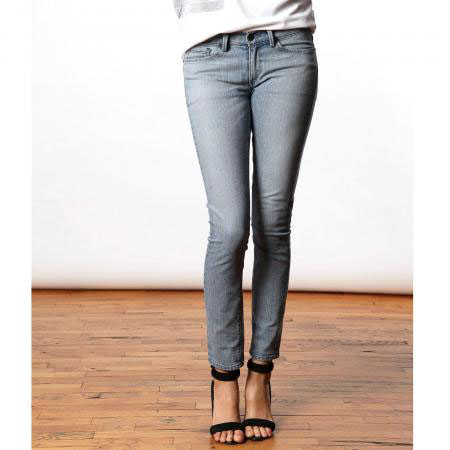 Rogan Denim: Products are Fair-Trade approved and sweat-shop free. Rogan (the namesake line of Loomstate's Rogan Gregory) has teamed with Bono to ensure their products are sweat-shop free and fair trade. They also promote minimal washing and no machine washing.
Good Society: The Good Society "is a movement," according to the website. "A belief that in all things we must love, will and do good. A forward thinking community blending the fashion conscious with the socially conscious." Being organic fairly traded denim that is fully sustainable surely helps. Another denim line taking a hiatus until current inventory moves. Go forth and buy!
Joe's Organic: Though the brand only offers a small selection, it does have an organic denim line consisting of some of their best sellers like the Provocateur, Stardust, Muse and Socialite.
Edun: Launched in Spring 2005 by Ali Hewson and U2's Bono, the company's mission is to help develop countries in Africa as viable sources of production for fashion by "investing in the development of a community-based value chain, beginning with organic cotton."  Their denim line is temporarily on hold because of fit issues – stay tuned.
Linda Loudermilk: Linda Loudermilk trademarked the term "Luxury Eco" and researches products that are sustainable by meeting with and learning from scientists, and seeking out companies that create fibers without pesticides or other toxic processes. Her denim line has been made from lyocell and bamboo blends.
Kuyichi: Made from a hemp and organic cotton tencel blend with natural dyes. You'll love this company! A European label slowly moving into the U.S.
Howie's: Featuring organic cotton washed with an "eco-ball" for extra softness, this European denim line has been around since 1995 and is about to have a Renaissance, I'm predicting, thanks to some better-known American denim lines taking a break.
J Brand: J Brand's Green label is coming out soon, we're told. Made with 100% organic cotton and vegetable dyes, J Brand is widely recognized as a go-to eco denim line. Let's hope they shrink the fit to something less than what a 6'8″ woman would wear. Normal gals, J, normal gals.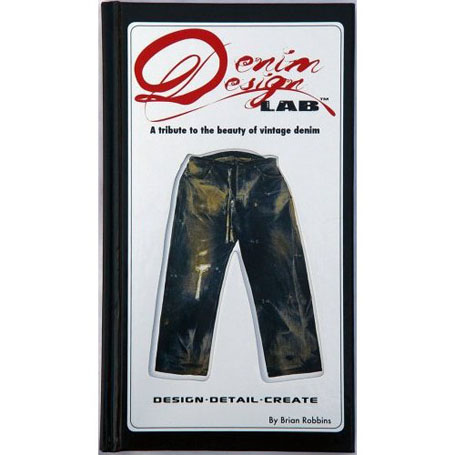 Denim Design Lab: This company transforms salvaged denim woven on vintage shuttle looms to create a "Modern Vintage" look. Sold through "only the most premium denim based retailers globally." Well, you can't win 'em all.
To get your daily denim fill, be sure to follow Jaime on Twitter @denimdebutante.
Image: littledan77