Winter is still upon us, which means extra time spent indoors and less time opening windows. If you've noticed your allergies going awry more than you expected for the season, there's a good chance you should consider investing in one of the best air purifiers for your budget. Not only will our suggestions do the job well, but they'll also look great, too!
According to the California Air Resources Board, after first removing sources of pollution or reducing pollutant emissions, and by proving adequate ventilation second, the third most effective way to remove indoor particle pollutants is by using a central air filter or a good air cleaner in one or more rooms. This time of year, though, often leaves the second choice out of the question due to dropping temperatures, which is why this is a great opportunity to consider picking up one of the best air purifiers you can afford.
A quality purifier can be a breath of fresh air – literally – and turn the stale, stagnant atmosphere and odors into the crisp, clean air you should be breathing. And, aside from a nice aesthetic that also blends with your environment, try to keep a few things in mind when researching a new portable purifier. It's best to look for the following when shopping for a new purifier:
Avoid ozone-generating purifiers as these can actually cause health problems, including respiratory tract irritation and breathing difficulty.
Make sure the room sizes match the recommendation for the units you're buying.
Try and select a portable purifier that that can replace the air in the room at least two or three times per hour.
Look for models with the ARB Certification by the California Environmental Protection Agency's Resource Board.
Now that you've gotten the lowdown, let's take a look at the beautiful and beneficial air purifiers we've researched for you.
1. Airocide ($599)
Airocide is a stylish take on the typical air purifier. Resembling something more of a Bose speaker than a filtration system, this contemporary piece is chameleon-like in its ability to blend into a room. This can sit atop a piece of furniture or be mounted on the wall like a piece of sculptural art.
The Airocide's NASA developed technology eradicates airborne asthmagens, allergens, dust mites, and pet dander, and has also been clinically proven to destroy MRSA and Anthrax spores. This unit is ARB Certified, features filterless technology, and even won the Gold Edison Award in 2014 for excellence in design and innovation.
2. Viktor ($399.99)
From Stadler Form USA comes the Viktor, a cubical unit that resembles something more akin to a modern desktop lamp than an air purifier. Sleek and minimalist in its design, this unit is sure to blend into any modern atmosphere.
The Viktor air purifier contains a washable HPP filter that eliminates 99.9 percent of the typical toxins like bacteria, viruses, dust mites, dander, and allergens, and contains a carbon filter to eliminate unpleasant odors. This unit has five power levels and contains an integrated fragrance dispenser for use with essential oils.
3. Conway ($750)
The APM-0511JH model from Conway is a lovely, mid-century-esque air purifier and humidifier with "oriental philosophy." This unit has plenty of great features, including an anti-flu HEPA filter, air quality indicator, advanced deodorization, an aroma cartridge, and so much more. This beauty also won the International Design Excellence Award.
4. LightAir ($499)
Although the company has several other models with a similar aesthetic to choose from, we've featured the Style Lightair IonFlow 50 pictured above. The beautiful design boasts a lighted base that gives the illusion of a weightless unit, and would blend beautifully in a variety of home or office environments. It is 99.94 percent effective, filter-free, energy efficient, and completely silent.
5. Therapure ($89.95 to $99.95)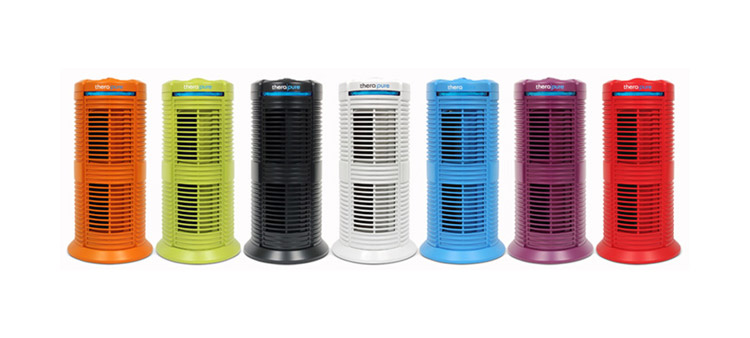 The Therapure units from Envion are like the fun, candy-colored cousins of the previous purification models. They effectively reduce allergens, pollution, smoke, and odors, while the UV light helps to reduce airborne germs and bacteria, while its photocatalyst filter helps reduce fumes and chemicals. These funky light-hearted cuties are perfect for smaller spaces, don't require filter replacement, and have low power consumption.
Now that you've seen a few of the best air purification units for the indoors, you should be well on your way to choosing the model that's right for you. We hope you enjoyed our picks – let us know your thoughts on the EcoSalon Facebook page!
Related On EcoSalon 
How to Wash Comforters and Pillows Naturally
Eco-Friendly Fireplace Ideas Perfect for the Holidays
Decorating With Houseplants: Benefits and Tips to Indoor Greenery
Image of Clean Room via Shutterstock