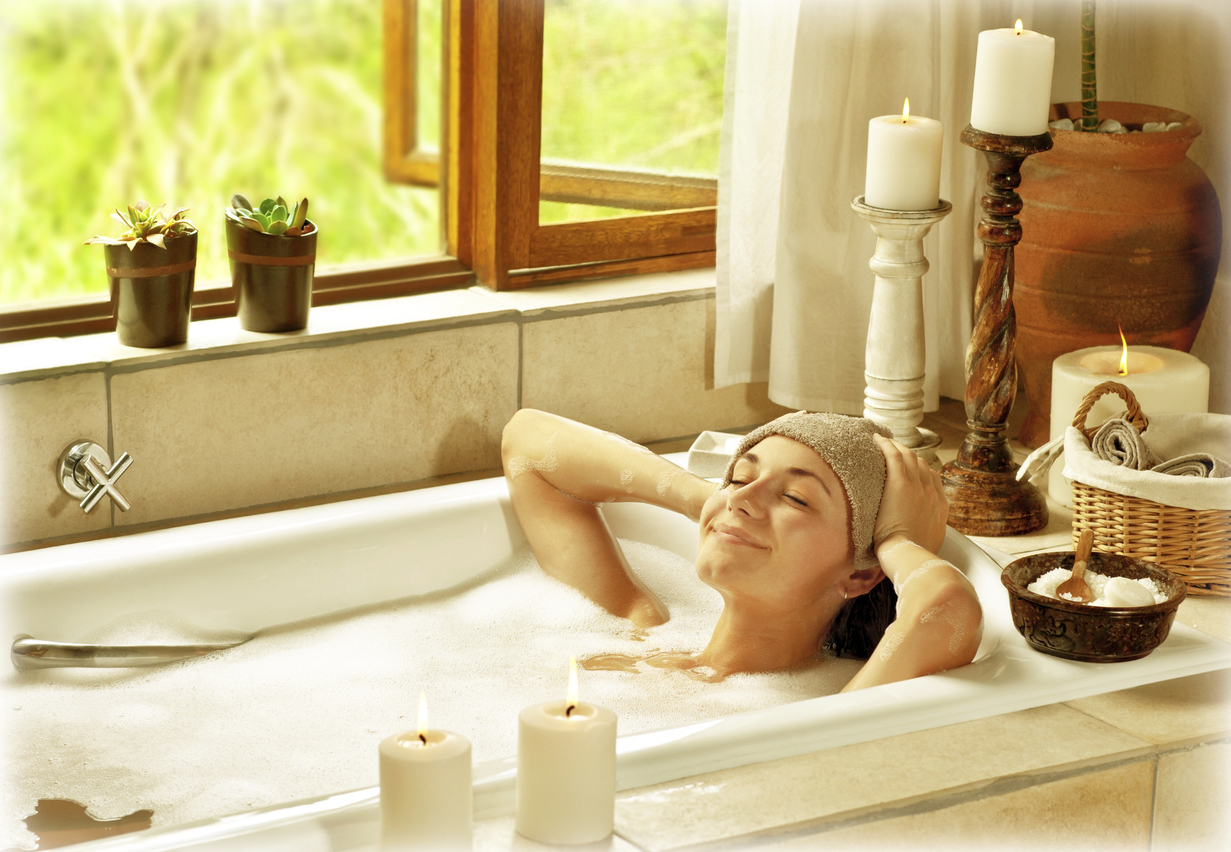 The Danish term "hygge" means to create a luxurious, cozy, welcoming feel in your home to relax and enjoy yourself for winter, when we spend more time inside. Sounds great, right? But why stop with your indoor enviro? Here's how to add hygge life to your beauty regimen.
This time last year the word hygge may have held little meaning to most of us. Today we Americans are hygge-ing our lifestyles like crazy. There are hygge ideas aplenty for interiors, of course. But this indulgent practice is also starting to make its way into beauty and personal care.
Market research experts at Mintel believe we will see a surge in beauty products designed around ritual and enjoyment. When you think of hygge beauty (if that's not yet a term, let's make it one!), think products you purchase to treat yourself.
And why not? There are plenty of feel good beauty products to choose from, and taking good care of ourselves is sort of what the "care" part of personal care is all about. Comfort plus pleasure (the essence of hygge) totally lends itself to beauty.
Rather than the super quick cleanse and moisturize, or lightning fast makeup routine, a hygge-ified beauty regimen would mean you slow down, luxuriate in the products, and time spent using them, with an end result of feeling pampered and comforted.
So, what exactly does hygge beauty look like in real life? The following steps will guide you to putting together a hygge-worthy beauty kit.
6 Ways to Add Hygge Life to Your Beauty Routine
1. Purchase High Quality Beauty Items: No, not all of your beauty products need to be expensive, but be sure to use items made of high quality ingredients. This not only feels more decadent but means your skin is soaking up the good stuff. The payoff? Healthy, happy, glowing skin. You are already steering clear of toxic cosmetic ingredients, now learn to pay special attention to how ingredients are sourced and which are best for your skin. For instance, did you know it is important to use virgin organic coconut oil over refined? Purchasing from small batch product creators is another way to ensure you are using top of the line ingredients.
2. Thorough Cleansing: Choosing a cleanser made for your specific skin type is key to healthy skin. Every skin type benefits from a good cleansing balm. Not only is it best for removing makeup, dirt, and debris from skin, but the ritual feels so darn good. Give the face a mini massage while applying balm you've warmed between your fingers. Use slow, gentle movements to clean the skin. Rinse with warm water and a muslin cloth. What a treat!
3. A Good Soak: Nothing like a soak in the tub to take the chill off winter weary bones. A bath soak made with skin nourishing ingredients help to leave skin feeling revived and replenished. Sea salt is great for detoxing the body and soothing tired muscles. Seaweed hydrates and evens skin tone. You'll definitely look forward to this weekly indulgence. Try Pursoma Mineral De Mer.
4. Masking: A facial mask is a spa type product that makes us feel taken care of and leaves skin looking fabulous. In winter, skin needs moisture and soothing. A facial mask made with soothing skin oils and healing honey, like May Lindstrom Skin The Honey Mud, turns cold weather skin around in an instant.
5. Aromatherapy: What better way to create peace of mind than with aromatherapy. Use natural essential oils to whisk away thoughts of the day, clear your head, and get a good night sleep. Hope Gillerman Tension Remedy should do nicely.
6. Nontoxic Candles: Nothing comforting about synthetic fragrance. Candles made with nontoxic scent ingredients offer up a cozy vibe with no negative impact on your health. Light 'em up when partaking of a soak or body mask to increase the hygge factor.
*Disclaimer: Help support EcoSalon! Our site is dedicated to helping people live a conscious lifestyle. We've provided some affiliate links above in case you wish to purchase any of these products.
Related on EcoSalon
Positive Messaging on Beauty Labels: A Feel Good Trend
10 DIY Tea Recipes for Cozy Winter Evenings
Throw Blankets Perfect for Tailgating or Fireside