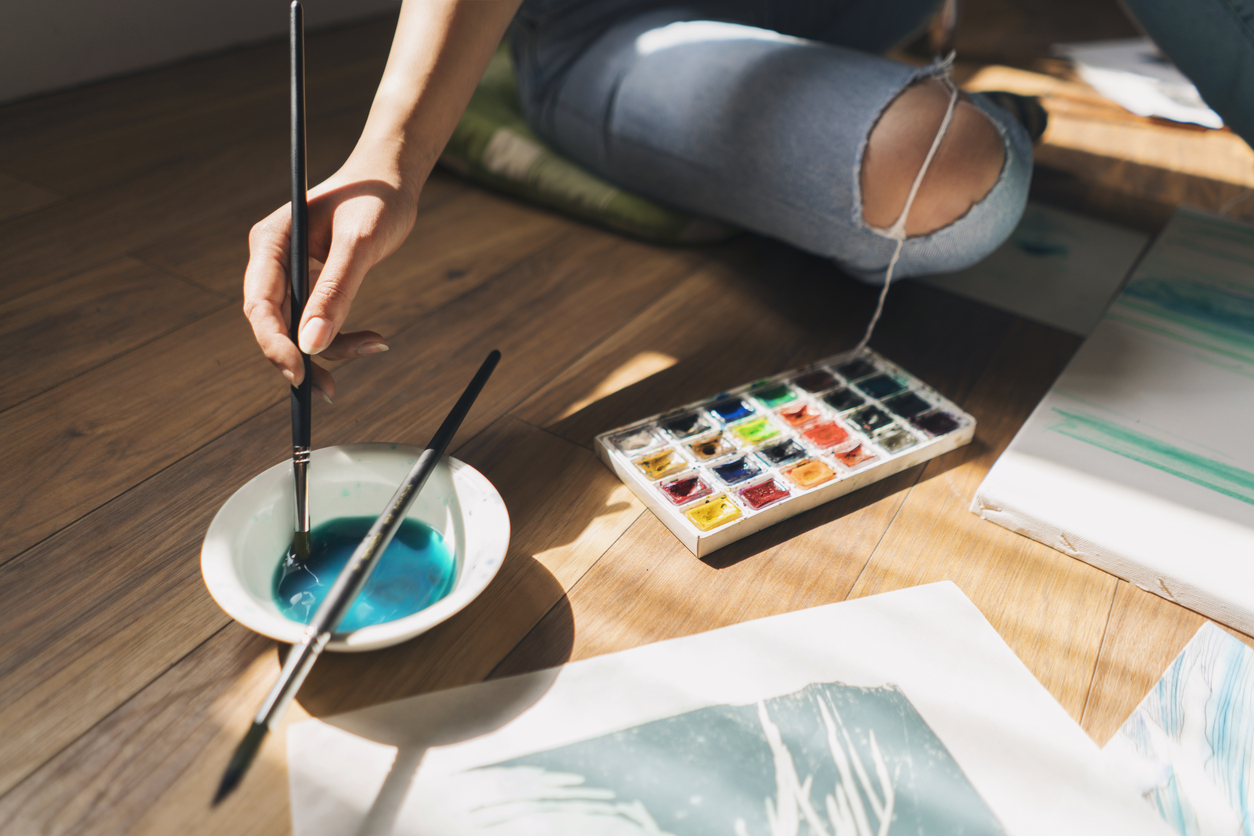 Forget bundling up and trekking out in the cold this winter. Instead, give in to your instincts to hibernate and take the opportunity to try out a few new crafts. And the most efficient way to learn a new craft is to start with craft kits. No trip to the craft store required. Everything you need to learn a new crafty technique can be delivered right to your door!
9 Crafts Kits for Getting Your Craft On!
1. Crochet
If you don't yet know how to crochet, this Granny Square Blanket craft kit is a great place to start. Each kit includes absolutely everything you'll need to make a 25 x 31-inch classic granny square blanket, including a full-color instructional booklet that explains it all.
2. Felt Craft
What better way to deal with the winter cold than to make your own felt garden with this pretty Felt Succulents kit. The kit includes enough materials to make 18 beautiful succulent plants for a faux garden.

3. Macrame
We are on a theme here with another plant-themed craft. Learn to macrame with this Macrame Plant Hanger Kit that comes complete with everything you will need to discover the lovely craft of macrame.

4. Crewel Embroidery
Crewel is a type of embroidery that traditionally features wool thread and freestyle stitching. It's a very pretty form of needlework and lends itself nicely to being learned via a craft kit like this Paisley Blue Whale kit.

5. Polymer Clay
Learn the craft of polymer clay sculpting with this Polymer Clay Pocket Kitchen kit that includes everything you could possibly need for sculpting tiny, adorable, and fake food items.

6. Paint By Number
Do you desire to paint pop culture icons, but don't really have any painting skills? Never fear. All you need is a kit like this Prince Paint by Number kit.

7. Resist Indigo Dye
This Easy Indigo kit is just what you need to discover the art of tie-dye, shibori dye, vat dye, and resist dye techniques.

8. Rug Hooking
You might have done hook rug crafts as a kid and want to pick it back up. Get reacquainted with this small Rug Hooking kit that comes with all the supplies you could need, including hand-dyed wool pre-cut strips.

9. Loom Weaving
Weaving was another perennial childhood craft, particularly for those who went to summer camp or after-school programs. Whether new to you or not, weave your own tapestry with this Weaving kit that even includes a small loom.
Related on EcoSalon
10 Super Crafty Decor Projects You Can Do for Under $10 in 60 Minutes or Less
15 Ideas for Spiritual Kindling and Other Nature Crafts
7 Super Easy Craft Kits to Get Your Craft On