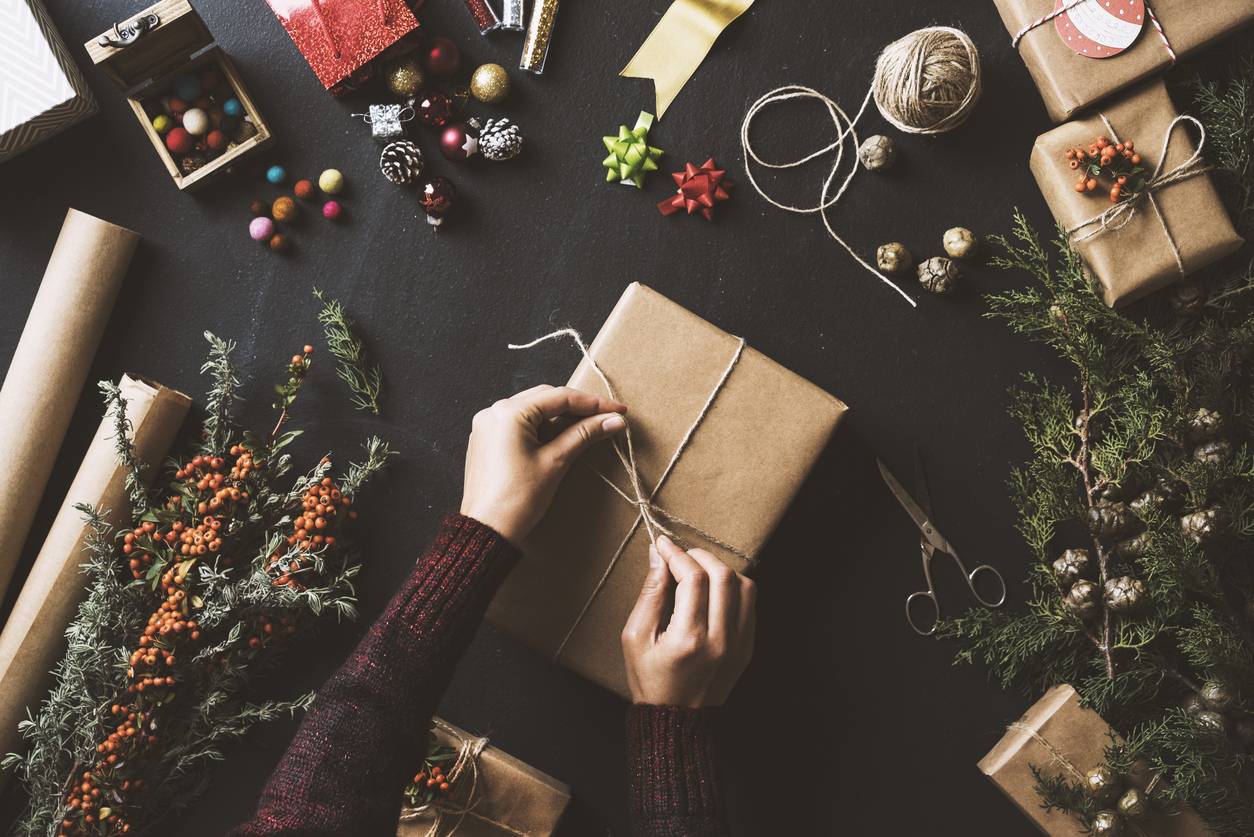 Go green this season (and save some money) by choosing repurposed wrapping paper alternatives.
If you are freaking out right now about getting everything done before the holidays, take chill pill. We've got your back–or at least we can help you with wrapping your gifts this year.
According to The Atlantic, we spend $2.6 billion annually on wrapping paper and much of it cannot be recycled as a result of the dyes, laminates, glitter, and other decorative materials that make up wrapping paper. Instead of wasting money on wrapping paper that will inevitably end up in the landfill, use repurposed alternatives found around your house, the craft store, or thrift stores. Can't see how that would work? Read on to discover some super easy (and green) alternatives to using store-bought wrapping paper.
Alternatives to Wrapping Paper
1. Newspaper/Magazines
The most obvious choice for repurposed alternatives to wrapping paper is newspaper. Of course, many of us do not take part in paper delivery anymore, but it's around. Try asking neighbors, co-workers, families, or friends.
2. Snack Bags
Get super clever with your gift packing by repurposing snack bags. Turn snack bags (like chip bags) inside out and clean them well. You can either use them as a bag or cut them along one side and the bottom to use a flat wrap.
3. Brown Paper
Nothing is simpler than brown paper packing. It works for all gift occasions–holidays, birthdays, weddings, housewarmings–and can be decorated with that special handmade touch. You can purchase extra large rolls of brown paper to keep on hand for gift wrapping, package stuffing, for covering the table for crafting time, and more.
4. Baskets
Baskets can easily be repurposed for holiday regifting and are ubiquitous at thrift stores and yard sales. Even Easter baskets will work, simply dip dye them in more winter holiday appropriate colors.
5. Tea Towels/Cloth Napkins
Give a gift within a gift by using a practical home textile like tea towels or cloth napkins to wrap a gift up in. Other ideas include handkerchiefs, hand towels, washcloths, dishcloths, and more.
6. Decoupaged Boxes
Repurpose food boxes (like cereal boxes) as gift boxes by decoupaging them with colorful paper like junk mail, newspapers, catalogs and more. Cereal boxes can easily be cut up and made into take-out style boxes using this clever tutorial.
7. Fancy Shopping Bags
Reuse those fancy shopping bags with the handles as gift bags. If you want to disguise them as store shops, easily cover over logos or lettering with repurposed paper like maps, sheet music, old holiday cards, and more.
8. Mason Jars
Of course, mason jars are perfect for food treats, but they can also work for for small gifts. Things like homemade soy votive candles or handmade jewelry gifts would also fit nicely nestled inside a repurposed mason jar.
9. Reusable Fabric Bags
If you are handy with a sewing machine, you can purchase (or repurpose) lightweight cotton fabrics and make reusable drawstring fabric gift bags.
Related on EcoSalon
11 Holiday Gifts That Keep on Giving
7 Magically Repurposed DIY Holiday Wreath Ideas
10 Reasons Not to Buy an Artificial Christmas Tree