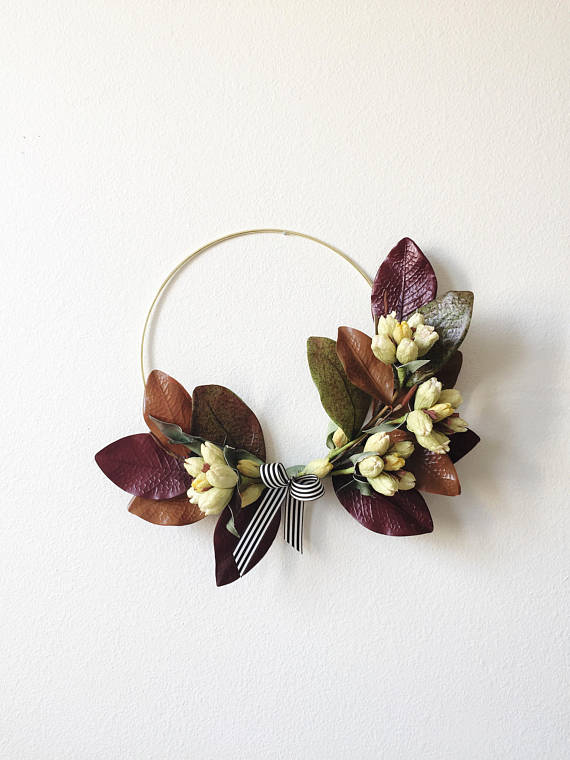 Decorate for the season without a lot of fuss with these simple DIY wreath ideas.
Between Halloween and Thanksgiving, autumn is the season of entertaining. Welcome your guests in style this season by crafting up a simple DIY wreath for your front door or entryway.
9 DIY Wreath Ideas for Autumn
1. Scrap Wood Wreath – If you find yourself with leftover wood from a recent DIY project, upcycle those scraps into a decorative autumn wreath. With a little wood glue and a cardboard ring you can turn trash into treasure!
2. Wrapped Yarn – By the same token, use up all that leftover yarn from the various knitting or crochet projects that you've completed (or never got around to completing). Wrap sections of black, orange and white for a candy corn effect!
3. Upcycled Fabric Wreath – Turn worn fabrics that are headed for the scrap bin or the thrift store into a boho chic fabric wreath. Tear fabric into strips and tie them to a foam wreath ring available at the craft store.
4. Pine Cone Wreath – Pine cones and other found natural objects are great fodder for making a homemade DIY wreath for the season. Hot glue the pine cones, acorns, dried flowers, and sprigs of autumn leaves for an ephemeral seasonal decoration.
5. Felt Wreath – If you are looking for something more permanent, cut leaf shapes out of felt leftover from other projects and affix them to a wreath form.
6. Newspaper Wreath – For a spookier DIY wreath, spray paint newspaper with black paint, crumple it up and glue it to a foam wreath ring. Add fake spider webbing and felt spiders for an easy Halloween-themed wreath.
7. Burlap Wreath – For a super simple DIY wreath, wrap a foam wreath ring with burlap fabric and then crisscross autumn-themed sewing trims like ribbon and rickrack over the burlap. You can add a bow if you so desire.
8. Ribbon Dreamcatcher Wreath – Along the ribbon theme, you can go for a more bohemian wreath by tying long strands of ribbon, lace, and fabric scraps in autumn colors to create a dreamcatcher-like wreath.
9. Metallic Wreath – If you are going for something a little more glam, dip or spray twigs and dried leaves with metallic paints. Glue them to a twig wreath form that you have also painted with metallic paint. For extra points, mix and match your metallic colors for a cool effect–copper, gold and silver paint.

Related on EcoSalon
7 DIY Autumn Wreaths to Celebrate the Season
6 Ideas for Making DIY Paper Flowers Like a Boss
15 Deceptively Simple DIY Fall Decorations Using Autumn's Bounty