Ten things you can make from old plastic bags.

Even though we always bring reusable shopping bags to the store, somehow we always find ourselves with an overflowing stash of plastic bags under the kitchen sink. Recognize that? The good news is that you can use them to make things. Here are ten of our favorite DIY projects that you can make from old plastic bags.
1. Plastic Bag Bracelets
Colorful bracelets and bangles are must-have summer accessories. Make your own using recycled plastic bags and basic supplies you already have around the house. Follow this easy tutorial by She to learn how.

image: She
2. Plarn, or Plastic Bag Yarn
Plastic yarn, plarn for short, is made by cutting plastic grocery bags into strips, which are then strung together into a single long strand. Plastic Bag Crafts has a good tutorial on how to make it. Use plarn instead of regular yarn to crochet sturdy, reusable tote bags, purses, doormats, and more.
3. Ruffled Lamp Shade
This cool lampshade is created from hundreds of black and white plastic bag rosettes. The bags are cut into long strips, rolled loosely into rosette shapes, then glued to the shade. For exact instructions, check out the tutorial by the 3 R's blog.

image: the 3 R's blog
4. Woven Plastic Basket
Instead of having those old plastic bags fill up that under-sink space to the brim, use them to make a nice woven basket, which can be used to store anything from fruit to, well, plastic bags. Grab a cutting mat, blade, ruler, some masking tape, a heavy yarn needle and crochet hook, and follow this tutorial by radmegan.

image: radmegan
5. Plastic Pendant Light
The most fulfilling DIY projects to make are those that end up looking like amazing designer pieces. This pendant light is made from a bunch of black and white plastic bags, but looks like a million bucks. Check out the 3 R's blog's tutorial for instructions.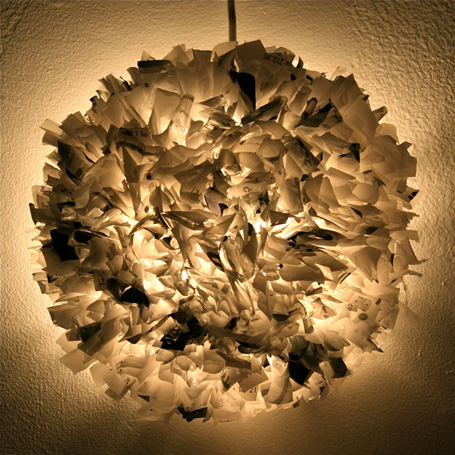 image: the 3 R's blog
6. Outdoor Pillow Case
For outdoor cushion, a waterproof case is a must. Instead of buying one, make it from old plastic bags. In My Own Style will show you how. For extra waterproofing, use more layers, and for bonus DIY points make the dishtowel covers as well.

image: In My Own Style
7. Plastic Bag Rug
Homestead Weaving Studio specializes in making rugs from recycled material. Their tutorial shows you how to make great-looking plastic rugs using a floor look. They are particularly well-suited for your kitchen, since any mess spilled on the floor can just be rinsed off.

image: Homestead Weaving Studio
8. Plastic Bag Beads
If you like making your own jewelry, why not take that one step further and actually make the beads as well? Fuse sheets of plastic together using an iron and parchment paper to give them firmness. Etsy's New York Street Team gives you the full scoop.

image: Etsy's New York Street Team
9. Plastic Bag Mandalas
Using only an exacto blade and tape, artist Virginia Fleck transforms plastic bags into large scale meditation mandalas that serve as a commentary of shopping and spirituality. Make your own by following this tutorial of Recylart.

image: Recylart
10. Plastic Flowers
The perfect gift for your favorite eco-warrior, recycled plastic flowers not only look cute, they never wilt. Grab the most colorful plastic bags you have in the drawer and follow this simple Instructables tutorial.

image: Instructables
Happy Crafting!