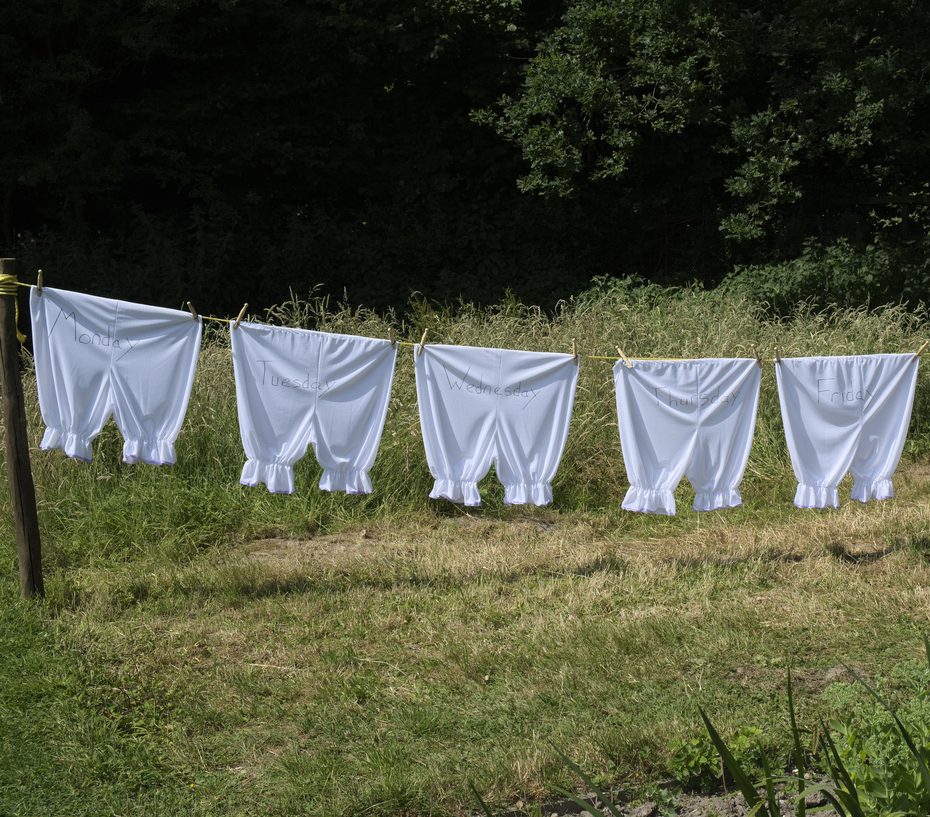 Underpants don't have to just serve a function. They can send a message, too.
We've searched the Internet and found undies that are perfect for fierce feminists.

1. Kidd Bell's Patriarchy Panties
I've given the wonderful artists at Kidd Bell a lot of my money these past few months. This artist-friendly, intersectional feminist, online shop is filled with kick-ass shirts, crop tops, hats, pins, panties, and more. For this piece, though, we're going to focus on this shop's panties.
While we love all the underthings this company sells—panties printed with phrases, such as "Dead Men Can't Cat Call," and "PMS"—we're currently obsessed with Bell's Patriarchy Panties. That's probably because we really agree with the printed panty message—"Women Need More Sleep Than Men Because Fighting The Patriarchy Is Exhausting." Priced at $22.

2. Neon Moon's Doux Knickers in "Beautiful" (sky blue)
Neon Moon's goal is to produce underwear that's made by happy, healthy people in safe conditions. The Great Britain brand also makes certain to not objectify, sexualize, or Photoshop the models who wear the brand's pieces. Neon Moon aims to produce pieces that are made transparently and don't harm the planet, or pander to customers.
These underpants feature a a soft, no-show 100 percent cotton gusset that allows the piece to remain durable. Priced at $18.

3. Nubian Skin's Midnight Brief
Nubian Skin's aim is to empower women with its nude, luxury underwear. The company's tagline, "A different kind of nude," carries over to the business' core line of products. The underwear company launched with a simple, high-quality line of nude hosiery and lingerie.
Since the company's founding, it's launched a line of incredibly sexy lacy underpants—the Midnight line. This dark blue lace brief features a 100 percent gusset and scalloped edges. Designed in London, and made in Morocco. Priced at $39.16.

4. Dear Kate's Leak-Proof Panties
Dear Kate started with a simple, common-sense goal: to sell panties that could wick moisture, release stains, and stop leaks. All of the company's underpants are made with its patented Underlux fabric.
We're smitten with the brand's full-coverage Billie hipster. It comes in six different colors. Each pair features a cute, picot trim, mesh inset at waist, soft and silky fabric, and full lining with the brand's Underlux technology. This brand makes its underthings in the United States and is $38.

5. Feminist Style's Sassy Underpants
All of this brand's underwear are adorned with cheeky messages that promote consent. Although the brand's panties are printed with consent messages, the business makes a point to stress that, "duh, this pair of underwear won't stop rape," but it can spark a conversation about consent.
This pair features the saying "Only Yes Means Yes" and is ethically produced in China. Priced at $11.99.
Related on EcoSalon
3 Organic Tampon Delivery Services (Um, Where Have You Been All My Life?)
The Psychology of a Woman's Underwear
Underwear that Traps Flatulence Odor? Yep! Meet Shreddies