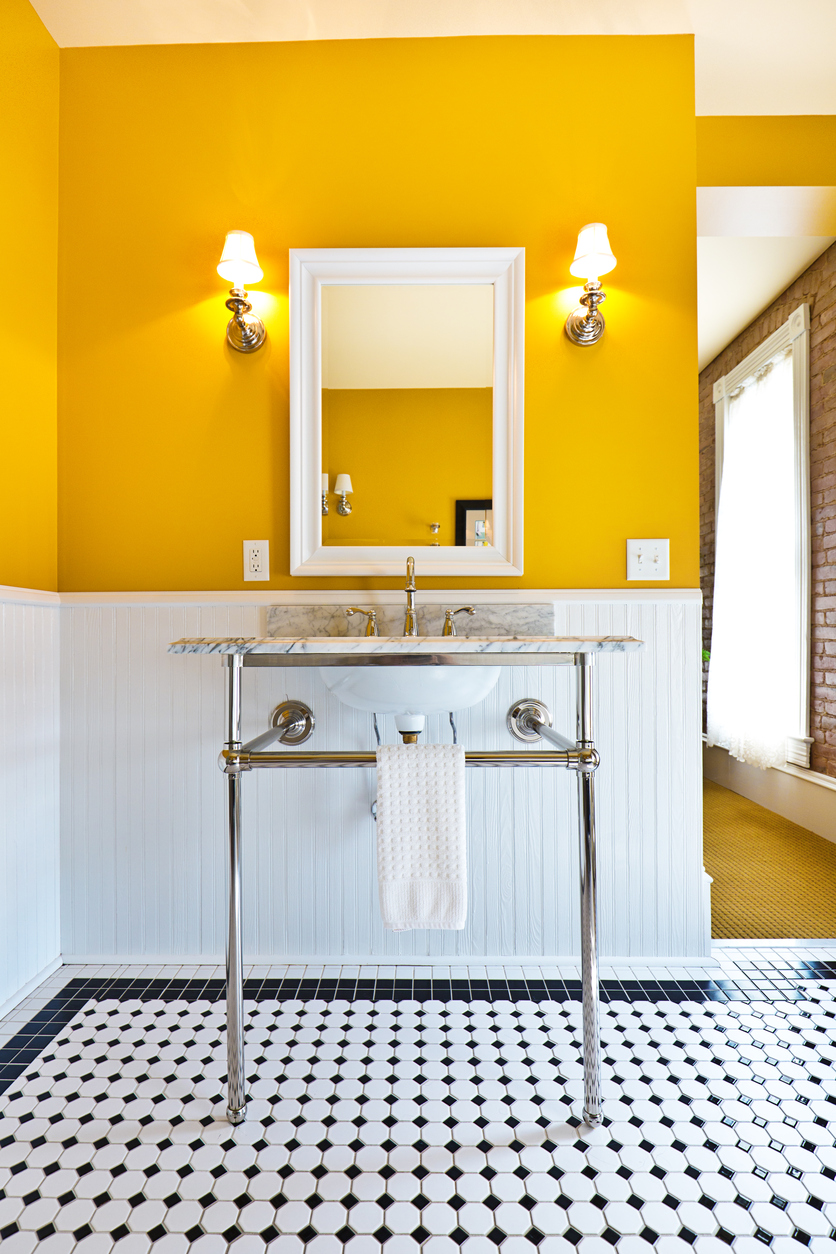 The powder room is often the most overlooked room in the house when homeowners are considering home improvements or renovations. That's completely understandable considering your half bath isn't necessarily going to translate into dollars when you sell your home. In fact, bathrooms are often the least likely rooms to add value to a home.
However, that doesn't mean that you should completely neglect that downstairs lavatory when freshening your home. Instead, it means that you have to get creative so you can provide a welcoming space for you and your guests. The good thing about these DIY decor ideas is that they won't force you to break open your piggy bank and they are all easily undone if you change your mind (or decide to sell your home and want to create a more neutral space)!
7 Powder Room DIY Decor Ideas
1. Paint the Ceiling
One super easy (and cheap) way to pump up the volume on your decor in the bathroom is to paint the ceiling a bold color. For extra points, paint wide stripes to make a smaller room appear larger.
2. Metallic Touches
Metallic accents can easily add visual interest to a drab powder room. Some simple ways to add metallic flourishes include adding metal accessories (like metal baskets and curio shelves), stenciling metallic designs on the walls, or creating wall art using metallic paints. 
3. Clever Vanity
If you are super handy, visit thrift shops or estate sales to source a cool cabinet to repurpose as a vanity. An antique or vintage cabinet can really add some character to an otherwise boring bathroom.
4. Statement Wallpaper
While statement wallpaper can overwhelm a small half bath, covering one accent wall with a bold-patterned wallpaper can take a room from mundane to insanely awesome in no time (and for very little money).
5. Mirrored Wall
By the same token, create drama that is easily removed if you decide to move, by artfully creating a mirrored wall. Instead of one mirror above the vanity, add mirrors to fill the entire space behind the vanity up to the ceiling.
6. Black and White
What if you rent your home and can't paint the walls, drill holes in the wall, or make other semi-permanent to permanent changes? Go for a dramatic look and add black and accessories and accents. Why have white towels, when you can go with black ones?
7. Interesting Artwork
Are you a collector of art, knickknacks, and other curios? Consider displaying them in the bathroom. Why display your postcard, snow globe, or art print collection in the living room when you can put them on show in the bathroom? It's a sure way to make certain your artwork and collections will be noticed.
Related on EcoSalon
11 Cabin Decor Ideas Perfect Enough to Recreate At Home
11 Effortless DIY Ideas for Updating the Bathroom Decor (on the Cheap!)
12 Bathroom Design Ideas You Can Complete in a Day!