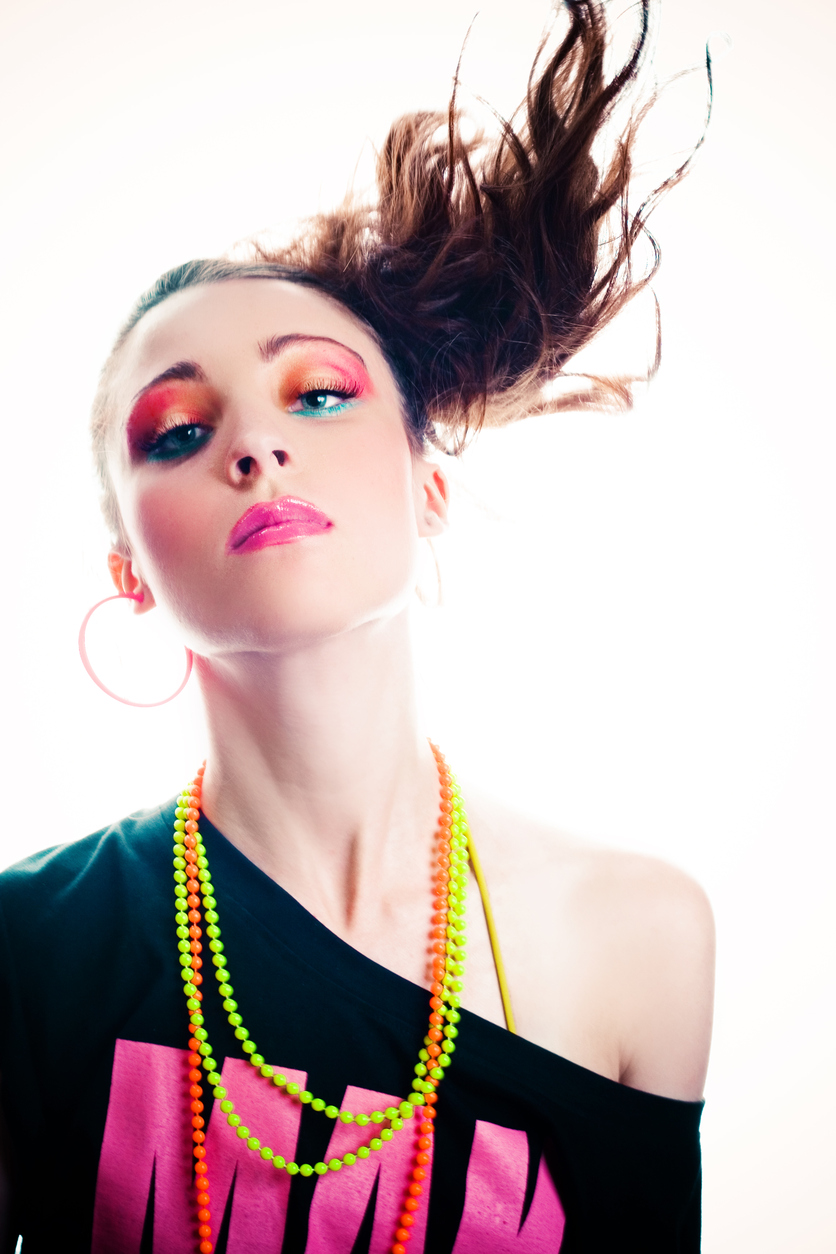 The '80s were decadent and fun. It was an adventurous time, says Zach Dishinger, makeup artist and founder and CEO of Formula Z Cosmetics, a vegan, cruelty, gluten, and paraben-free makeup line.
"Self-expression was encouraged and creativity ruled," adds Dishinger.
"Today, whether you're talking about politics or world events, the narrative can get pretty serious. The upside is that people are speaking their minds and voicing their opinions. I think this is the appeal of '80s makeup. Today, whether it be through makeup, marches, or social media, people want to have fun and express themselves"
Bold, colorful '80s trends making a comeback

1. Bright colors on eyes
The '80s were a time when bright blue eye shadow reigned supreme. Although the modern '80s makeup interpretation includes blue eye shadow, you can easily give the classic look a modern spin by choosing another bright color, like using a bright purple eye shadow to accentuate your eyes. Simply apply a thick line of shadow where you'd normally apply eyeliner.
We love this purple hue that comes in the Urban Decay Moondust Eyeshadow Palette. The color, Magnetic, has a refined, metallic appearance. The palate is priced at $49.

2. Full, bushy brows
In the '80s, women wore their bushy brows loud and proud. You, too, can achieve this natural look by slightly enhancing the brows you already have with a natural brow pencil.
The Brow Boss Pencil from ColourPop is perfect for this. It allows you to build color with its mistake-proof pencil, and a brush that allows you to create feathered brows. Priced at $5.

3. Dramatic, draped blush
Draped blush is merely a more dramatic—a much more dramatic—blush look. Instead of just covering your cheekbones, use the blush to accentuate your eye area, and some of the eye lid, too. Marc Jacobs makes a great blush that'll easily help you achieve this look.
"Thanks to Marc Jacobs (and his lovely Air Blush Soft Glow Duo, $42), this technique is everything again," reports Byrdie. "It sculpts your face to enhance your natural features, but instead of learning to contour like a Kardashian, all you need is blush."

4. Super bright, hot-pink lips
It's no secret that hot-pink lips were "hot" in the '80s. Thankfully, there are plenty of modern makeup brands that sell bright pink lip colors.
We're a fan of NYX's Velvet Matte Lipstick in Miami Nights. The lipstick is a comfortable matte. It's easy to apply on lips, never feels dry, and is soft to the touch. Priced at $7.

5. Playful face glitter
Although glitter was big in the '80s, it's never truly gone out of style. To give this retro glittery look a modern spin, line your eyes with one of Tarte's liquid glitter liners. This set contains three colors: White Gold, Silver, and Rose Gold. It's priced at $29.
And if you're looking for body glitter, try Universal Soul. "I have to admit in the past I wasn't a huge glitter fan because of what its created from and what it does to the environment," says Fawn Monique, celebrity and runway makeup artist. "But after finding out about Universal Soul Company, which has bio-degradable glitter, my love for glitter has blossomed!"
Related on EcoSalon
Meet the New Marc Jacobs Beauty Ambassador
Why Yes, You do Need Sun Protection in Winter
5 Cruelty-Free ColourPop Makeup Hues Perfect for Autumn