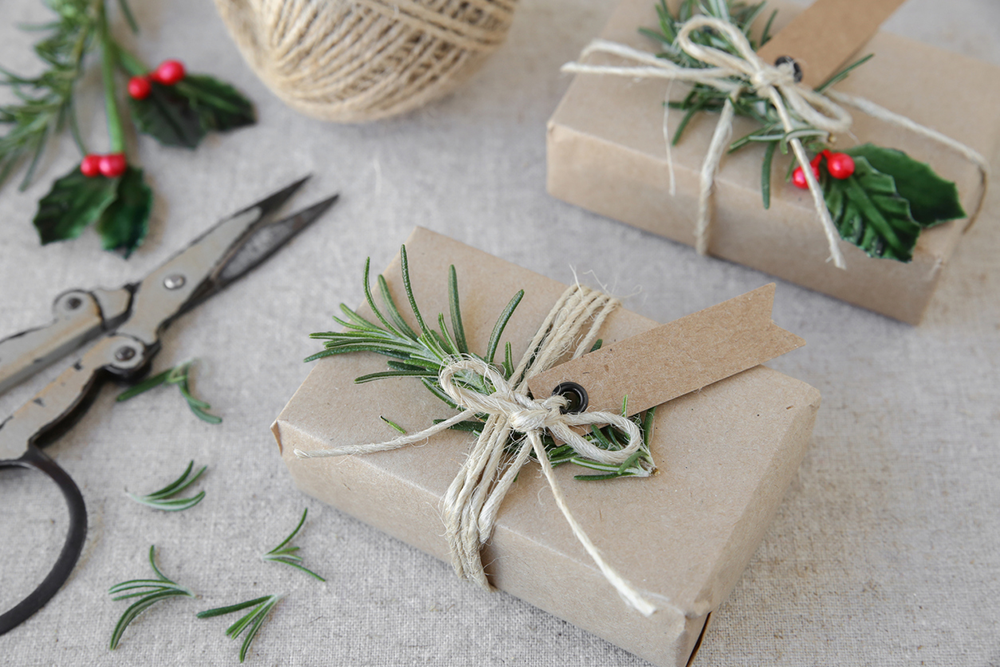 You can check gift wrap off your shopping list because there's no need for buying when you can just DIY. We're showing you how to wrap presents in 6 eco-friendly ways.
From old newspapers to shopping bags there are so many resources to wrap presents without harming our planet. By opting for recycled or reusable gift wrap, you'll save money, reduce your waste, and avoid overcrowded malls.
The holiday season takes a huge toll on the environment. According to Stanford University, Americans produce 25 percent more waste from Thanksgiving to New Year's. You can imagine where all that excess waste comes from; shopping bags, wrapping paper, tissue paper, bows, etc.
Don't think that all your wrapping paper can just be recycled and then you've done your part. Most gift wrap and trimmings contain foil or metal fibers which means they can't be recycled.
You can prevent adding to the already huge amount of holiday waste occurring by wrapping your presents in an eco-friendly manner. Here are some awesome eco ideas that are totally savvy and festive!
How to Wrap Presents without Destroying the Earth
1. Use Old Newspapers, Magazines, and Paper Bags
Save your brown paper grocery bags, old newspapers, and even magazines. They can all be repurposed into wrapping paper. Glossy prints from fashion magazines work great for wrapping up small boxes. Newspapers are very sturdy and reliable to use when wrapping gifts. Plus, they have a vintage vibe to them that's classy and elegant. Brown paper bags; lunch or grocery sized, can be cut at the seams and spread out in the perfect rustic wrapping paper.
2. Try Unused Sheets or Scraps of Fabric
If you have any unused fabric in your house, use it to wrap your gift! Simply tie it around your gift or hold it together with ribbon. Fabric scraps can be used to make ribbons or bows. Encourage your gift recipient to save the fabric for future use.
3. Employ Reusable Shopping Bags
Many stores are now putting your purchases in reusable canvas or fabric bags. I recently bought a gift for a friend at 100% Pure and it was put into a pretty pink bag that was reusable. All I had to do was add some (recycled) tissue paper to make it ready for gifting. Your gift recipient will be able to use the bag too on future shopping trips.
4. Skip It Altogether (Kind Of)
Try to skip gift wrapping altogether. If you're giving an experience rather than a materialistic object, then this is perfect. When giving tickets to an event such as a concert gift wrap definitely isn't necessary. Put the tickets in a holiday card made from recycled paper instead.
5. Save Everything
If this is your first year trying to have a sustainable holiday season, you may not have a large collection of old ribbons, and gift bags to reuse. Well, it's never too late to start! Ask family and friends if they have any old, unwanted ribbons or paper materials you can use for wrapping presents this year.
Then, at your gift exchange ask your friends and family if they mind you saving all gift bags, bows, and ribbons. Others may even want to join in, and in that case, you can just divvy it up between everyone. You'll be set for next year's holiday season with your new brimming collection of gift trimmings.
6. DIY It!
Save your shopping bags after trips to the mall so you can try this DIY project which uses old shopping bags to make holiday gift bags. All you need are solid paper shopping bags, a few stamps, and an ink pad to make them. It's super chic and a great way to repurpose all those bags you received when holiday shopping.
Related on EcoSalon
These 7 Easy DIY Stocking Stuffer Ideas Don't Suck (for Gifts or the Planet!)
8 Christmas Decorating Ideas You Can Whip Up Before the Big Day
5 Thoughtful (and Affordable!) Holiday Gifts Under $50: Friday Finds